Bark, bark, bark, guess what?
Go on, have a guess what mum did this month?
Yeah, she only went out with another doggie!
Apparently, Addi the assistance dog, wanted to show her how he helps his young owner Harry get out and about. Hmmmm and you know what else? Yeah, they went to one of my favourite places, Avebury.
You've probably already worked out that mum is passionate about making sure everybody is able to get involved with activities all around the Stonehenge and Avebury World Heritage Site. It's really important to all of the organisations that manage the World Heritage Site too, so her visit to Avebury with Addi, Harry, his mum and little bruvver was a great opportunity for them to test out the arrangements for visitors with special needs for the National Trust. This is what mum told me about their extra fun day out – grrrrrrrrr
We started out parking up in the dedicated spaces next to the farmyard, plenty of room for us to unload and get Harry's wheelchair set up. The boys were all really excited to see the stones and get up close and personal. Harry had recently had a brilliant school trip to Stonehenge, where no one is able to actually touch the stones, so he was bursting to get to one! Off we headed across the farmyard and out onto the High Street. Not all of the stone circle is accessible by wheelchair, ground conditions vary, but this was a glorious summer day and it had been hot and dry and Addi had no problems accompanying Harry to the closest stone for a feel.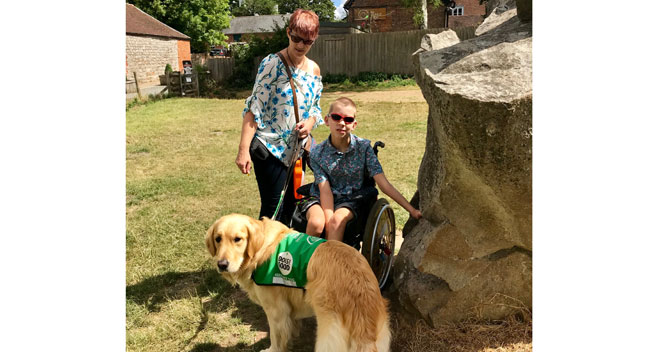 After enjoying the stones in this quadrant everyone was feeling peckish so we headed to the nearby watering hole The Red Lion for some lunch. Mum said she was super impressed with Addi's behaviour at the dinner table. Apparently his manners are even better than mine!
After a delicious lunch we explored the stones in the south east quadrant and the inner ring or sun circle. Harry's little brother was having brilliant fun running up to the top of the henge banks and we wondered if we could manage to push the wheelchair up the draped steps so Harry could see the views and appreciate the landscape? These draped steps have been put in to limit erosion and keep people safe in the wet weather when the chalk banks can become very slippery. Thanks to some generous and strong passers-by we managed to lift Harry and his chair to the top. Addi was keeping a careful eye on progress making sure we kept his charge safe. At the top we were able to explore the henge and made our way around to the Ribbon Tree with its amazing root system and magical spiritual feel. Luckily some more generous and strong passers-by helped us carry Harry back down the steps here. Carrying a chair can be dangerous and not recommended unless you have very sure-footed and strong helpers and the ground is not slippery.
After carefully crossing the road we went to see the Swindon stone which I'd pointed out on our arrival. Harry loved being able to touch the stones and being a Swindon lad decided this was THE stone for him.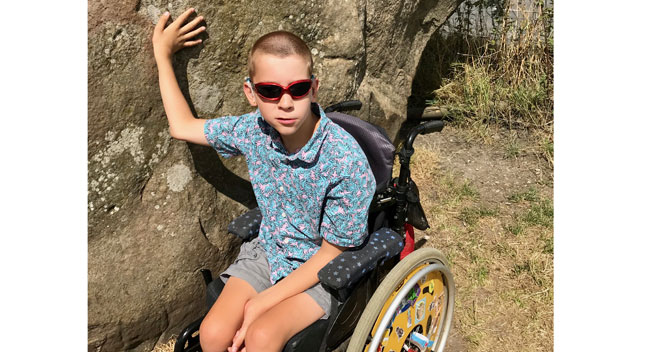 Next up, back to the farmyard and on to Avebury Manor, where Harry and Addi received a brilliant welcome. The volunteer guide who greeted Harry was wonderful. She explained where he would and wouldn't be able to visit and spent time engaging directly with him. Both the boys were enchanted with being able to touch and be active in the Manor. There was much dressing up and jollity. The kitchen was explored in depth and we all agreed those saucepans were indeed heavy! Harry especially liked the 1930's Keiller lounge where he happily abandoned his wheelchair and enjoyed role playing sipping cocktails! (and Addi had a little sit down too)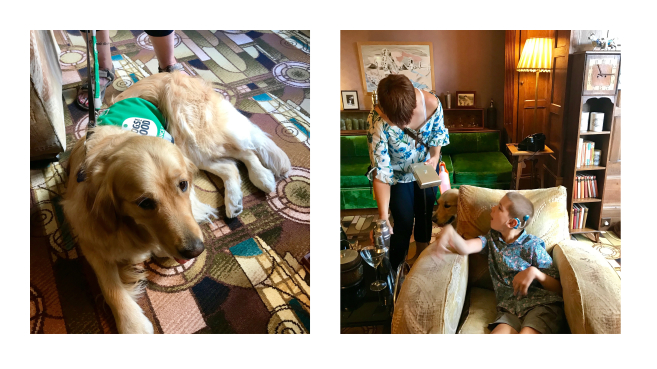 Many thanks to the National Trust team staff and volunteers who all made sure Harry and Addi had a wonderful visit. Harry and his mum were delighted with the facilities and the support shown and Addi was a very happy doggie too.
Right then so that's all about Addi, what about me, Desmond Dog? Yeah well I suppose mum made up for taking him out by taking me out on a special walk in the Avebury landscape with the boss. Yep, I was allowed to tag along when mum and Sarah undertook a recce for their annual Guided Walk in the Landscape. It was a baking hot day but mum remembered my water and pop up bowl and we set off nice n early, so I could be back in the shade before the temperature got silly. The boss took us on a walk down the Avenue and up over Waden Hill. She says this is a great walk to understand some more of those outstanding universal value thingies. And guess what she was right coz right at the end of the Avenue we stopped to chat with this really nice artist man who was doing some painting. He had his easel and his paints and his picnic and he was really friendly and chatty and said I could share some of his paintings with you on my blog. His name is Timothy Simmonds. Mum was everso excited as this was a fantastic real life example of Outstanding Universal Value Attribute 7 The influence of the remains of Neolithic and Bronze Age funerary and ceremonial monuments and their landscape settings on architects, artists, historians, archaeologists and others.

This is the result of his work that very day. I like how the colours make me feel all hot, just like it was that day.
Mum likes this painting of the West Kennet Long Barrow and Silbury Hill.


That's all I've got time for this month but I will be back again soon with more doggie tales from the World Heritage Site.
Till next time
woof, woof, woof, woof
Desmond the Dog xx
Keep up to date with Desmond's journey by following him on instagram @desmonddivadog and #desmondwhsdog.
Related
0 Comments