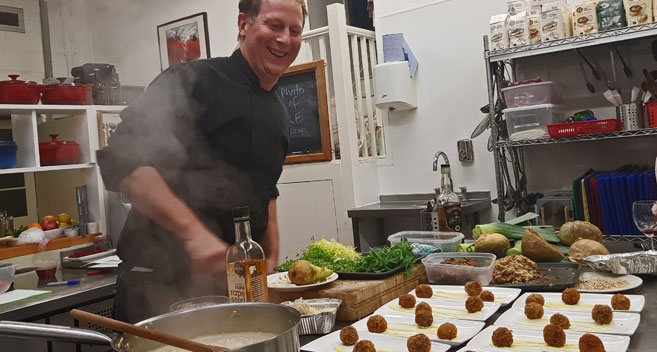 Vaughan's Cookery School in Devizes is well known for the high quality, varied cookery courses that they run, and I have been lucky enough to have enjoyed many of these, but last Friday I visited for a very different experience, their first ever Chef's Table, and, as it was Burn's Night, I am sure you can guess the theme!
Hosted by Cookery School owner, and acclaimed Chef, Peter Vaughan, the concept of the evening is a small group of likeminded individuals gathering to watch a meal being cooked close up, with the opportunity to hear Chef's anecdotes, and pick up tips, whilst enjoying delicious food. Certainly, an idea that appealed to me!
On arrival we were greeted by Anita of the Vaughan's Kitchen event team, and offered a wee dram of a very good whisky. Anita's knowledge of wine and spirits was honed by her time at Rick Stein's, and was extensive. Understanding more about how to taste, and the background to the whisky made it even more enjoyable! There were also two wonderful non-alcoholic cocktails for the drivers amongst us.
We then gathered around the cookery school table, with glass in hand, to watch Peter put together our starter, a very different take on haggis, Arancini. These were delicious rice balls incorporating the haggis. We were then challenged with dressing our own plates, Michelin star style, with bitter leaves, sauce, and walnuts. Ok, so my presentation was not award winning, but the dish was superb! I am a lover of haggis anyway, but for anyone who had not tried it before I think they would have been won over by this dish!
Peter is very passionate about the training of young chefs, sustainability, and local produce, all of which he conveyed eloquently and convincingly between cooking. One particularly exciting project he is involved with is partnering with the Gleneagles Hotel, in Scotland, to reduce the waste from kitchens. An example he gave us of this was an imaginative way to use the, normally discarded, top part of leeks. In fact leeks, and making the best use of them is the main theme of his next, sell out, Chef's Table on St David's Day.
Having enjoyed our starter, with a very good glass of red wine, again introduced by the knowledgeable Anita, Peter demonstrated how to cook the main course. This was an innovative take on lamb, roasted, shredded and rolled. He also cooked some twists on the traditional Neeps and Tatties, and Stovies – our Scottish friends will know exactly what these are!
Before moving to the dining area to enjoy the main course, Peter showed us the basis of the soufflé recipe for dessert, accompanied by engaging stories of his time at a soufflé restaurant in London!
Once at the table Anita served white wine, and told us about some of the great wines available from local Wiltshire vineyards, including a'Beckett's Vineyard.
The main course was full of flavour, and gave a good nod to Scottish traditional Burn's Night food. My companion was Scottish so was able to regale us with some Robbie Burns odes as they were meant to be heard! Others around the table shared their Robbie Burns knowledge too, to the particular delight of one of the guests from the US! It was lovely to have a chance to get to know the other guests better in a very relaxed setting, and to hear more of Peter and Anita's stories too.
Once we had finished the main course, Peter put the finishing touches to the soufflé at the table before putting it in the oven and giving us a six minute warning to be back at the table if we needed a comfort break! Apparently, if you order a soufflé in a restaurant the waiters will be watching anxiously if you leave the table, as time is critical to present the perfect soufflé!
The soufflé, when it arrived certainly didn't disappoint, and cracking the top and dropping in traditional Scottish Cranachan added drama as well as taste! Anita was on hand again to serve a sparkling wine with more information on why it matched a dessert so well.
Coffee, or herbal tea, and more chat brought a lovely evening to a close. We resisted the temptation to sing Auld Lang Syne!
A Chef's Table evening is very different to going out for a meal in a restaurant and is a perfect experience for anyone interested in finding out more about the food they are eating, and getting a glimpse of life behind the scenes from the chef himself.
Vaughan's Kitchen will be running a series of Chef's Table events, as well as Pop Up restaurant experiences too. I am certainly looking to book on future events.

Related
0 Comments