Regent Tailoring is one of the many intriguing and unique independent shops to be found in the historic Wiltshire city of Salisbury. Helen and Billy from VisitWiltshire went to meet the Regent team to find out about the shop, their diverse stock, and why they love the city.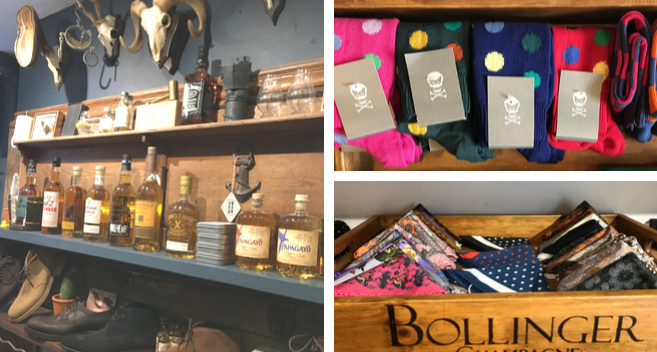 Situated in the centre of Salisbury, Regent Tailoring is a unique and fascinating place; a warren of cosy rooms spread over multiple floors, each with a surprising and delightful mixture of merchandise on display. If you step in from the street, you may think you're in a traditional English tailor – and whilst you can get your wedding suit made here, there is much more going on! Explore the three floors and you will find British-made flat caps, vintage Barber jackets and trainers made by hand in a Viennese castle. There are iconic brands and timeless pieces from around the world. Upstairs, the windows offer unexpected, stunning views of Salisbury's iconic Cathedral through the rooftops. Downstairs, there's a tiny off-licence stocked with local beers and exotic rums.
Whilst the central theme of Regent Tailoring is male fashion, you will also find eclectic gifts, hand-selected alcohols and a small selection of female clothing at. "We have every different type of person coming in here" says proprietor Jason Regent, and the stock is chosen to appeal to a wide range of audiences. Every item is carefully selected by the team, who are infectiously passionate about what they do. "We don't just buy any brand - there has to be something about it" says Jason, emphasising the importance of quality items that will last for many years, with materials sourced from small, local manufacturers wherever possible. Jason, whose passion for fashion came from his grandfather who was Butler to Ian Fleming, adds that everything in the shop has a connection to his family history from the pictures on the wall to the subtle prints on a tie. Regent also stock a selection of sustainable and environmentally-friendly brands, including rucksacks made from recycled bottles, locally-made items, organic and fair-trade produce and more. "A lot of people don't realise how much we've thought about what we're doing!"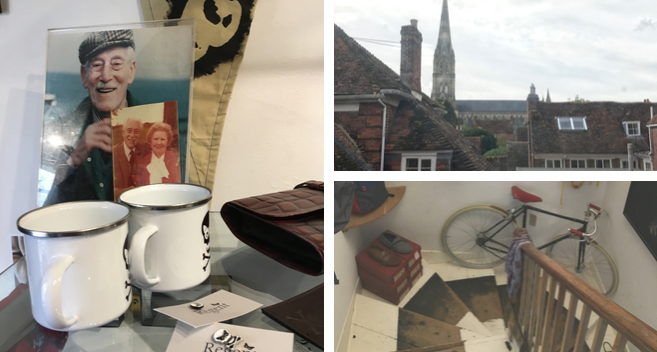 The same philosophy holds true downstairs in the off-licence, a small back room filled with classic whiskeys, local craft beers, organic wines, and an eclectic selection of unusual spirits. Presiding over this exciting walk-in drinks cupboard is Jamie, introduced by Jason as "an adopted member of the family". Trained as a sommelier, Jamie is on hand to advise customers on buying a tipple. And educating people is an important part of what Regent Tailoring do; anyone can walk in off the street and learn something new about fashion or drinks! Selecting products or brands with a rich history or an interesting story are key to the Regent ethos.
"As well as being friendly and welcoming, we also want it to be a destination," says Jamie. "We want to give customers an experience. We've thought about everything we sell. Everything we have in here from a hanky for £5, to a bottle of gin at £36 to an Aero Leather Scottish-made jacket at £800 – it all has a story or a reason or a right to be here. People come here because they're not only going to get good service, they're going to see products they wouldn't see anywhere else."
Keeping their offering fresh and exciting is important to the Regent Tailoring team. "We've always got to change, and do things differently," says Jason. And Jamie agrees; "we like to pair the classics and the new". This easy mixture of tradition and heritage with innovation and eclecticism reflects Salisbury as a city; a traditional yet original place. A modern city with a great deal of history. So it is no surprise that Jason loves the city. "Salisbury is a great place to come," he enthuses. "It's a hidden gem. The cathedral is beautiful. People who live here don't quite understand how beautiful it is. I think I'm so lucky."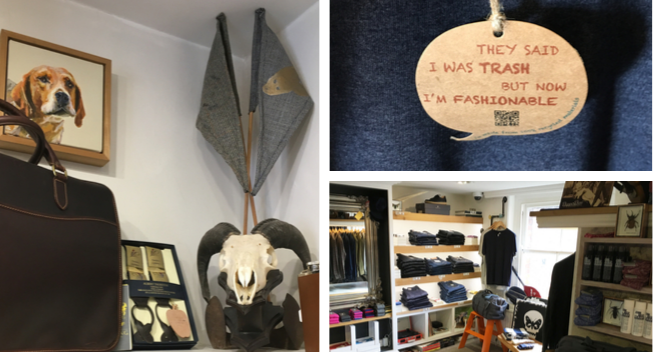 Planning a visit to Salisbury? Discover the city's other wonderful independent shops and great accommodation options.
Related
0 Comments