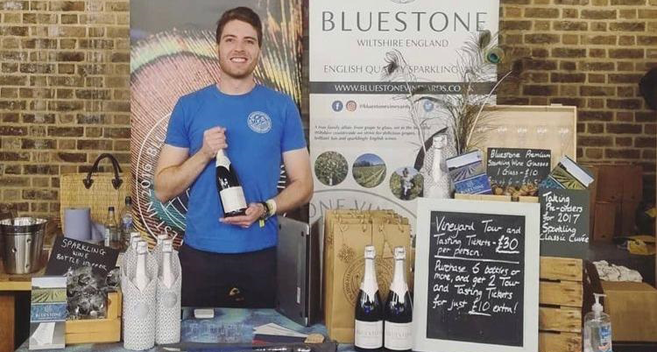 We talk to Jack Grey, the Assistant Manager at Bluestone Vineyards about his role, his favourite tipple from the vineyard and what makes the Bluestone Vineyards team so speacial.
---
Hi Jack! Tell us a bit about yourself and your role at Bluestone Vineyards
I work at Bluestone Vineyards as the Assistant Manager where I take care of various tasks including sales, tours and tastings, exhibiting at events, and work in the vineyard when needed.
Originally, I worked in recruitment for 3 years before deciding to pursue my passion of working in wine. In late 2020 I left my job and took my WSET Level 3 exam. I also began volunteering at Bluestone at the end of January 2021, this has led to my full-time employment here. As Bluestone is a young company (Est. 2016), I am able to take a far more pivotal role than in an older organisation, which is exactly what I like doing. Being involved from the early stages drives me to help create and build a business where I can really make my mark. It also very much helps that I love working with the team here, consisting of two brothers, Toby and Nat, who manage the vineyard and the business respectively.
We are all thrilled with the interest that our customers are taking in us. One really exciting area has been the harvests, where we ask volunteers to come and help us handpick our grapes, normally from around the end of September/beginning of October. We of course provide plenty of food and a tipple!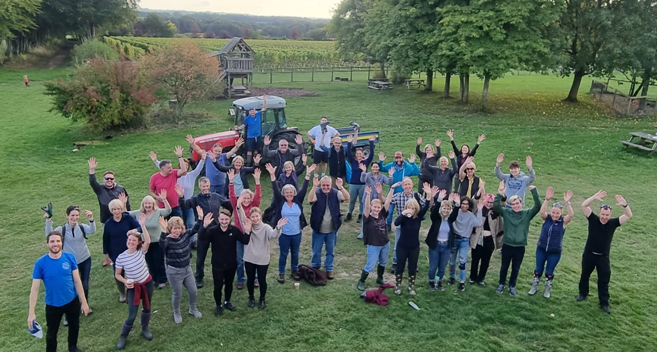 What can visitors expect from a visit to Bluestone Vineyards?
Probably our most popular option is our two hour Signature Tour and Tasting between around May to October, which is led either by me or Nat. We take visitors for a one hour guided walk around the vineyard itself, where we try to keep things "medium educational" - we want people to learn something from us, but at the same time don't want to bore them with a lecture on vine growing… We then do a one hour tasting, involving samples of wines, local cheeses, and meats. Again, we aim to use this as a teaching experience to help people get a bit more out of their wines when tasting and to understand a few basics on food and wine pairing.
We have also recently opened up our cellar door where our wine is available to purchase, plus we have constructed outdoor decking this year for visitors to sit and have a drink in the sun.
---
What makes Bluestone Vineyards stand out?
For me, I really believe that it is the team here that makes us stand out. Toby does a fantastic job in the vineyard, shown by a great harvest in 2021. He really has his work cut out with almost 15,000 vines to handle, but never seems to be at all flustered! Nat works tirelessly to keep the business going, selling wine, answering enquiries, organising the harvest, promoting Bluestone and showing visitors around, among other things, and I do my best too…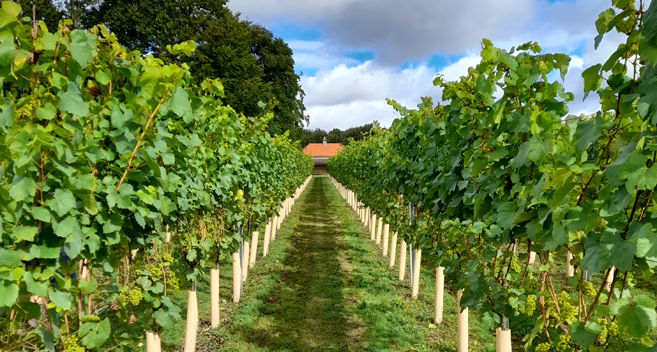 ---
What is your favourite Bluestone Vineyards wine?

At the moment we are selling our 2018 Cuvee Rosé - this is a lovely Sparking Rosé that has a superb, red fruit profile. Think strawberries, raspberries, red cherries, and some people have even mentioned tasting peach. It has proven to be an excellent seller so far both as a drink for sunny weather but also in the run up to Christmas. Additionally, it is a wine that should develop in bottle for another 3 years or so.
---
What do you like best about your role?
I started at Bluestone through volunteering before being taken on full time which is a less traditional route into a career and which has led to me having a great relationship with Nat and Toby.
---
Located just outside Salisbury, Bluestone Vineyards is a family owned and family run business offering vineyard walks and wine tastings. Find out more and book your visit today.
Related
2 Comments