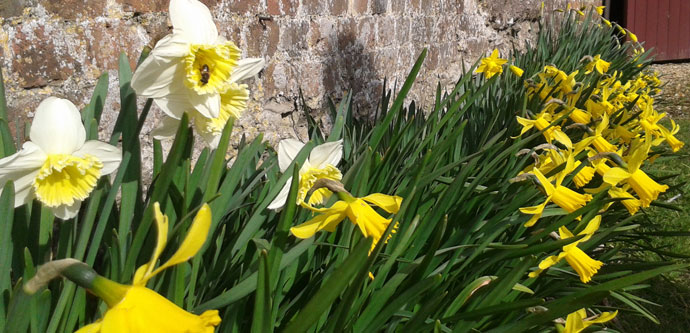 By Emma Kirkup
During a lovely weekend across the county, I decided to make the most of it and take my Mum out for the day to the National Trust's Stourhead gardens, in the south west of Wiltshire.
We've been to Stourhead many times throughout the years and it never fails to disappoint. For me, it doesn't matter what time of the year you visit as there's always something different to see and a different vista that you might not have seen before.
Mum and I decided to walk up to the house and cross the lawns towards the lake. The first time I'd done this walk was in the autumn with Stourhead's Head Gardener, Alan Power and the walk was equally as good this time (although without the great commentary from Alan!). The daffodils were peaking their heads out across the lawns and we were both surprised to see so many winter flowering rhododendrons offering pretty pinks and reds to the scenes.
Walking down to the lakeside, we passed lots of families enjoying the sunshine, children spotting ducks and other wildlife and people donning their walking boots or wellies for some longer walks on the estate.
As the trees were still mainly bare, you could catch glimpses of the temples that you wouldn't normally get to see in the summer months as well as other spring flowers dotting up around the lawns. Just a shame I wasn't in more suitable footwear as it would have been a great day to explore the wider estate too.
After a good stroll around the lake taking in the views and the sunshine we headed for what seems to be a National Trust tradition… the tearoom! Here we enjoyed a nice warming brew and a good old slice of homemade cake – the perfect end to a perfect day!
Related
0 Comments