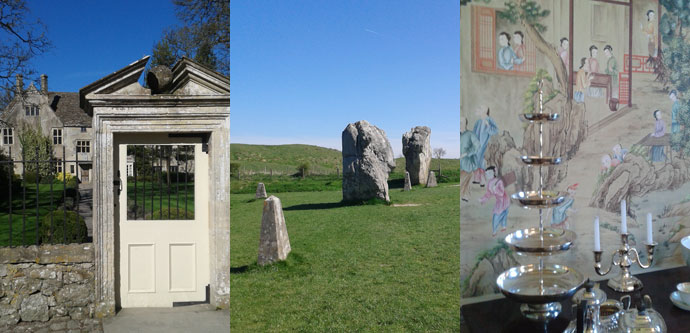 By Emma Kirkup
We've been experiencing some glorious April weather this month which lent itself perfectly for a day visiting Avebury, in the heart of Wiltshire.
We were lucky enough to go on a private guided tour of Avebury Manor before it opened to the general public, organised by the National Trust as a familiarisation trip for some of our partners.
The previous time I visited the Manor, I was on a self-guided visit and although there are guides on hand in the different rooms to tell you more and to explain the different eras that the rooms represent, I do find a visit with a guide particularly useful.
We started off in the late 1930s, 3 September 1939 to be precise and Chamberlain was just about to declare the Second World War – if you listen to the radio in this room you'll even hear his speech.
The rooms are dressed for different periods of history all as part of a BBC TV show. It is great how hands-on you can get here, you are actively encouraged to sit on the chairs, play a game of billiards, handle the objects and even make a mess (or wash up) in the kitchen.
Our guide explained to us the different techniques that were used in the restoration or creation of artefacts within the house from the intricate Chinese wallpaper through to the oak furniture in the Tudor dining room.
Once our tour had finished, we headed to the Library for some very tasty National Trust cakes, which I had to sample of course!
After this we were met by some different guides for a tour of Avebury's Stone Circles. Our guide showed us artists' impressions of the circles and gave us an overview of the history of the archaeological digs before we set off for a walk to the stones.
It's overwhelming to think that the site was created in the days before modern machinery and like Stonehenge, the exact reason the site is where it is still remains unknown.
There still remain a lot of myths and legends around the area from a skeleton they found buried beside one of the stones to talk of the Devil appearing. The best way to find out more about this is to join a guide on a tour here.
For me it was simply amazing to think about the amount of history that surrounds you.
Related
0 Comments