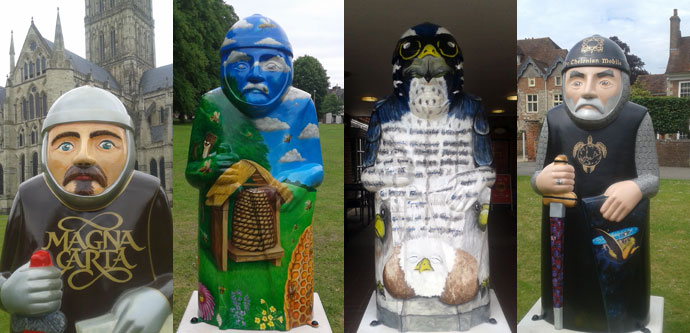 Anyone who's visited Salisbury in the past few days will have come across some new additions to the city – 25 Barons dotted around the city centre! The Barons are here as part of the Magna Carta 800th anniversary celebrations taking place across the country.
The Trussell Trust, who have organised the trail, have produced a trail leaflet and downloadable app where you can make your own search for the Barons across the city.
Heading to the launch event on Friday, I met five Barons within the Cathedral Close alone – three on the green around Salisbury Cathedral, one outside Salisbury Museum and a Terry Pratchett-themed Baron on Choristers Green close to Mompesson House and the Rifles Museum.
I also came across a couple of Barons in the Old George Mall and Market Place and a Peregrine falcon Baron within Cross Keys Shopping Centre.
As I walked around, there were lots of people admiring the artwork, taking photos and families planning which Baron to meet next.
Now I'm at a total of thirteen Barons which I've spotted so far and I'm looking forward to meeting the rest of them shortly! I think my favourite Baron so far is the 'Busy Bee' Baron who can be found in the Greencroft. Tell us which your favourite Barons are by sharing them with us on Instagram and Twitter.
You can catch the Barons across the city until 6 September. Trail leaflets can be picked up from Salisbury Cathedral, Salisbury Information Centre, Fisherton Mill and a couple of other locations around the city.
Want to know more about other Magna Carta events taking place in Wiltshire? Find out more on our Magna Carta 800 page.
Related
0 Comments