By Emma Kirkup

What better way to spend a rainy and windy February weekend than a visit to one of Wiltshire's indoor attractions! With this in mind, we planned our first instameet of 2016 with Igerswiltshire at Boscombe Down Aviation Collection at Old Sarum (just a couple of miles outside Salisbury).

A group of around 25 of us gathered at the Collection and were greeted by friendly volunteers who told us a bit about the history of the Collection and its relocation a couple of years ago from behind the wire at Boscombe Down.

We then all headed into the first hangar with cameras, phones and even GoPros at the ready to capture moments from our visit.

I have been to the Collection twice before so knew what to expect, however it has grown since my last visit with more helicopters. It also now takes up two hangars rather than the one on my last visit. The others in the group didn't realise that you can get hands-on with most of the exhibits and climb into the cockpits of the majority of the planes and helicopters and actually press buttons, pull on the levers and of course, pretend that you are a pilot! There is certainly something to be said for being allowed to touch exhibits and I think it brought out the big kids in most of us! I must admit, I did have great fun putting on the flight suit and helmet and pretending I was something from Top Gun! (I'm sure many of the others did too!)

In addition to some of the new exhibits on display, there's also a simulator that the volunteers will let you have a go at if you ask them nicely! It was quite funny watching some of the group attempt to manoeuvre it – Chris (one of the organisers of the event) had a massive grin on his face as he attempted to take to the controls.

What I enjoy about these meets is not only the chance to meet other Instagram users and share tips but also to see the different perspectives that people capture from the same visit. If you would like to have a look at some of the photos from the meet look up #flygerswiltshirebdac on Instagram.

VisitWiltshire will be jointly hosting more instameets with Igerswiltshire in 2016 including Stourhead and Old Wardour Castle. To find out more and to keep an eye on how to register for these events please sign up on Meetup here.

Finally, we'd like to give a big thank you to Boscombe Down Aviation Collection for hosting us! Here's a group shot of us all - thanks to Waddell Digital for letting us use it.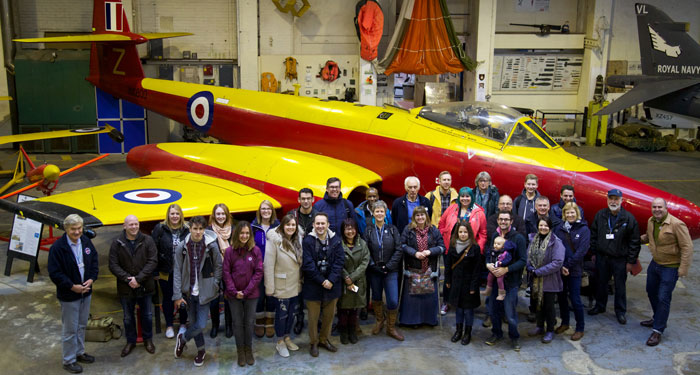 Related
0 Comments