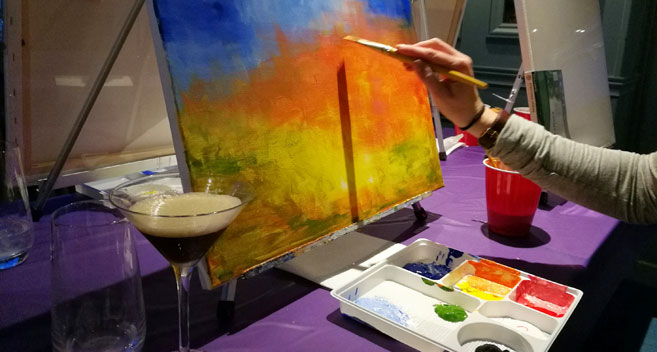 By Theresa Hopwood

Bradford on Avon is always a pleasure to visit, with its lovely independent shops, great range of eating places, and fabulous selection of place to stay, I am often to be found there enjoying the canal and river walks, or a bit of shopping and coffee culture! However, Friday night was an opportunity to try something completely new to the town – painting and cocktails – how could I resist? So on a beautiful spring evening my daughter and I headed to The Boathouse.

The Boathouse is located in a prime location right on a marina and being a lovely sunny evening there was plenty of activity outside the large picture windows to inspire us for the two hours of creativity ahead.

After being greeted by the friendly Boathouse team we were introduced to their new cocktail menu, a Gin Fizz helped reduce the nerves, and we were very soon reassured by our lovely "teacher" for the evening, professional artist Lindsey Burgess, that there was no pressure, or judgement of our efforts, we should just go with the flow and enjoy ourselves! Tables were laid out ready with blank canvasses, paints, and a very necessary apron. I had the comfortable feeling of being transported back to the carefree painting days at primary school in a time before I was deemed "unsuitable to do O Level art" when it all got so much more serious at secondary school!

Ready with paintbrush in one hand and cocktail in the other, Lindsey introduced us to the image we were aiming to recreate, or do our own freestyle version of. My immediate thought was that there was no way I was going to be able to do that. My daughter, however, did A Level art and is a designer so I was reassured I would have at least one great finished item to photograph!

There was a good cross section of people joining us on the course and the banter was lively as we all made a good attempt to follow Lindsey's simple instructions to "cross-hatch" with our blue paint, my first brushstrokes for many years. Yellow followed blue and we then got an opportunity for some exercise, waving our canvasses around to dry them before the next stage, quite a sight! Leaving them to dry gave us a chance to sample The Boathouse's tasty food menu. We got to try the fish and chips, and Confit of duck leg, both of which were delicious. My daughter treated herself to another cocktail, this time a sophisticated Expresso Martini, again from the new cocktail menu.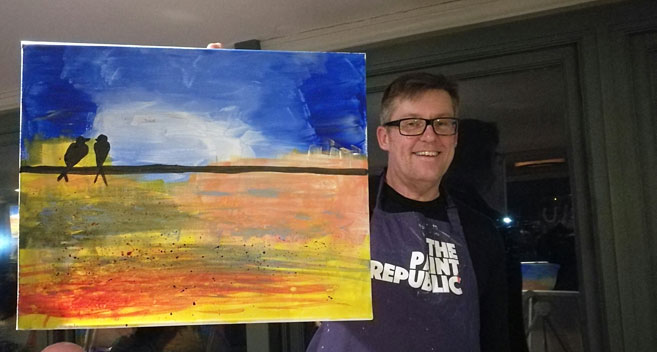 After the break we continued with our painting, the greatest challenge being drawing the wire across the canvas, a straight, narrow line, freehand was quite a challenge, but we all did a pretty good job. There were plenty of comparisons going on and Lindsey was very encouraging as she walked around offering advice. The final touches were the birds sitting on the wire, and Lindsey had a great tip here for drawing birds based on hearts, fool proof even for me. I went off-piste here and added a third bird as I prefer odd numbers, to my daughter's and fellow painters' amusement.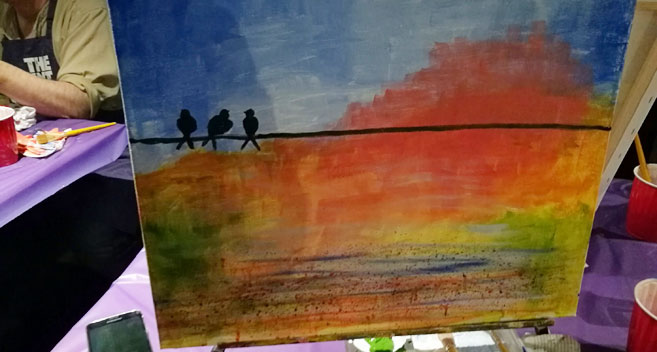 After plenty of photos and chat about our achievements, we were free to enjoy The Boathouse bar and consider our next artistic project. The team at The Boathouse are hoping to make this a monthly event and are even talking about having a gallery of paintings produced, and auction them off for charity at the end of the year. Sorry guys, I don't think mine will raise you too much money, but I think I may finally have laid the ghost of my critical art teacher at school, and be ready to enjoy art again!
Related
4 Comments