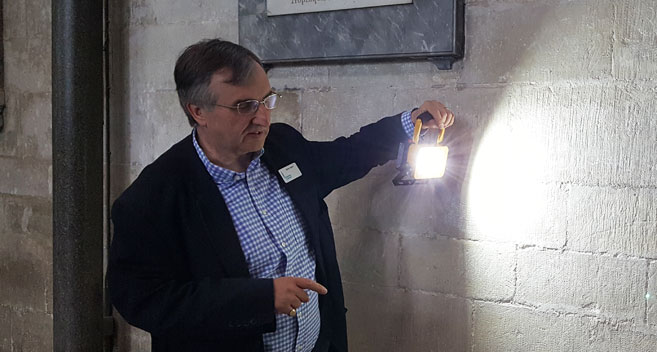 By Emma Kirkup

If you've ever joined Salisbury Cathedral for one of their Tower Tours then you will have probably seen a fair bit of ancient graffiti as you approach the base of the spire.

Cathedral guide, Steve Dunn (with his team of approximately 60 volunteers) has recently launched a three year project aimed at recording the various marks left on the building over the centuries which will soon be able to be explored on a guided tour.

I joined Steve as he took us on a quick overview of what the tour is going to offer visitors beginning on the Cathedral's floor.

I've lost count of the number of times I've visited the Cathedral over the years and feel like I know the building pretty well. However I'd failed to notice any of the marks that Steve pointed out on the walls at this level before. Here you can see, not only mason's marks including designs for the Cathedral's builders but also etchings of prayers on the approach to the alter.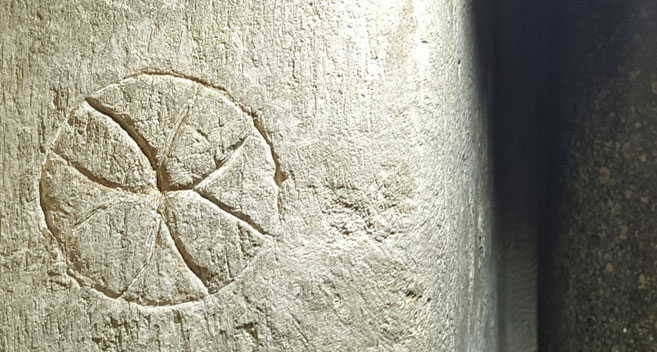 There were quite a few 'Hexfoils' (otherwise known as witches' marks) which were carved to 'catch' the demons that entered the Cathedral and areas of graffiti in some of the chapels and on some of the tombs as well and although Steve can't say for sure what all of the inscriptions mean, theories are in place as to some of them, and others where a name or date is used are more obvious. It's amazing what shining a bright light onto a wall can show up!

Once we'd explored some of the more obvious marks on the Cathedral floor, we ascended the spiral staircase to the West Window and noted some of the graffiti that could be found in the rafters, some marks here are thought to have dated from the middle of the 13th century.

I won't spoil too much of the surprise over some of the things that you'll be able to see but do look out for the lion and 'Jasper' - Jasper in particular has been very intricately carved! If you are planning on visiting or staying in Salisbury soon then it's worth keeping an eye out for these tours.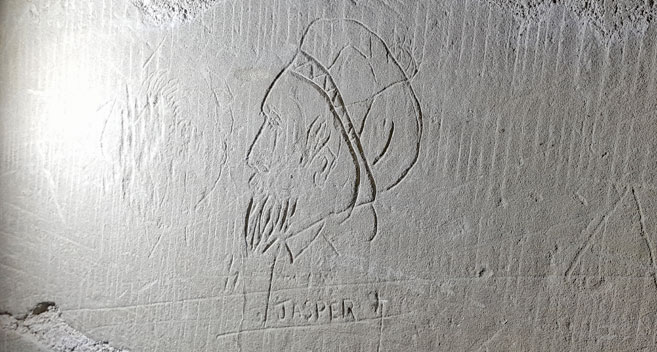 Steve and a team of specialised guides will be on hand to share some of these findings with visitors on Graffiti Tours which will start on Friday 5 May. Tours will run twice a month and will be able to be booked via Salisbury Cathedral's website. Small groups bookings outside of these times can also be made if booked in advance via visitors@salcath.co.uk or by calling 01722 555120.
Related
0 Comments