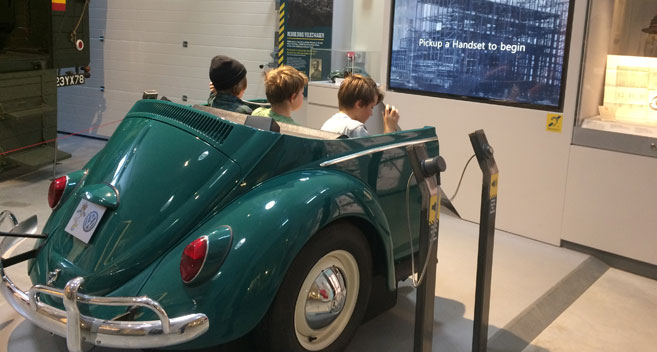 By Florence Wallace

I set off one bright August morning, with three 11-year-old boys in tow, to experience the recently opened REME Museum in Lyneham.

As a new museum in the county which details the story of the Royal Electrical & Mechanical Engineers within the Army, I thought this would be of particular interest to the three boys (two mine and one visiting) that I found myself having to entertain for the day.

On arrival, the boys were given a fun family activity booklet each and quickly made their way into the first exhibition hall called 'Forged in Battle'. We immediately saw army tanks and bikes which proved very exciting. We were also given an introduction to the REME regiment – it started in 1942, in the middle of World War Two and the mission was, and still is today, to keep the Army's kit stored, prepared and ready for battle.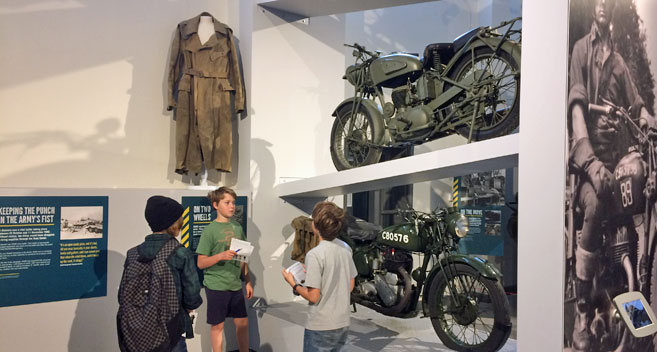 We worked our way into the next area called 'Tradesmen Always', where we could learn about the trades which the REME soldiers specialised in. There was information and interactives about Technical Support Specialists, Vehicle Mechanics, Metalsmiths, Avionics Technicians, Recovery Mechanics, Electronics Technicians, Aircraft Technicians and Armourers.

The next exhibition hall was the biggest with many heavy machines including a Warrior 513 and a real army helicopter. The boys spent ages playing in this area– dressing up and sitting in the driving seat of one of the vehicles pretending they were really going into battle!

A couple of other excellent interactives include the 'making and doing table' and the dressing up area – all the boys got into the spirit of imagining life as a REME soldier.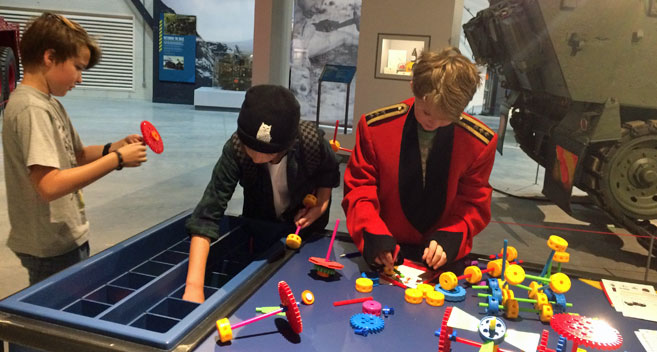 The visitor journey took us into 'The REME Family' with costumes and memorabilia from real REME soldiers and then into 'By Skill and By Fighting' where we found another interactive exhibit about the military training and equipment.

The boys were quick to move in towards the guns, but just prior to this was an amazing computer game where visitors are encouraged to take control and recover a Jackal vehicle using a winch, within a specific time period. All three boys had a go and were successful in their efforts.

Moving into 'The Armourers Hall' the boys couldn't contain themselves with excitement. None of us had seen such a vast array of weapons in one area. They obviously were keen to know if they were real and after I informed them, that they are likely to be real but hopefully not loaded, I heard one of them say "This would be a great place to come in the event of a zombie apocalypse'!

The final exhibition area was 'REME Remembers'. A lovely sympathetic exhibition which included a computer that allowed you to search for soldiers who had lost their lives.

We ended our morning with a visit to the Crown Café. The food was superb, great value and with three hungry boys to feed we didn't have to wait long either.

At lunch, I asked the boys what has been their favourite exhibits. They replied 'the tank we could play on', 'dressing up like a soldier' and 'seeing the different types of guns'. A great day out and fun for all the family!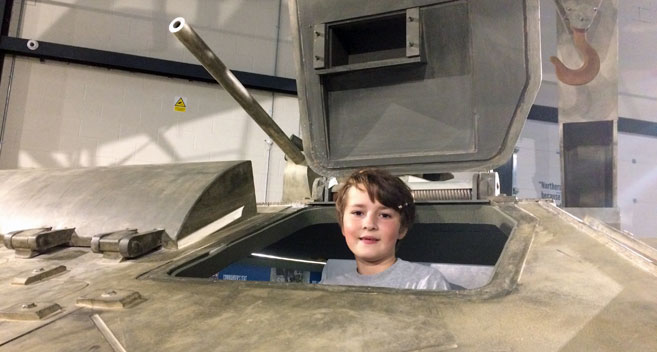 REME Museum is open Tuesdays – Saturdays, 10am – 4.30pm. Costs are £21 for a family ticket for 2 adults and up to 3 children.

Related
0 Comments