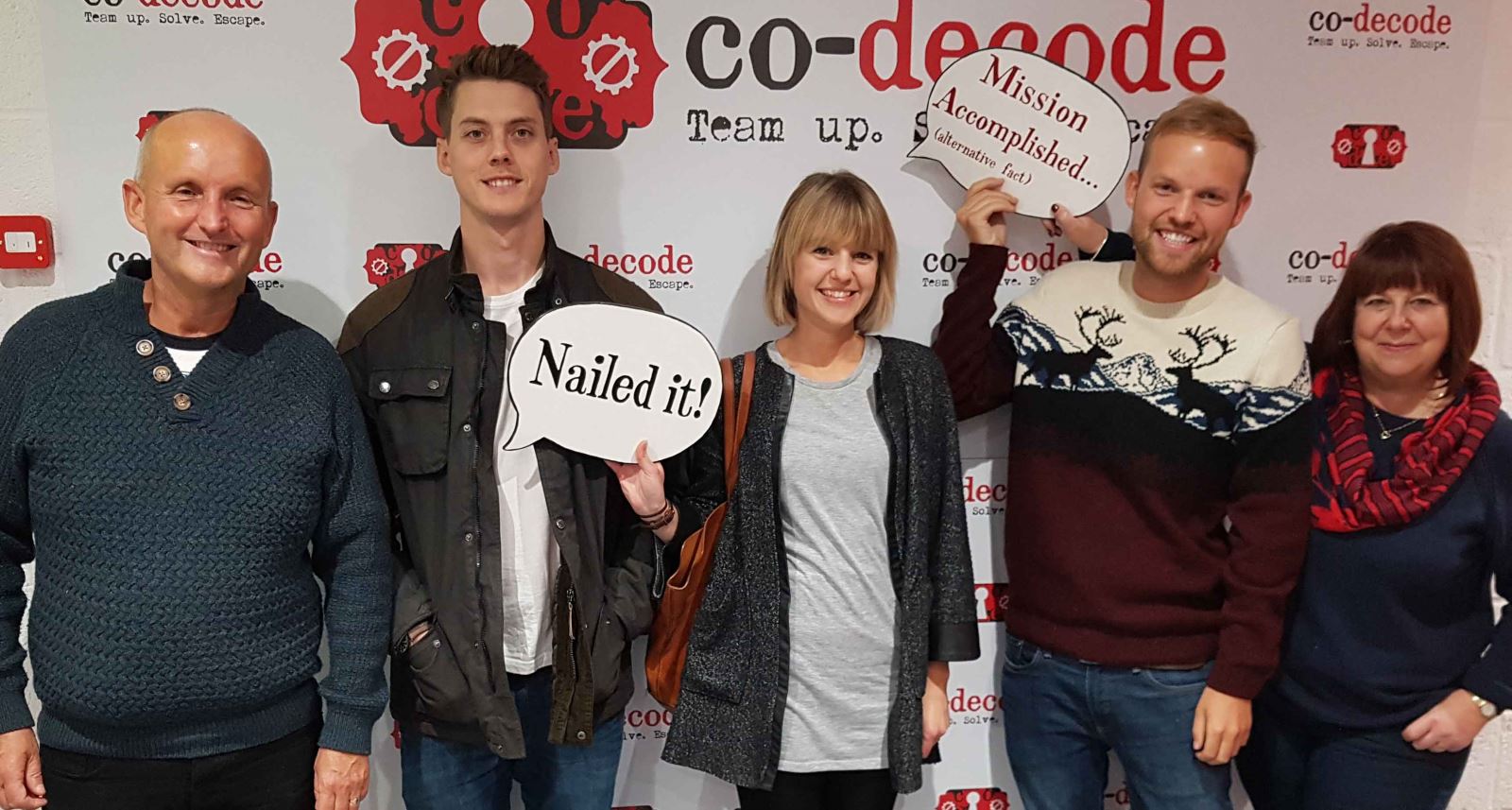 By Theresa Hopwood
I am always happy to spend quality time with my grown up children and their partners, and last night offered the perfect opportunity as I had been invited to try out one of Wiltshire's newest Escape Rooms, Co-Decode, in Swindon. For those who have not encountered the Escape Room concept, they offer an hour or so of puzzle solving and team building in a pre-set scenario, testing mental agility.
Co-Decode is located in an industrial estate, with plenty of free parking, but we were soon swept into another world when we were given the background story, and led into the room were we had an hour to solve the mystery of a missing artefact. The décor of the room, and the accessories furnishing it, enable you to get immersed in the world of the mystery. The excitement when a clue was solved, or a combination unlocked, grew as the time ticked away. It is a great team building activity and we all seemed to work fairly well together, with Chris, my youngest son, proving to be a clue solving expert!
When we were struggling (which may have happened once or twice!) a clue would appear on the screen in the room getting us back on the right track. You can opt to only get clues when you request them if you prefer.
The mechanics and technology behind the game were really impressive, and time after time we were wowed as solving a clue resulted in a seemingly magical happening!
With just 30 seconds to spare we were frantically trying to achieve the final action necessary to escape but time got the better of us and it looked as if we were destined to suffer the consequences of failure! We couldn't believe how quickly that hour had passed! Frustratingly close to succeeding we were rescued and shown exactly how close we had been.
After release we were offered complimentary bottled water, and posed for the mandatory team photo, some family members may have been slightly twisting facts with their choice of signs – well I guess we sort of "Nailed It"!
Back in the real world Alex, the brain behind Co-Decode, told us about his plans for a new room to be launched in a couple of months, and also his Halloween Special Taster sessions. We look forward to going back and trying the next adventure.
Wiltshire is now really well served for Escape Rooms, with Live Escape Salisbury, and the Salisbury Escape Room in the South of the county, and 11th Hour Escape, joining Co-Decode in the north of the county. Escape Room aficionados could spend a great weekend in Wiltshire visiting all four, as well as the many other activities on offer in the county. For more information on what you can do in Wiltshire click here.
Related
0 Comments