Looking for events in Wiltshire this March? There's lots taking place for you to enjoy! From children's shows to art exhibitions, classical concerts to stand-up comedy and open gardens to live talks. Plus, there's lots going on for Mothering Sunday this month.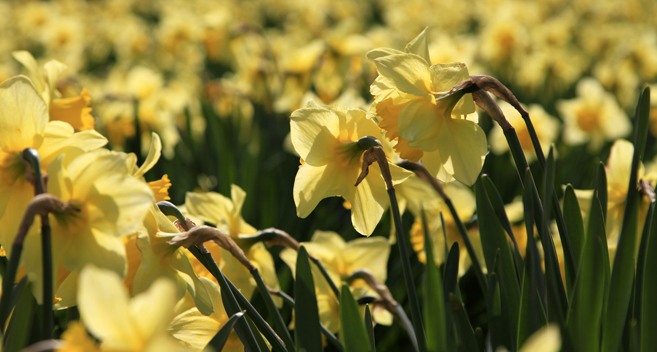 Outside Events
Step outside and appreciate the lovely Spring bulbs and bright early flowers across Wiltshire this March. Westcroft Garden at Boscombe near Salisbury is open on select days this Spring, including Thursday 5 March, as part of the National Open Garden Scheme. Visit to admire vast drifts of snowdrops as well as hellebores, pulmonarias, grasses and more. On 29 March, join a National Trust guide for a landscape walk around Waden Hill taking in the ancient and intriguing landscape and some of the fascinating Neolithic monuments near Avebury.
Live Music
If the weather doesn't turn out to be so good, why not spend a cosy evening inside letting soothing sounds wash over you at a live music performance. There's something for every taste in Wiltshire this month. Beethoven 250 Festival celebrates 250 years since Beethoven's birth with concerts, lectures and recitals at Wiltshire Music Centre in Bradford on Avon between 4 and 7 March. Other classical performances this month will include Trio Paradis: Daughters of the Muse at Trowbridge Town Park and Salisbury Baroque. There's more Live Music at Salisbury Cosy Club as well, with Wiltshire band The Deloreons performing on 27 March. And if you want to get up and have a dance, the best place to be is surely the upcoming Barn Dance at Calne Town Hall on 27 March.
Family Fun
There's plenty for the kids to enjoy this March in Wiltshire. For starters, head to Bradford on Avon on 4 March for a live show that will bring to life the enchanting world of CBeebies show Sarah and Duck. Sarah & Duck at St Margarets Hall will feature a fantastic blend of puppetry, storytelling and music and is suitable for children aged three and up. Or get your kids busy in the kitchen with Mini Chef's at Vaughan's Cookery School in Devizes on 28 March. At Mini Chefs, children spend two hours learning to make real, nutritious food from scratch. On 7 and 21 March, its time for Meet the Railway Workers at STEAM in Swindon, where you will be welcomed aboard some famous locomotives and can hear fascinating anecdotes about GWR engine drivers and firemen.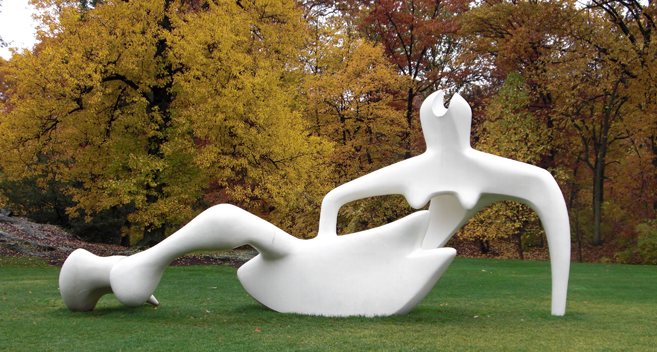 Image: Henry Moore Large Reclining Figure 1984 (LH 192b) photographer David Mitchinson reproduced by permission of The Henry Moore Foundation
Art Exhibitions
Major art exhibition Spirit and Endeavour begins on 25 March, with 20 iconic and important pieces of contemporary art by artists including Henry Moore and Grayson Perry on display inside and around Salisbury Cathedral. The exhibition is part of Salisbury 2020, celebrating the 800th anniversary of the Cathedral's move from Old Sarum and the formation of a new city. The artworks on display at Spirit and Endeavour reflect the changes in thought and creativity that have taken place over the last 800 years and do honour to the ordinary people who built Salisbury's stunning Cathedral.
Talks
There are lots of fascinating talks taking place in Wiltshire this month, covering a wide range of topics. Pippa Greenwood: My Life in Gardening will see Gardener's World presenter and horticultural expert Pippa Greenwood come to Chippenham to talk about botany and gardening. On 26 March, Friends Talk - Jeremy Holt on The Computer Museum will explore the history of Swindon's Computer Museum - the first UK museum exclusively dedicated to the history of computing. Salisbury Conversations also returns this March, with three panel discussions taking place inside Salisbury Cathedral, each in front of a live audience. March's Salisbury Conversations cover topics including feminism, robotics and climate change. Also in Salisbury, Inspired? Mompesson House and the Creative Arts is an opportunity to look around the lovely 18th-century townhouse Mompesson House in Salisbury's historic Cathedral Close, explore its collection and find out how this stunning location has provided creative inspiriation throughout the years.
Performance and Theatre
Edward Albee's famous play Who's Afraid of Virginia Woolf? - a brilliantly funny and utterly devastating black comedy - comes to Wiltshire this March, running from 26 March to 11 April at the Salisbury Playhouse. You can also catch some stand-up comedy this month, with Jack Dee performing in Salisbury on 20 March. Or head to Wiltshire Music Centre in Bradford on Avon for Dom Joly's Holiday Snaps.
Mothers' Day
Don't forget - this year, Mothers' Day takes place on Sunday 22 March! Want to spoil your mum over the Mothers' Day weekend? Have a look at the upcoming Mothers' Day events in Wiltshire, including Afternoon Teas and delicious meals. Or why not book her in for a day of relaxation and pampering at a local Wiltshire spa?

If you're visiting Wiltshire in March 2020 to take part in any of these exciting events, why not make a real holiday of it? Have a look at our lovely local accommodation and all the things to do in Wiltshire.
Related
0 Comments