As government restrictions relating to Coronavirus are gradually lifted, shops across Wiltshire are beginning to welcome customers back. From Monday 15 June, all non-essential shops will be allowed to open again. Many of the Wiltshire retailers which have been closed for the last few months will be reopening, and they have been working hard to make sure they can open safely once more. Town and city centres, shopping centres and retail outlets of all kinds will be welcoming customers again from Monday, although there will be new measures in place to keep everyone safe. If you're wondering what to expect and how to go shopping here in Wiltshire while protecting yourself and those around you, here's our advice on how to shop responsibly.
From Friday 24 July, it is essential to wear a face mask or face covering while in an indoor shop. Children under 11 and those with disabilities or certain health conditions are not required to wear masks.
Support our Wiltshire Shops!
Our lovely local retailers and independent shops have been working hard to put procedures in place to keep everyone safe. Please support our Wiltshire businesses by shopping locally as we move out of the Coronavirus lockdown period, and abiding by the measures that our businesses have put in place.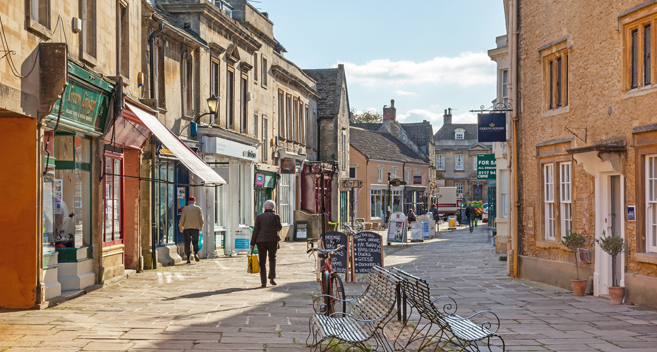 What will Shopping in Wiltshire be like after 15 June?All non-essential retails shops will be allowed to open from 15 June, providing they follow Government guidelines to make them COVID-secure. Here's what you can expect:
- Extra hygiene procedures will be in place for stores, including staff washing hands frequently and cleaning surfaces regularly.
- There will likely be limits on how many customers are allowed inside at one time, so you may need to queue up outside some shops. Once inside, you may find shop layouts have changed or that one-way systems are in place. Look out for posters with guidance on any specific procedures that customers are being asked to follow.
- The whole experience of shopping will likely take longer, so be prepared to wait patiently, especially at busy times.
- Opening hours will likely be different. It is always worth checking directly with the specific shop before you arrive to make sure they will be open.
- You will not be allowed to try on clothes and handle merchandise before buying.
- Local facilities (such as toilets) are likely to be closed, and some roads have been pedestrianised to allow shoppers more space for social distancing. Note that parking charges came back into effect across Wiltshire from 1 June.
We've also provided more specific details about shopping in specific locations across Wiltshire below.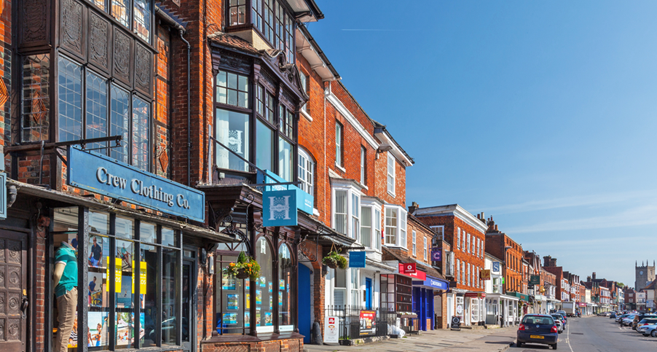 How can I Stay Safe when Shopping in Wiltshire after 15 June?
Shopping in Wiltshire this summer may be a very different experience to normal! Our lovely retailers and independent shops have been working hard to put procedures in place to keep everyone safe, so please follow their lead to shop responsibly. Remember, each town, shopping centre or retail park may have their own guidance and protocols, and precise procedures may vary from shop to shop, so please stay alert and abide by any directions you are given. Here's what to do:
- Follow government social distancing advice whilst out and about, including staying 2 metres from others wherever possible and washing your hands frequently. Please follow the government guidance on staying safe outside your home while shopping.
- Shop alone if you can, and do not go shopping if you or anyone in your household has symptoms.
- Look out for advice signs in retail areas, town centres and shops, and follow the instructions and directions given.
- Before entering a shop, check if it is busy inside. You may be asked to wait and queue outside. If you need to queue outside the shop, try to avoid blocking pavements and entrances to other shops.
- Try to only touch things you are going to buy, and use contactless payment if possible. Avoid using cash.
- Use a mobile payment app to pay for parking where possible.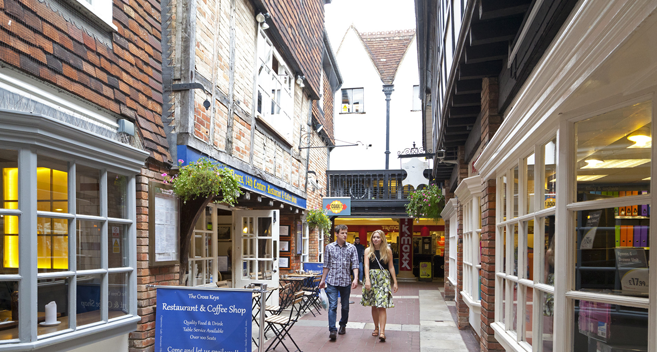 Shopping in Salisbury
With many shops opening their doors again on 15 June, rainbow-patterned pavement stickers have been installed in Salisbury to guide shoppers safely around the city centre. Not all shops in Salisbury will be opening straight away and many will have reduced opening hours, you can check which are open with the Salisbury BID shopping directory. You can also support your local shops in Salisbury by buying a Salisbury Gift Card. Salisbury Charter Market is one again open every Saturday and Tuesday in the Market Place. The market takes place from 8am until 2pm, with safety measures in place.
Shopping in Malmesbury
A number of temporary changes have been put in place in Malmesbury town centre to make shopping easier and safer from 15 June. These include introducing changes to parking to allow extra space for pedestrians in the Upper High Street and Oxford Street, creating some one-way pedestrian routes, and making more space for queuing outside shops. Look out for signs and information boards giving guidance on moving around town. Find out more.
Shopping in Devizes
The Thursday Market in Devizes Market Place remains open, with social distancing queuing systems in place on each stall, and some stall holders implementing a one-way system around their stalls. Please abide by the floor markings in place to show you where to queue. The Shambles indoor market will also reopen its doors from 15 June, with a one-way system in place. Customers should enter using the doors leading to Market Place and exit via the back doors by the café. Find out more about the Devizes Markets.
Shopping in Swindon
New safety measures have been put in place in Swindon to help shoppers move around town safely, including signage and floor markings to remind people to maintain social distancing. College Street will be closed to traffic to create more space for pedestrians and allow for queuing systems to be safely implemented. Shared spaces, such as benches, will be cleaned regularly. Bristol Street and Brunel North car parks will be re-opened, but public toilets will remain closed. Find out more.
Shopping at Swindon Designer Outlet
Social distancing and additional hygiene measures have been put in place at Swindon Designer Outlet, which will reopen on Monday 15 June. The majority of brands in the centre will open on the Monday. Initially, there will be restrictions on customer capacity, and adjusted opening hours (10am to 6pm, Monday to Sunday). The centre has implemented queueing and one-way systems where appropriate, made hand sanitisers available in common areas and implemented a cleaning regime that ensures public spaces, toilets and high touch points are regularly disinfected. The centre's West car park will initially be closed, so guests will need use the North car park on Kemble Drive (SN2 2NA) to access the centre. Find out more.
Related
0 Comments