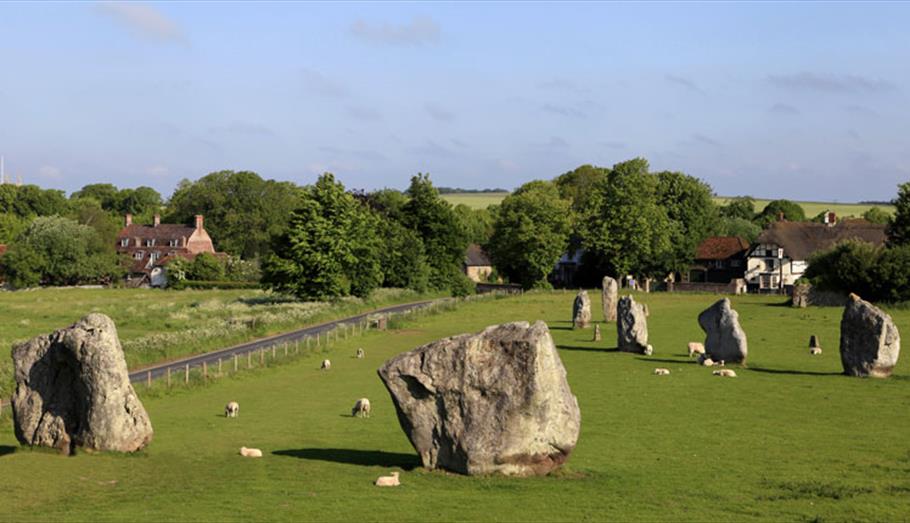 Within a Stone's Throw
Calne is a great place from which you can discover the timeless wonders of Wiltshire. It's on the edge of the North Wessex Downs, an Area of Outstanding Natural Beauty and a great example of Wiltshire's timeless beauty. Calne - Town of Discovery is located at the heart of the Great West Way and has many wonderful tourist attractions all within a stone's throw.
Bowood House & Gardens is a grade I listed Georgian house and is home to the Marquis and Marchioness of Lansdowne with 100 acres of beautiful parkland, designed by Capability Brown.
Atwell Wilson Motor Museum has an impressive collection of classic cars, as well as lorries, motorcycles, mopeds, push bikes, plus a large collection of motor memorabilia.
The Cherhill White Horse is an outstanding hill figure first cut into the chalk in 1780 on the Cherhill Down east of Calne, close to the iconic Lansdowne Monument, which provide magnificent walks with lovely scenic views.
Avebury World Heritage Site is a Neolithic henge monument containing three stone circles, around the village of Avebury. It contains the largest megalithic stone circle in the world. Nearby is the intriguing Silbury Hill, a large prehistoric man made chalk mound 4400 years old and West Kennet Long Barrow, where you can enter the dark chambers of the Neolithic tomb constructed around 3400 BC.
REME Museum, located at MoD Lyneham, preserves the heritage of the Corps of Royal Electrical and Mechanical Engineers (REME) by providing a unique interactive visitor experience.
Lacock is a quintessential English Village cared for by the National Trust, famous for its picturesque streets and historic cottages, untouched by modern alterations. The medieval village is used for film and TV sets and it's most famous appearances include 'Downton Abbey', the BBC's 'Pride and Prejudice' and 'Cranford', and the films 'Harry Potter and the Half-Blood Prince' and 'Wolfman'.
Caen Hill Locks are a flight of 29 locks on the Kennet and Avon Canal, between Rowde and Devizes. It is one of the longest continuous flight of locks in the country with a rise of 237 feet over 2 miles.

Number of results:
Number of results: 31
, currently showing 1 to 20.
Type

Type:

Historic House/Palace

Looking to visit the amazing town of Lacock?...If so, click here to get the latest Lacock tourist information direct from the official Wiltshire tourism site!

Type

Type:

Camping & Caravan Site

Situated at the foot of the Marlborough Downs in one of England's most picturesque counties, Blackland Lakes offers all-year-round camping and fishing within a beautiful and tranquil rural setting.

11th Hour Escape Rooms: Live Interactive 'Escape the Room' Games.

The Dumb Post Inn is a traditional country pub with beautiful views over the Bowood Estate.

A magnificent old coaching inn dating from the 16th century. The character inside has been retained, many bedrooms having original beams. Good road access for Bath, Stonehenge, Longleat & a wealth of local attractions within an hour drive.

Type

Type:

Historic House/Palace

Outstanding 18th century mansion house estate.

Type

Type:

Country House Hotel

Bowood Hotel, Spa & Golf Resort is among the finest luxury 4-star hotels in Wiltshire, ideally situated just 18 miles east of Bath on the A4 between Calne and Chippenham. Nestled in the stunning Bowood Estate, the hotel and resort are surrounded by…

Whatever your day's activity, The Fours will welcome you back: a glass or two, or perhaps a barbecue, in the peaceful garden watching for badgers and foxes in the hedge beyond the field, will set you up well for the next day's exertions.

Constructed around 3,400 BC West Kennet is one of the largest Neolithic chambers in Britain.

The impressive site was the resting place for many souls. Two Sarsen stones cover the entrance and inside there are five chambers.

Queenwood is a beautiful Georgian Lodge set in its own immaculate gardens between the 16th and 17th fairways of the Bowood 18 hole championship golf course and is perfect for groups of golfers, spa goers, groups of friends or family breaks.

The second oldest of Wiltshire's White Horses, situated on the edge of Cherhill Down, off the A4.

Type

Type:

Activity Centre

A Great Family Day Out!

Children will love the varied terrain of this countryside farm trail, by following the picture signs they can explore woodland, arable land and grasslands learning about the natural beauty of North Wiltshire's country side

Type

Type:

Alternative Accommodation

Highway Hill is a haven of natural beauty and outdoor experiences. We offer quirky accommodation that maintains the connection to the outdoors, a taste of rural life, and a variety of woodland pursuits.

Luxury self catering accommodation (sleeps 6). Three bedrooms - each with their own stylish bathroom, lounge/dining area, fully fitted kitchen and garden with BBQ. Set in a village location with view up to the famous White Horse.

Chalk Barn is a luxury contemporary style cottage at Buttle Farm with many original features, beautifully converted, with huge superking beds, stunning en-suites and spacious reception rooms, available as a 2, 3 or 4-bedroom option.

Ready for a close encounter of the furred kind?

More than 100 animals are waiting to meet you this year at Farmtastic Animal Farm, near Royal Wootton Bassett, Wiltshire.

With a host of activities available, there's plenty to keep the kids…

Type

Type:

Bed & Breakfast

Our beautiful home is in the heritage quarter of Calne. It is easy driving distance for Avebury, Stonehenge, Bath etc. You'll love Heritage because it is a beautifully renovated Victorian Gothic house, and the ambiance is warm and welcoming. Our B &…

The Cart Shed was built in 2014 and sleeps 4 Tastefully decorated with a mixture of wooden floors, slate tiles in the kitchen and carpeted bedrooms and lovely old stipped pine doors.

An extraordinary artificial prehistoric mound, the largest Neolithic construction of its type in Europe.

Type

Type:

Bed & Breakfast

Dove Cottage is a c.1700 detached cottage with beautiful views, tastefully furnished rooms and excellent hosts. Compton bassett is centrally located with easy access to all of Wiltshires wonders.