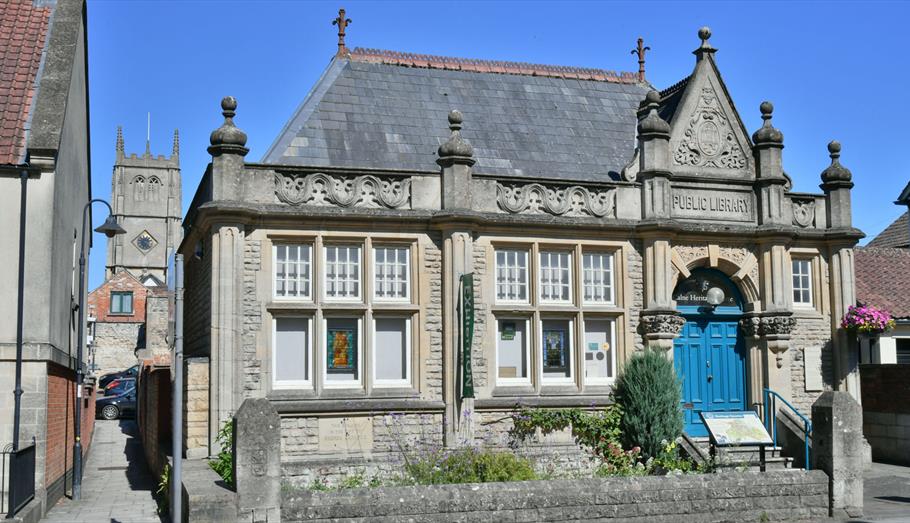 Heritage Centre
The Calne Heritage Centre building in New Road was first opened as the town's public library in 1905 on a piece of land donated by Thomas Harris and financed by the millionaire industrialist Andrew Carnegie.

Now owned by the Town Council this attractive building is leased to the Calne Heritage Centre Trust and run entirely by volunteers. The Centre shows aspects of Calne's long and fascinating history in colourful wall panels, interactive screens and memorabilia both in display cases and free standing. It also holds a large archive of historic photographs and ephemera.

The light afforded by the glass roof makes it an excellent space for exhibitions and there is a programme of changing exhibitions throughout the year, not just about past history but also showcasing the talents of local artists, photographers and the work of school pupils. Local groups and school classes are encouraged to visit the Centre, which supports the educational curriculum.

The curator is happy to give talks on a variety of topics out in the community and individual local history queries are researched free of charge. A variety of items and books of local interest, making excellent gifts and souvenirs are available for sale.

The building is available to hire for meetings and events outside public opening hours.
At the heart of the town's historic Heritage Quarter the Centre plays a major role in organising Calne's annual Heritage Week held in September and aims to encourage residents to learn more about and take pride in their heritage besides offering an attraction to visitors from outside the town.

Entry to the Centre is free. Opening hours from March to December are Wednesday to Saturday 10.00 to 4.00 and Sunday 2.00-4.00. It is closed to the public in January and February except by appointment. Visit the centre during Calne Heritage Week where it is open for 2 extra days of the week and hosts a number of events about Calne's history.