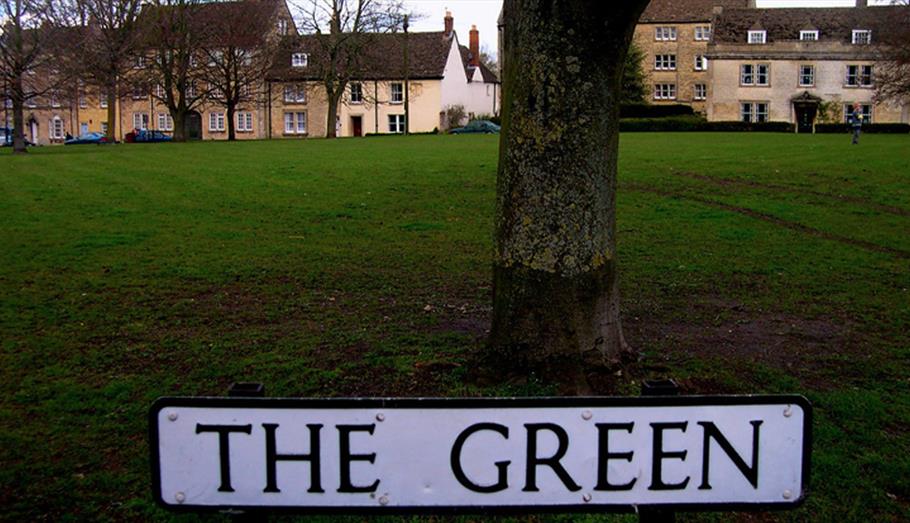 The Green
The open space on the left bank of the River Marden, close to St. Mary's Church, now known as the Green or Kingsbury Green, has always played an important part in the life of the town.

It was held as part of the church estate by the Treasurer of Salisbury Cathedral, who in 1303 was granted the right to hold a three day fair in July which continued until the 19th Century. The fair was famous for its backsword contests, even when the real swords were replaced by wooden versions, drawing visitors from all over the county.

Maypole dancing, plays and the church ales at Pentecost were also held on the Green and in the 16th Century the biannual Hundred Court met there.

The Green became the hub of Calne's woollen cloth trade. Numbers 10, 12 and 13 were all occupied by clothiers and are good examples of how they reflected their wealth and status by fronting their timber framed houses in the prevailing fashionable style.

Weavers' House, now converted into flats, was a workshop that evolved into a cloth factory employing specialist Flemish weavers. Later it was used as a cheese store and during the 20th Century C&T Harris stored sawdust there, causing it to acquire the nickname of Sawdust House.

Numbers 8 and 9 were also a cloth and later silk mill. In the Edwardian period it was used as an orphanage, during WWI a hostel for girls working for C&T Harris and in 1903 it housed the girls from County Secondary School.

In the later 19th Century the Green was the centre of Calne's educational establishments. Many of Calne schools started life in buildings there, including John Bentley and St Mary's.
Two internationally famous men were temporary residents on the Green. Robert Adam, the architect [1728-92] stayed in number 13, now called Adam House, while he was carrying out work at Bowood.

The Scientist and philosopher Joseph Priestley [1733-1804], credited with the discovery of oxygen while working at Bowood, lived in number 19 The Green from 1773 to 75. He then moved to the Old Vicarage in Mill Street.