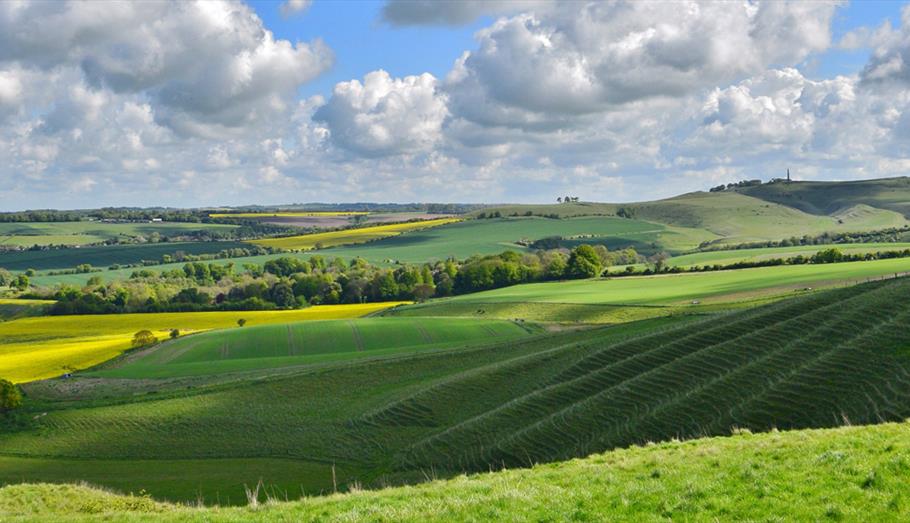 Walking in Calne
Located at the edge of the North Wessex Downs hills, a designated Area of Outstanding Natural Beauty, Calne is situated on a small river, the Marden, so there are a wide range of walks in beautiful rural countryside.
In Calne, there are many public footpaths leading to interesting places off the beaten track, including Bremhill (Maud Heath), Castlefields Canal & River Park (Disused railway track to Chippenham), Quemerford Wood, Penn Wood and the Calne Nature Trail. If you are interested in discovering more about the rich heritage of Calne, then the Blue Plaque Trail is a fascinating historical experience.
The Cherhill Downs, with the White Horse, Lansdowne Monument and Morgan's Hill are a lovely place for a walk with splendid views across rolling valleys and hills. If you would like to extend your walk then you could continue along the White Horse Trail to the nearby Wessex Ridgeway, Avebury Stones and Silbury Hill.
A few miles to the south east you can walk along the towpath at Caen Locks on the Kennet & Avon Canal or visit the Devizes White Horse at Roundway Hill, the site of a 1643 Civil War battle and Oliver's Castle Iron Age Hillfort.
Nearby Bowood Park Estate has many public footpaths passing through woods with deer and picturesque countryside which are ideal for a quiet relaxing walk.
For details of 16 Heritage Walks around Calne, see the book by Peter Knight & Sue Wallace entitled Calne - Gateway to Ancient Wiltshire, available from Stoneseeker.net.
You can also find suggested walking routes on our Blog
Number of results:
Number of results: 5
All the information you need to get walking in beautiful Wiltshire

Type

Type:

Activity Centre

A Great Family Day Out!

Children will love the varied terrain of this countryside farm trail, by following the picture signs they can explore woodland, arable land and grasslands learning about the natural beauty of North Wiltshire's country side

11th Hour Escape Rooms: Live Interactive 'Escape the Room' Games.

Set in stunning 'Capability' Brown parkland, Bowood is renowned as one of the finest golf courses in Wiltshire and is the PGA Official Golf Course for the South West.

A family run life coaching business deep in the heart of the beautiful Wiltshire countryside, dedicated to offering a variety of retreats, wellness days and evening meetings to suit all needs. These include, yoga, meditation, massage, informative…