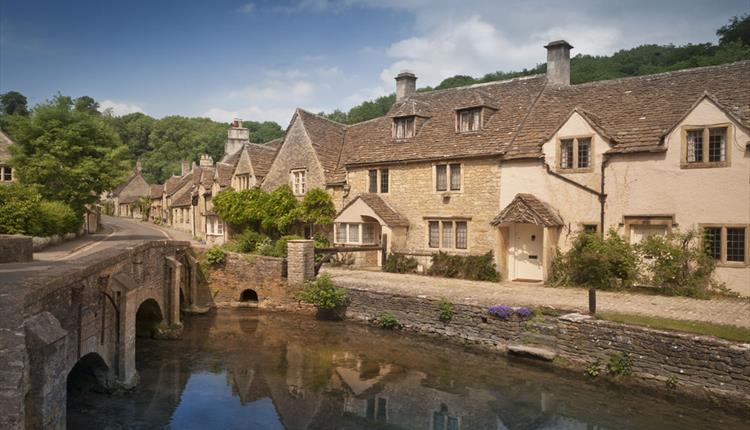 About
Surrounded by Cotswolds Area of Outstanding Natural Beauty, Castle Combe offers plenty of picturesque walks and quaint villages streets waiting to be explored!

Castle Combe has featured regularly as a film location, most recently in The Wolf Man, Stardust and Stephen Spielberg's War Horse. It was also used in the original Dr Doolittle film.
The village has a rich history and the houses are made up of the honey coloured Cotswold stone, typical for a village of this area.

Within Castle Combe you'll find a Market Cross and St Andrew's Church which dates from the 13th century. The church houses a faceless clock which is reputed to be one of the oldest working clocks in the country. You'll also find a couple of pubs and a luxury hotel with a golf course within the village.

Stroll along the village to the bridge and you'll not only enjoy the views but may be able to purchase homemade cakes, sweets or bunches of flowers from outside the locals' houses. Stop at the bottom of the village by the bridge and enjoy a great photographic moment too!

On the edge of the village is the Castle Combe Circuit where drivers have the opportunity to test out different vehicles, drive your own car or motorbike around the circuit or tackle the Rally course. There are also a host of events throughout the year at the circuit including race days for both cars and motorbikes.

There are several options for places to stay in and around Castle Combe with Bed and Breakfasts, self-catering properties and inns. It is also within easy reach of Chippenham and Corsham, and not far away from the M4 motorway.

Look out for tours that include Castle Combe including Mad Max Tours and Around and About Bath which both include the village as part of a wider Wiltshire tour.
Walks in Castle Combe
Castle Combe has some great walking routes nearby. Wiltshire Walks have put together a selection of walks that you can see here.
Map & Directions