Fermented Foods Cookery Class With Johanna Elliot
8, White Horse Business Centre
Hopton Industrial Estate
Hopton Road
Devizes
Wiltshire
SN10 2HJ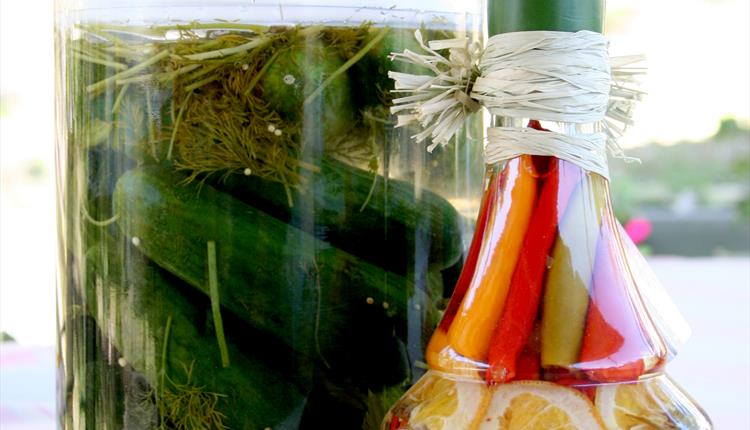 About
Johanna Eliot is a holistic wellbeing resilience coach and trainer. She has been plant-based vegan for 9 years and has a passion for understanding holistic approaches to health.

in this relaxed session you will have fun whilst you learn about the benefits of ferments, bacteria and gut bacteria, prebiotics and probiotics. You will also learn the do's and don'ts of this amazing 'chemistry' lesson! During the session you make:

- Kombucha - a fermented, naturally sparkling drink which children, as well as adults, love. It is a symbiotic culture of bacteria and yeast. Kombucha is becoming very popular and is full of probiotics, antioxidants and beneficial enzymes. Home-crafted kombucha is superior to any commercial drinks.
- Dry Salt Fermented Kraut - lacto-fermented vegetables that are delicious and have taste and texture with an Umami 'moreish taste'. Kraut can be eaten with all dishes and is fantastic for health, as it is made from the superfoods of the vegetable family.
- Kimchi with a home-made vegetarian kimchi paste - one of the most important dishes in Korean cuisine, as it is not only enjoyed for its taste and texture, but is filled with healthy bacteria and probiotics for the overall wellness of your body . If you like hot and spicy then Kimchi is for you!

It is suitable for vegans, vegetarians, dairy free, gluten free.
Guide Prices
£60 for hands on cookery class including supper with wine (non-alcoholic if preferred) and lots to take home and share
Opening Times
Sorry, this event has passed
Map & Directions