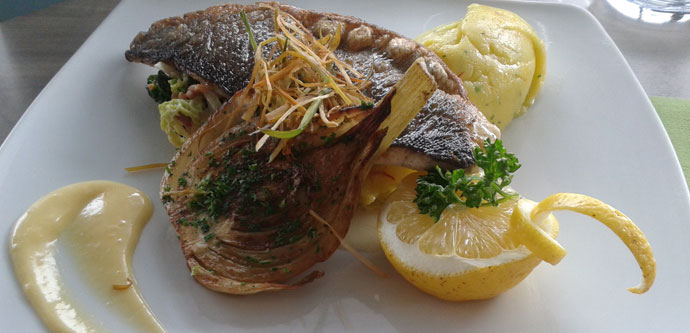 By Emma Kirkup
On a blustery day after paying a visit to Stonehenge, I made a visit to the recently refurbished Solstice Bar and Grill at the Holiday Inn Salisbury – Stonehenge, located on the outskirts of Amesbury and just a couple of miles from the famous stone circle.
The décor of the restaurant has changed with quirky artwork, some very comfy looking chairs in the bar area and a refreshed menu featuring some British classics. There's also an outside patio area that unfortunately we couldn't make use of this occasion as the British weather wasn't playing ball!
I decided to go for the Pan Fried Sea Bass whilst my colleague, Andrew opted for the Sausage selection and mash. Lovely food and nice and warming on what was a very windy day outside.
Within the restaurant, you wouldn't realise that you were beside the A303 – there's a relaxed, friendly atmosphere and the staff were chatty and helpful.
You can also look onto some of the sculptures that greet visitors to Amesbury including The Ancestor – a giant that represents the earliest settlers in Amesbury around 10,000 years ago.
Even though we were both full, we couldn't help but be tempted by the puddings. Our waitress recommended the Bramley Apple and Pear Crumble (a personal favourite of mine anyway) whereas the rest of the group opted for Crème Brûlée – which looked stunning and the Bread and Butter Pudding.
You don't have to be a resident to eat in the hotel restaurant and it's a great stop off point for you if you are visiting nearby Stonehenge or the historic town of Amesbury.
Related
0 Comments