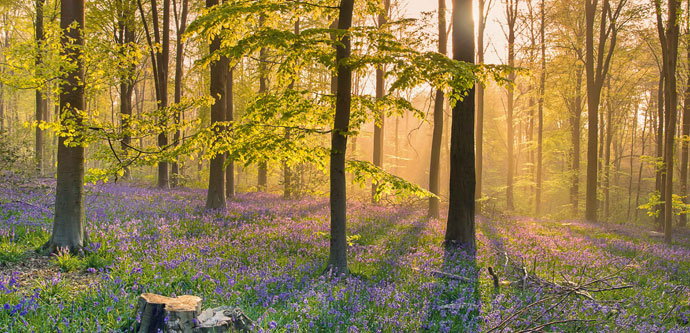 By Emma Kirkup
It's not long until bluebell season will be upon us once again in Wiltshire. Usually flowering in late April and into May, seeing the carpets of blue flowers is one of my favourite times of year. I have so far seen a couple of lone bluebells bravely conquering the still very fresh mornings however I'm looking forward to the bigger displays which will be here before we know it!
Here are our top places to spot bluebells in Wiltshire:
West Woods
South west of Marlborough, West Woods is a great place for fantastic displays of bluebells during late spring. The area is managed by the Forestry Commission and is a popular spot for locals.
Grovely Wood
On the outskirts of Wilton, Grovely Wood forms part of the Wilton estate and sits between the Nadder and Wylye valleys. See the area come to life with bluebells and other spring flowers.
Sandy Lane through to Lacock
Travel from the pretty village of Sandy Lane with its thatched cottages towards Lacock and you'll be greeted with beautiful displays of bluebells in Wheelers Wood as you descend Bowden Hill towards Lacock.
Bowood
The gardens of Bowood come to life with many colours throughout their open season however look out for the bluebells, particularly when the rhododendron gardens open up for the season. A visual treat!
Mortimores Wood
Just a mile from Chippenham, Mortimores Wood is a small area of woodland dating back to the 12th century.
Stourhead
Join the National Trust for one of their spring walks during May for the chance to see some of Stourhead's bluebells.
Do you know any local spots that are good for bluebells that we haven't mentioned? If so, please comment below. Keep an eye out for our tweets and Instagram posts throughout the bluebell season too and don't forget to share any with us using #timeforwiltshire
Related
3 Comments