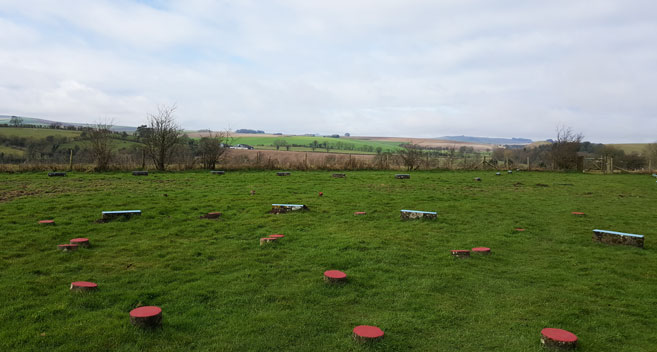 By Emma Kirkup

Visitors to Wiltshire may have been to Avebury Stone Circle, however how many of you have explored the wider landscape at this World Heritage Site?

I went on a trip to discover more with Laurence Davies from Oldbury Tours. Accompanying us for the half day tour were Ellie and Gillian Farago from Heritage B&B in Calne. The three of us had all visited Avebury previously and had various different levels of knowledge about the history and spirituality of the area.

We started our journey off in Calne, where Laurence met us with his car. He pointed out some sites along the short journey along the A4 including the Cherhill White Horse and beyond it Oldbury Castle, an Iron Age hill fort (from which Laurence took the name Oldbury Tours).

We then stopped at The Sanctuary. Initially you may wonder what was here, as there are a variety of concrete markers on the grass that indicate where timber, and later stone posts were erected. If you've ever been to Woodhenge then what you'll see here will be familiar. It is believed that the site began around 2,500 BC towards the end of the Neolithic period.

From The Sanctuary, you can see across to Silbury Hill, part of The Avenue (which leads to Avebury), West Kennet Long Barrow and Windmill Hill. I hadn't realised until this visit that there's the East Kennet Long Barrow, which you can also see from here. Although this long barrow hasn't yet been excavated it is believed that it is similar to the West Kennet one.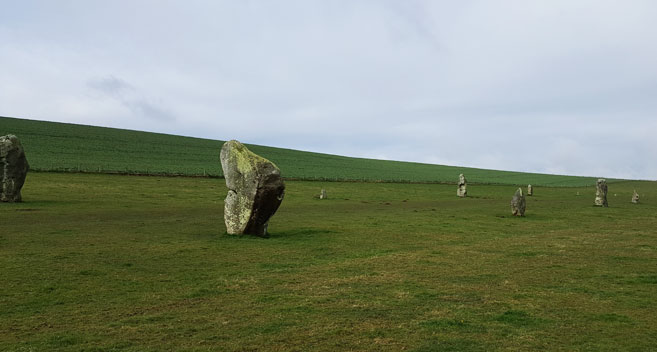 Laurence can pitch his tours to match different levels of knowledge. Having grown up in the area my history should be stronger than it is but I've always been a geographer as opposed to a historian (well that's my excuse anyway)! However, Laurence was able to explain the landscape and its context to a novice like me.

I liked in particular learning of the battles between two archaeologists: Maud Cunnington and Alexander Keiller. Maud was involved heavily with the Devizes Museum (now the Wiltshire Museum) and carried out the excavations at The Sanctuary as well as other areas in Avebury. She had quite Edwardian views and was very much opposed to Keiller. Keiller, was a very different character, a bit of a playboy who loved his fast cars but who also bought Windmill Hill as it was feared developers were going to put a radio mast up. He later went on to excavate Avebury and re-erect many of the stones that you can see today, before bequeathing it to the nation via the National Trust. I won't spoil the surprises but there were some quite interesting stories about these two and their various disputes!

After a quick walk around The Sanctuary, we made the short journey to The Avenue and walked along it towards the village. I'd never realised before that the stones weren't in a straight line and it's thought that perhaps they wiggled as a way of fending off the evil spirits.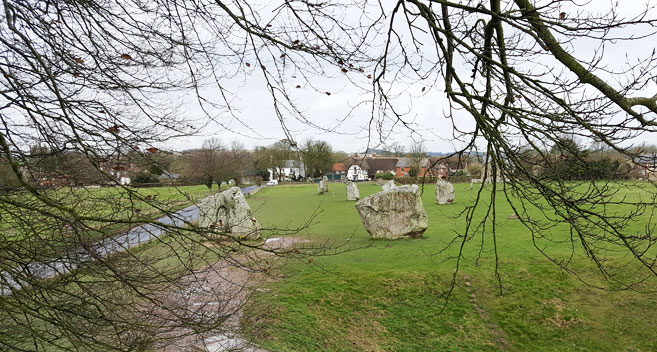 It can be hard to get an idea of the sheer scale of the site at Avebury but Laurence had some great visual aids on his iPad including photos of the original excavations to see how deep the henge was and also to show how archaeologists believe the circles once looked.

We also discussed various theories as to the use of Avebury, about the finds in the area and its connections and similarities with Stonehenge. There was plenty of opportunity to ask questions too and Laurence had been on several digs in the World Heritage Site so was able to provide first-hand knowledge of some of the recent archaeological findings that had been made.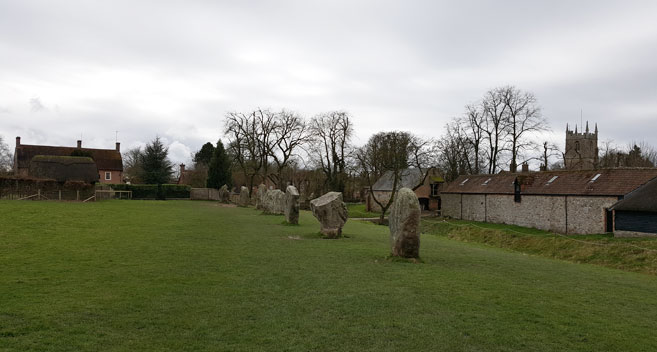 Laurence also pointed out things that otherwise I would probably have missed, including a lone stone which marked another stone circle just off The Avenue, and two other stones which indicated a different avenue leading off in the Beckhampton direction.

After exploring some more, we stopped at the National Trust Café in the heart of the village for a quick cuppa.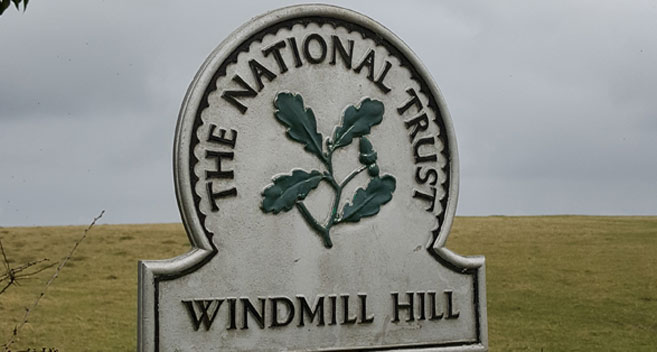 Our last stop for the trip was to Windmill Hill. It's a bit hard to get the scale of Windmill Hill when you are there, however the hill was home to a large Neolithic enclosure that was formed by three concentric circuits of ditches. There are also several Bronze Age burial mounds here and the views across the surrounding landscape are stunning!

The tour we did was bespoke to us, in fact all of Laurence's tours are tailor-made to the people on them so whether you are an archaeology novice like me, or have a more in-depth knowledge, they can be changed accordingly. Not only does Oldbury Tours offer tours of Avebury, but also tours including Stonehenge and the wider World Heritage Site. Tours will often combine a visit to the Wiltshire Museum in Devizes too, where you can see a lot of the artefacts found on digs in the area.

Tours start from £75 per person for a full day's tour and pick-ups can be arranged from a variety of locations around the county. To find out more about Oldbury Tours click here. A big thank you to Laurence for allowing me to join in on this tour.

Related
0 Comments