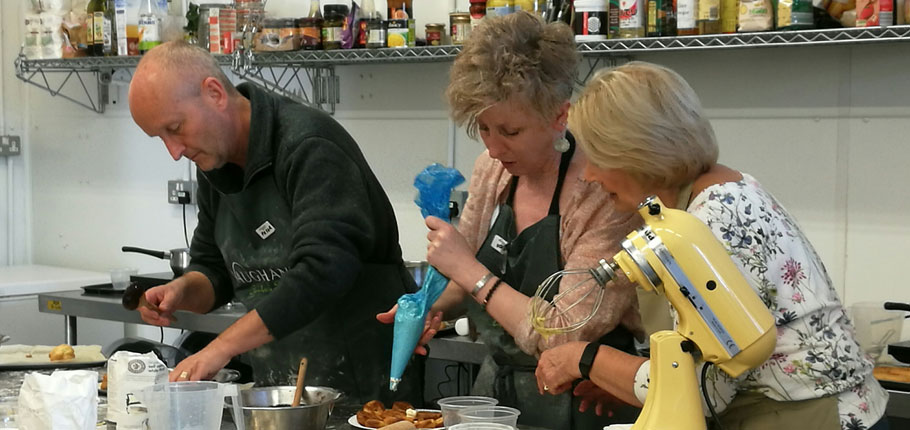 By Theresa Hopwood

I have enjoyed several courses at Vaughan's Cookery School in the past and have always come away having had a great time and learnt some new skills, so when I had the opportunity to join the Perfect Pastry course Mr H decided it was time he broadened his culinary skills, and join me. Vaughan's Cookery School is located in the lovely town of Devizes, and we took the opportunity to stop off in town first, as the range of independent shops there offer some lovely different gifts, and I had a few birthday presents to get. Mr H used the opportunity to call into Wadworth Visitor Centre Shop and pick up a few souvenirs for himself!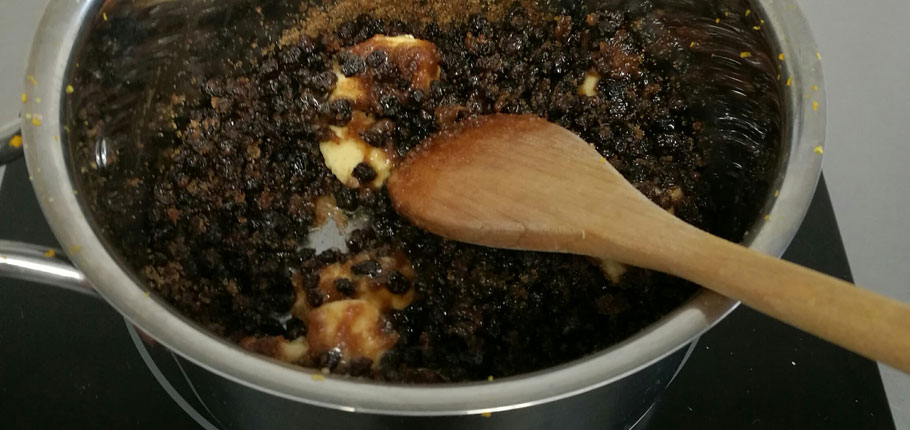 On arrival at Vaughan's we were welcomed with coffee and homemade brownies, and introduced to Christine Wallace, Judy from the Cookery School, and Beth who was in charge of the magic trolley, a delightful feature which means no washing up! I think the added attraction for Mr H of attending this particular course was the chance of finding out a few backstage secrets from the Bake Off as we were both fans! Christine Wallace, a quarter finalist in Series 4 was running the course, and assured us that she was happy to answer any questions we had, not only about pastry but also about the programme… and she really was completely open!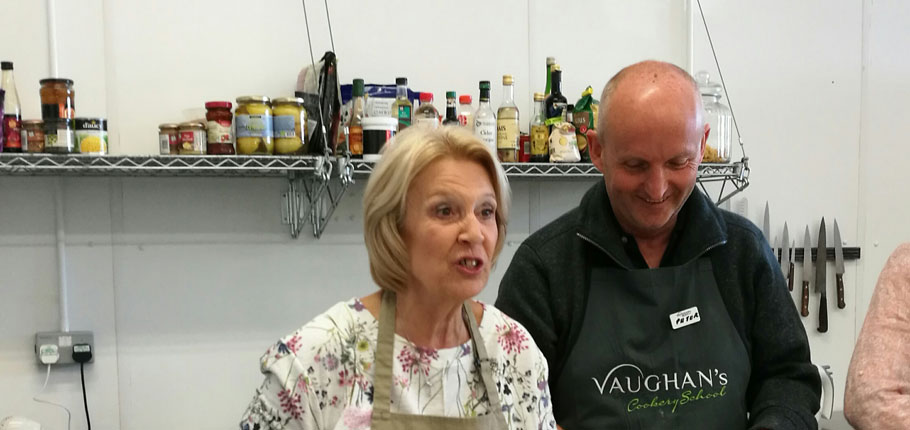 We soon bonded with our fellow students, a great mix of people, and Christine ran through what we were going to cook, which included learning the skills of sweet shortcrust, puff and choux pastry, we all doubted our abilities but Christine was very reassuring.
The morning session flew by as we prepared our various pastries, accompanied by Bake Off backstage insights to get us inspired. "Do you really have to carry those wobbling showstoppers to the front?" and "What are Paul and Mary really like?" were just some of the questions that Christine was happy to answer. She also told us of her own personal story, and how Bake Off literally gave her back her life.

Lunch was a lovely spread of Middle Eastern delights, a glass or two of wine and then coffee, accompanied by more brownies.

After lunch we added the finishing touches, as our bakes came out of the oven. Everyone had managed to produce an impressive array of profiteroles, eccles cakes and frangipane
tart, despite our initial worries!

Covered in flour, and having made new friends, and learnt new skills, we packed up our makes and said our goodbyes. Christine and Judy had succeeded in providing us all with a really enjoyable day with lots of laughs and no disasters! With two lots of bakes we arrived home laden and were soon distributing food parcels to neighbours, particularly impressed by Mr H's new talents, as we knew if they stayed in the house we would be too tempted!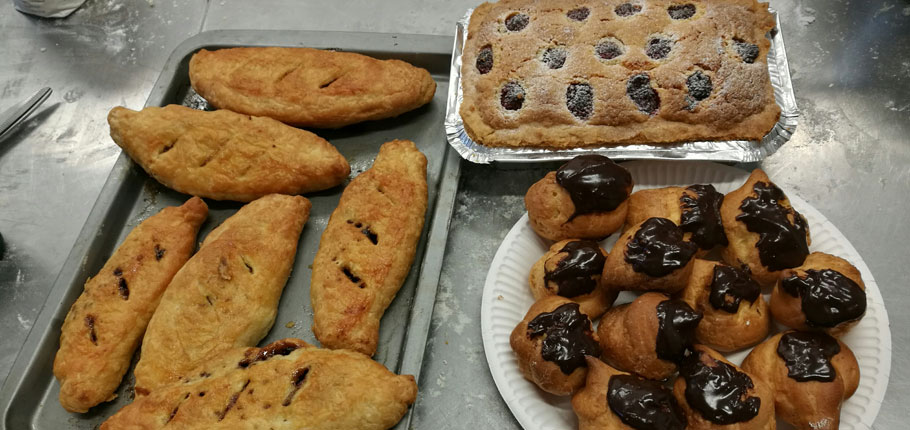 Vaughan's Cookery School offer a wide variety of courses throughout the year, and often have guest chefs running them, to add to the variety. I am already looking forward to my next course on Italian Cookery in May, and just maybe Mr H will join me again, and I will get some nights off from cooking at home!
Related
0 Comments