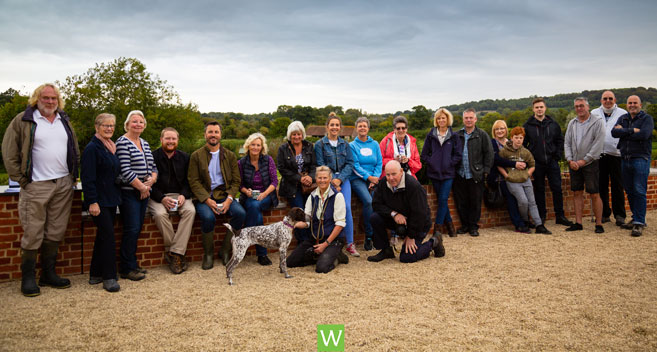 By Jessica Emm
On Sunday 16th September, the team from VisitWiltshire got together with IgersWiltshire for an animal themed Instameet. Buttle Farm, a rare breed pig farm with farm stay accommodation near Calne, kindly invited us to see their pigs and 10 gorgeous piglets.

Rob and Sara Buttle along with their dog Phoebe, a German Shorthaired Pointer, gave us a talk on their history and what they do on the farm. They have 6 different families of rare breeds all pasture fed and a big fan of apples. As well as rearing pigs, they make award winning charcuterie including bacon, ham, sausages and salami in one of the converted farm buildings, but also provide fresh pork to restaurants and directly to consumers.

Before taking us to see their pigs, they showed us their Wiltshire farm cottage called the Chalk Barn which is their main holiday cottage. The luxury converted barns, of which they have 3, have all been awarded Visit England's highest rating of 5* Gold Award which they certainly live up to. It's safe to say all 21 igers were thoroughly impressed.

Our first stop on the farm was to meet some young Tamworth and Mangalitza pigs. We were all allowed to get in with the pigs to get some up-close pictures, and with a bit of enticing from the apples the pigs soon came up to us. Some even came close enough to nibble our shoes and inspect the camera lenses! The Tamworth's were instantly recognisable with their ginger coat and pricked ears but no one had ever heard on a Mangalitza. These younger Mangalitza's were very inquisitive and at a quick glance you would think they looked more like sheep than pigs as their coats grow long and shaggy.

Next stop was at the large black named Eyelashes because of her white eyelashes on her right eye. Sara said they don't give their pigs human names but instead name them from an interesting feature. It's no surprise the breed is sometimes called the elephant pig because she was a big girl. All the igers fell in love with the 10 3-week-old large black piglets. The piglets won everyone's hearts running around, climbing on top of each other and giving in to a tummy tickle.

Around the corner from the piglets were British Saddlebacks and a few more Large Blacks. The British Saddlebacks were instantly recognisable and the igers got some good pictures of a stampede as they realised Sara had some food for them. Did you know, a pig's tail should always be curly and the only time it's not is when it's unhappy, concentrating hard or giving it a tickle at the top.

Finally, we got to see some grown up Mangalitza's and some Oxford Sandy and Black. The grown up Mangalitza's were just as inquisitive as the younger ones and even posed for the igers. The Oxford Sandy and Blacks had a lovely glossy coat and ran away with their apple so no other pig could steal it.
After saying goodbye to Robert and Sara, we ventured off to the church which had a beautiful interior with remains of a medieval mural inside. Although small, it was packed with history and original architecture. It was also conveniently located next to Robbie William's house which his next-door neighbour confirmed he does in fact still own. Heading further into the village we passed some Almshouses and ended up at the pub The White Horse.

The pictures displayed above are only a selection of what was taken on the day. To discover more of our day with Igerswiltshire, search for #igerswiltshirebuttlefarm and #igerswiltshire on Instagram. Instameets are a great way of seeing Wiltshire and there's no need to be a professional, everyone's welcome with an Iphone or a DLSR, it's really interesting to see different perspectives. Keep an eye on VisitWiltshire and IgersWiltshire Instagram, Twitter and Facebook for the next meet and we look forward to seeing you soon. Don't forget to #timeforwiltshire your pics too!

Related
0 Comments