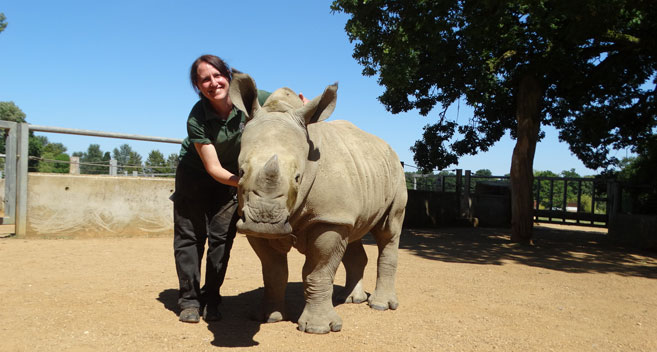 We spoke to Hayley Mullaney to find out more about her role as a zookeeper at Cotswold Wildlife Park. From her story about Belle the hand-reared Rhino, to top tips on visiting, find out what makes Cotswold Wildlife Park a special place to be.
What is your role at Cotswold Wildlife Park?
I am now Assistant Curator/ Head of Large Mammals. I have been at the Park for just over 10 years now. I started as Deputy Section Head of Primates and Small Mammals. After working hard, I was promoted to Head of Large Mammals. I have since been promoted to Assistant Curator. I still manage the Large Mammal section which is home to an incredible variety of animals including; Flamingos, Cranes, Pelicans, Cassowary, Tapirs, Giant Anteaters, Wolves, Lions, Rhinos, Camels and Giraffe. There's a lot more to being a zookeeper than a lot of people might think. There is a lot of hard work involved in the role. It's physically demanding and, at times, mentally demanding too. It is definitely a vocation rather than a job. For me, it's driven by my passion for animals and the desire to give them the best care I can possibly give them.
What's your favourite part about the role?
Seeing all the wonderful animals every day and working with a great team of keepers. The Park is a beautiful place to work and to see all the different species everyday, in such beautiful surroundings, is a joy.
What's your favourite animal?
I have many favourite species, it's so difficult to choose! Rhinos, Donkeys, Guinea Pigs, Flamingos, Giant Tortoises to name just a few, but my favourite individual animal at the moment, although we shouldn't have favourites, has to be Belle (pictured above).
Due to a medical issue soon after birth, Belle became the first hand-reared Rhino calf in the Park's history back in October 2017. I spent many hours with Belle during the first year of her life, particularly in the first few months when she was being fed every two-to-three hours. We have a unique bond because of this time spent together - she is an amazing animal. My heart bursts with pride and love when I see her every day. You can read about Belle's amazing journey here.
What would you recommend to anyone coming to Cotswold Wildlife Park for the first time?
I would recommend spending time at the enclosures, not just rushing past thinking "there is nothing there" or "nothing is happening". My advice would be to go around the Park twice, at different times, during your visit. This will give you far more of an opportunity to see the animals as different species have different times of the day when they are active. Also check out the Walled Garden and the interactive Lemur walk-through exhibit - Madagascar (which has limited opening hours of 11.30am to 3pm). The Walled Garden is often missed but is home to some amazing animals. The Tropical House is a lovely area to sit and watch the different species, including exotic Birds, critically endangered Bats, Potoroos and Sloths do their own thing.
Do you have any hidden gems in Wiltshire?
I love Longleat Safari Park. Great attraction to visit with a great mix of animals and history.
Find out more about Cotswold Wildlife Park here and watch the video below. Plus, if you're looking to make a break out of it there's plenty of accommodation nearby, as well as the tranquil Cotswold Water Park, which is well worth a visit!
Related
0 Comments