Looking for some fun events in Wiltshire this October? Autumn has arrived in Wiltshire, there's a slight chill in the air and the trees are beginning to change colour. October Half Term and Halloween are both coming up, and it's time to make your plans for the coming month. If you need some inspiration, here's a quick snapshot of what's on in Wiltshire this October…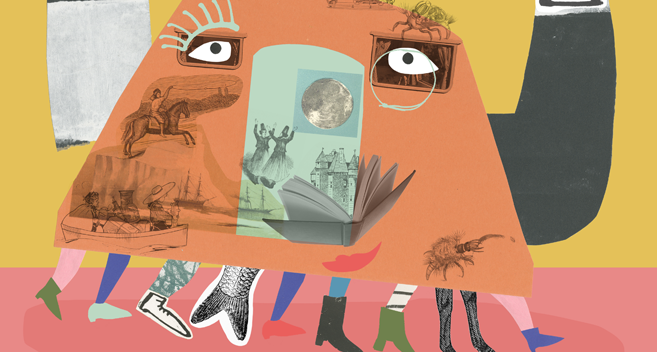 The Anarchist's Mobile Library at Pound Arts
Looking for something to keep the kids busy and happy during October half term? The Anarchist's Mobile Library is an interactive adventure for children aged 6 and up, which you can enjoy from home. Coming to Pound Arts in Corsham from Monday 5 October, the Anarchist's Mobile Library takes little adventurers on an incredible audio journey where they will solve problems, meet characters and choose their own story. While theatres are shut, this unusual event will take children on an immersive theatrical adventure of their own making.
And if you're looking for more inspiration for keeping the whole family occupied during October Half Term, have a look at our family fun recommendations.
---
Natural Elements at Fisherton Mill
This October, Fisherton Mill in Salisbury presents an uplifting exhibition showcasing work by some of the regions' best artists and makers. From 3 to 31 October, Natural Elements will be on display, featuring a host of work inspired by nature, including paintings, ceramics, prints, jewellery, glass and sculpture.
---
Malmesbury's Virtual Halloween
This year, Malmesbury's Halloween activities have gone online! The same team who created the town's sell-out Halloween Trails for the last three years will be presenting "The Thrilling, Spooky and Fun Hallowe'en Mystery of Malmesbury's Missing Charter" via zoom on Saturday 31 October. With fun for all the family, the virtual show will feature time travel, ghosts, Vikings and more...
---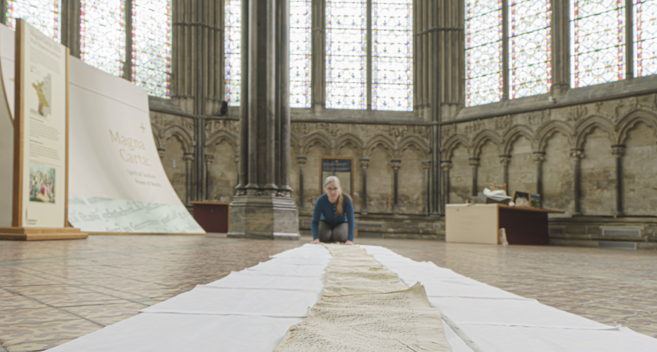 The Cathedral that Moved
Throughout the Autumn, Salisbury Cathedral are hosting a mini-exhibition called The Cathedral that Moved, showcasing some of the incredible treasures and historic items from their library and archives. There will be multimedia displays - including an animation telling the story of the Cathedral's move from Old Sarum 800 years ago - as well as documents dating all the way back to that time!
Photo: Cathedral Archivist Emily Naish measures Robert de Cardeville's 19ft scroll - Photo by Ash Mills
---
Gong Bath Workshops at the Henge Shop in Avebury
Have you ever wanted to take part in a Gong Bath? This ancient form of therapy immerses you in sound and is said to clear your mind and soothe your body. Find out more at one of the upcoming Gong Bath Workshops at the Henge Shop in Avebury. Each introductory session will explain more about setting up the instruments, how the gong bath works, and give you the chance to try playing the gongs and crystal singing bowls. There are a number of sessions taking part throughout October, all with covid safety practices in place.
---
If you're looking for more inspiration for your trip to Wiltshire this October, you'll find plenty of things to do to keep you busy. Have a look at the lovely accommodation options in Wiltshire, and book yourself a nice meal out with our great places to eat and drink.
Related
0 Comments