On a hot, sunny day in June, Helen and Flo from the VisitWiltshire team went to look around the brand new glamping site and cafe-bar at Woolley Grange Hotel on the edge of Bradford on Avon. Here's what they found...
Arriving at Woolley Grange Hotel, you might be forgiven for expecting a run-of-the-mill country house hotel experience. The grand facade of the Jacobean manor, hugged by peaceful green gardens, suggests luxury and rural tranquillity. And while you will certainly find both these things at Woolley Grange, you will also find a lot more!
The whole Woolley Grange experience is set up with families in mind; the result is a quirky, welcoming space which offers hands-on fun for the kids and sumptuous surroundings for the parents. There's a kitchen garden where a hidden child-sized 'witches house' is surrounded by fresh vegetables and herbs. There's a luxurious spa, cosy lounges stocked with boardgames, indoor and outdoor swimming pools, extensive grounds with far-reaching views as well as a trampoline and outdoor games, grand hotel rooms with fun and quirky details…
And now, there's also a glamping site!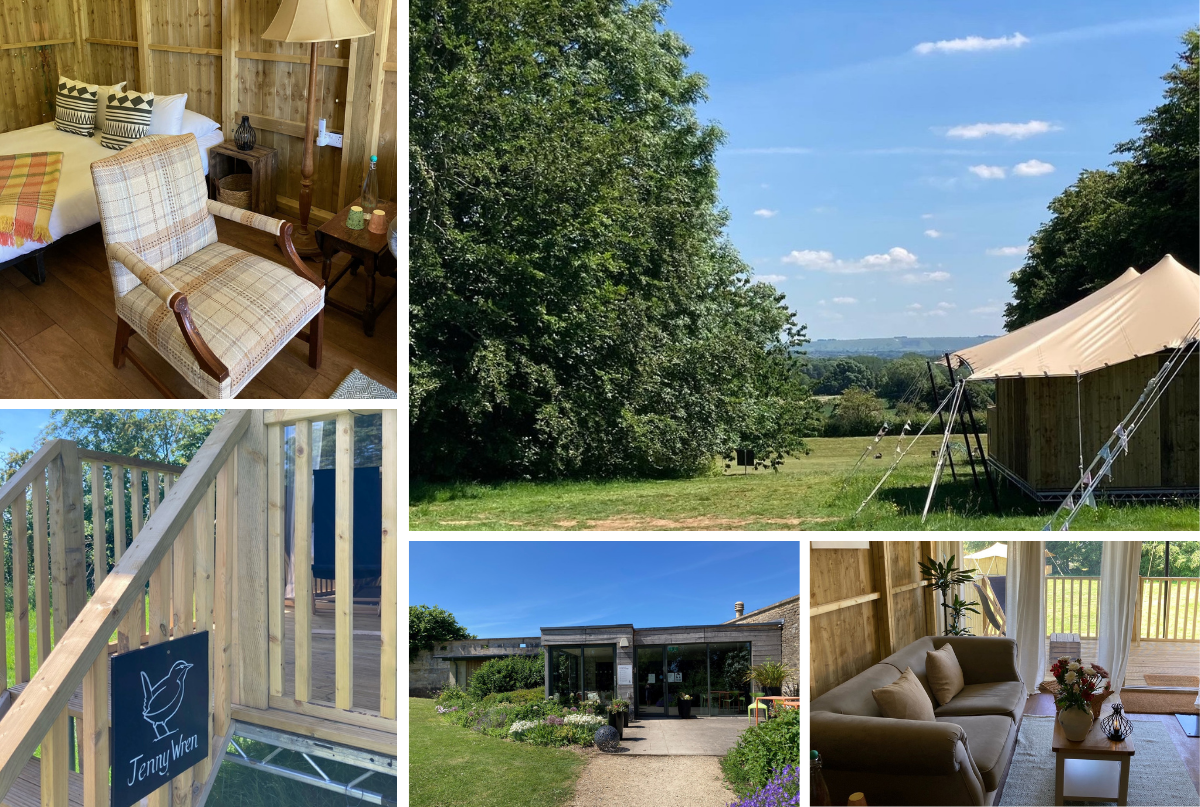 Eight luxury glamping suites have sprung up in the grounds of Woolley Grange this summer, thanks to the Pop Up Hotel company. Inside, you find yourself a far-cry from the camping horrors of trying to put up a flimsy tent on a muddy wet field or tripping over guy ropes in the dark. At Woolley Grange, each suite has both a double and twin bedroom separated by wooden walls and doors, a cosy living space, and a luxurious fully-plumbed bathroom. Yet the sense of excitement and freedom of camping remains, with greenery and nature enfolding the glamping site on all sides, plus a sturdy canvas over your heads to protect you from the elements and the option to head down to the firepit as a family to toast some marshmallows at twilight.
In the morning, a beautiful hamper of breakfast goodies is delivered first thing, or you can head to the hotel's restaurant for a proper cooked breakfast if you prefer. There's also a terrace at the front of each glamping suite where parents can sip a drink while watching the kids run around in the open green space. These are the kinds of thoughtful, luxurious touches that make Woolley Grange special. The glamping suites have fresh flowers, Bramley botanical toiletries, picnic rugs, bookshelves stocked with children's classics - even a little wooden flap in the wall of one of the bedrooms which can be raised to look out and watch for birds.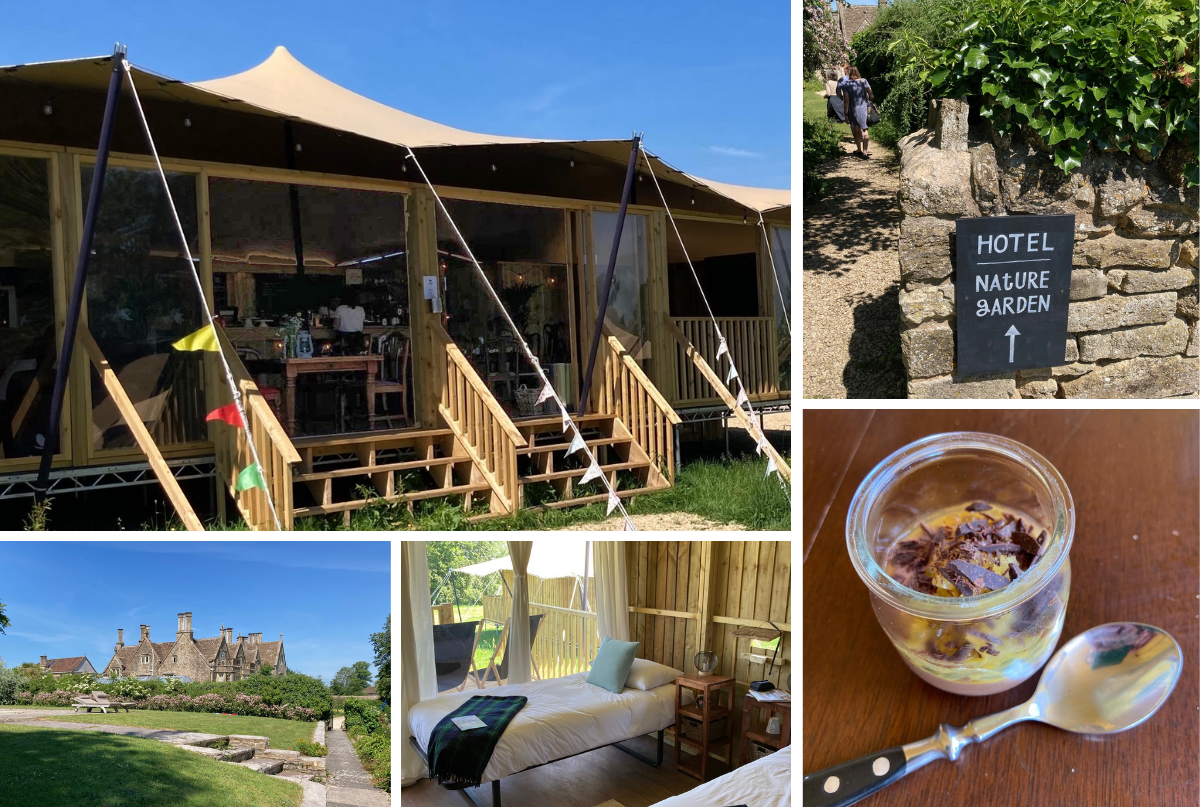 The bird-watching theme continues at the Hideout, a beautiful new cafe-bar on the edge of the glamping site, open to both guests at the hotel and glamping suites and the general public. In the morning, enjoy tea, coffee and cakes at the cafe before the bar opens at 11am serving homemade cordials, local beers, Woolley's own gin, and much more. Lunchtime sees a menu of fresh, appetizing dishes utilising the produce grown in the hotel's own gardens and in the evenings a different style of food is offered each night - expect paella nights, curry nights and more.
On our visit, we enjoyed a lazy lunch including pizza topped with local vegetables, cheesy asparagus tart, and fresh salads - all washed down with delicious fruit punch. For pudding we indulged ourselves with little chocolate pots with ginger and pomegranate. The sun shone overhead in a bright blue sky as we enjoyed the views from the cafe's terrace over the open green spaces of the glamping site, to the timeless Wiltshire countryside beyond… Bliss.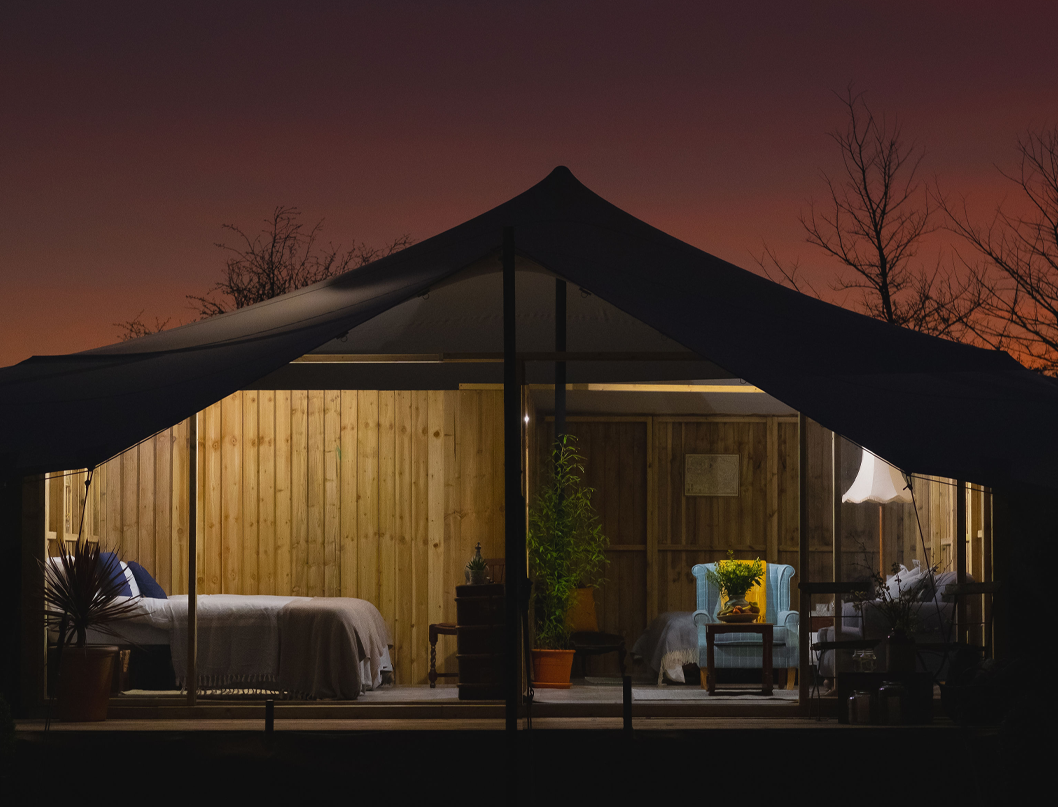 If you're hoping to stay at the glamping site this summer, there is still some availability until September – but you will need to book soon! Glamping guests have access to all the hotel's facilities, including 90 minutes of complimentary childcare each day and use of the swimming pools and spa, as well as the chance to participate in fun family activities like flower crown making, treasure hunts, family yoga and star gazing. Find out more and book now.

Related
0 Comments