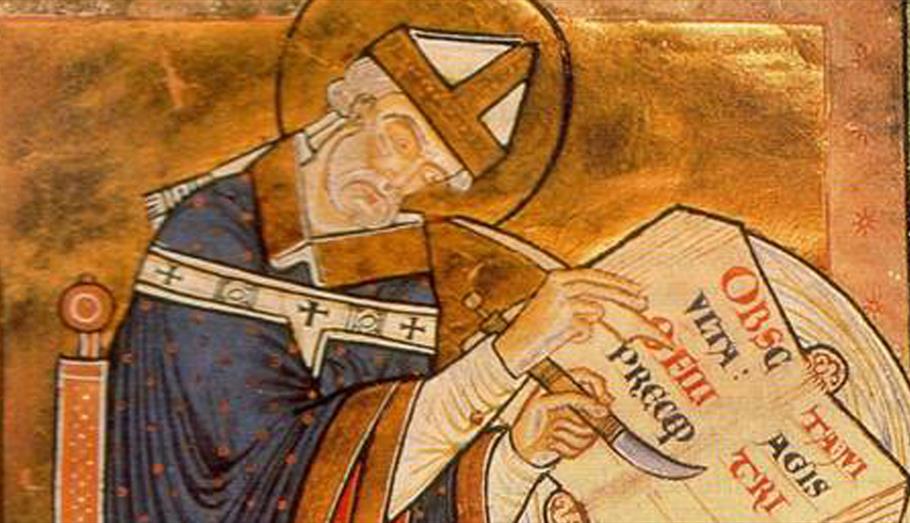 St Dunstan
In the year 977, over a thousand years ago, Calne was at the centre of English history when a council of the nation's rulers met on the upper floor of a two-storied wooden hall, probably close to St Mary's church: the adjacent Kingsbury Street identifies the "King's borough", then a royal estate.

King Edgar the Peaceable and his right-hand man Dunstan, archbishop of Canterbury, had made reforms bringing the State and the Church closer together. In nearby Bath Abbey, Dunstan crowned King Edgar and his Queen, Elfthrith.

But in 975, disaster struck when Edgar unexpectedly died aged just 32. Dunstan crowned Edward, Edgar's son by his first wife Ethelfleda; but many favoured Elfthrith's son, Ethelred: England was heading for civil war.

So a council of leaders met in Calne to debate the nation's problems and decide the fate of Edgar's and Dunstan's reforms. The teenage King Edward was absent, "on account of his youth." Dunstan was in charge.

A stormy argument ensued; "harsh reproach" was made against Dunstan, "that firmest bulwark of the church". As Dunstan made the case that priests should not marry, the floor collapsed hurling many to injury or death: Dunstan, left standing on a beam, escaped unscathed. It seemed a miracle: God had approved Dunstan's holy reforms and cast down his opponents.

The Miracle of Calne was a foreboding of evils to come: the collapse of the floor heralded wider instability. King Edward was murdered soon afterwards, his body dumped in a bog. Edward's half-brother, Ethelred, was crowned king under a cloud. For nearly four decades, England was to be subjected to waves of terrifying attacks by the Vikings.
The Miracle of Calne was a turning point in English history.
With thanks to Nick Baxter, WiltshireHistoryMan.org.uk