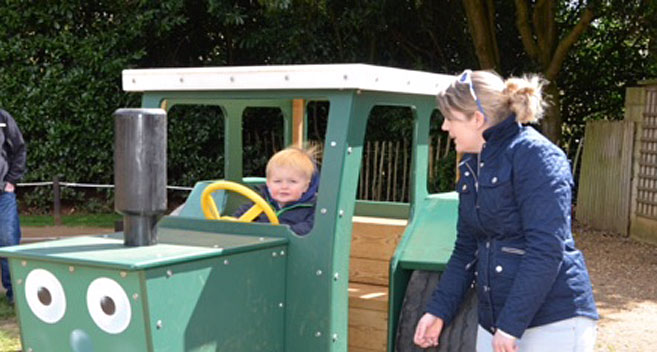 A guest blog by Natalie S
We recently took our 1 year old to Bowood House and Gardens along with my friend Jenny (see previous blog here). As we arrived at Bowood we headed straight to the Tractor Ted's Little Farm. There were lots of animals for him to see in the enclosed light and airy barn. He was able to stand on the wooden steps in front of each animal so he could see them eating and playing in their pens, which was brilliant at his age. He loved the lambs and piglets.

There was a great area with a range of different aged chicks that again were easy for him to see and watch running around. There were lots of informative posters and banners to help the children learn about the various animals and the care they need along with Tractor Ted images and characters.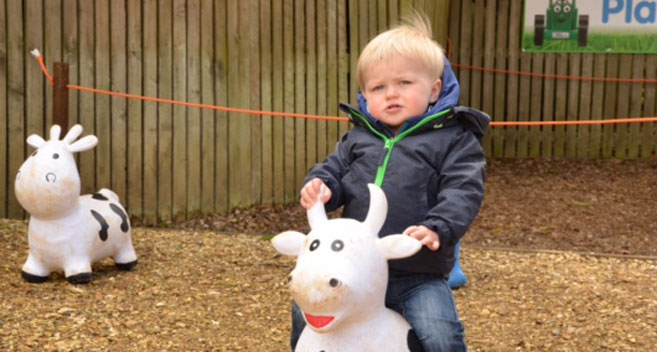 Outside of the barn there were a good range of farm based toys for children to play on, Joseph was able to sit in the wooden tractor, be pushed around on the mini tractors, and the inflatable farm animals, whilst older children were able to peddle good range of tractor toys around a mini track, as well as play with the mini diggers and practicing moving sand around. In the corner there would some more pens with lambs and goats again which Joseph loved being able to see and the fences were at a good height for children to be able to see.

Tractor Ted's Little Farm is right next to the café so it was great to pop in and get a drink before heading on to the beautiful gardens and adventure playground. There was easy access for pushchairs throughout the site, and lots of places to leave buggies safely to explore the grounds, and even the house which was brilliant. The adventure play area was a great place to have lunch, with picnic tables, benches, ice cream kiosk and lots for older children to play on and with.

It was a great day out, with lots for children of all ages to do. We will be returning.
Related
0 Comments