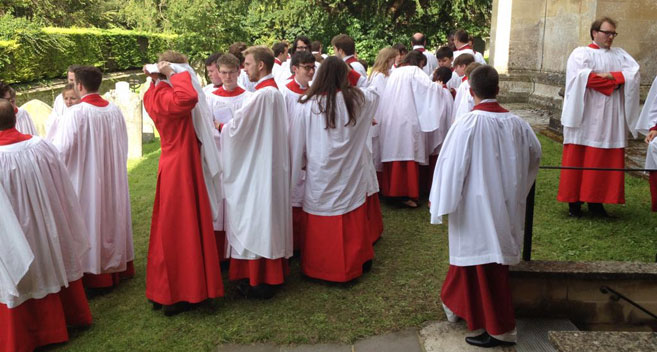 By Theresa Hopwood
On a beautiful, sunny summer day in Wiltshire I headed off to Edington, four miles from Westbury, famed for its White Horse, for what turned out to be an extraordinary afternoon.

Every August for the past 60 years this small village has welcomed some of the best choristers from cathedral and collegiate choirs around England for a week long festival of music and liturgy in the priory church, the Edington Music Festival. I had been invited to go along to find out more as, like many others not directly involved in the sacred music circle, I was unaware of the quality and importance of this event.

Before joining the many people heading for the church, I paid a visit to The Three Daggers in the village, so much more than just a pub! The wood fired pizza oven in the garden of the pub is a great way to enjoy lunch before a service, and is open every day for the duration of the festival, as well as on Saturdays and Bank Holidays. On a sunny day, sitting in the garden, with a stunning countryside view, is perfect. A delicious selection of pizzas are available, and what better accompaniment than a glass of Festival Ale brewed on site at the Three Daggers Brewery. On a cooler day I can imagine the cosy interior of the pub, with a varied menu would be a welcome alternative! If you are looking to stay and enjoy the whole week of the Music Festival then The Three Daggers also offers stylish accommodation.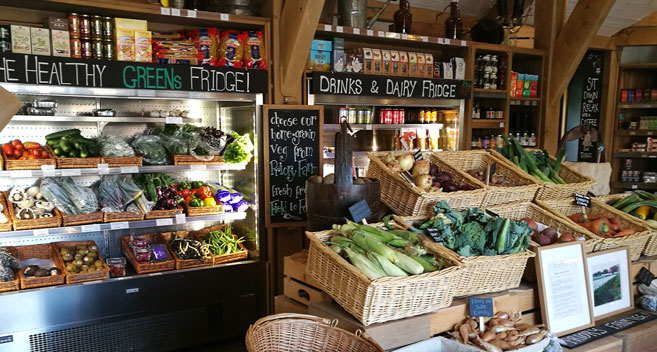 After a delicious pizza the Farm Shop calls! Here you can buy a fantastic selection of produce grown on the estate farm, or prepared by the on-site chefs. Also available is a selection of the beers from the brewery. An additional attraction is being to look down through huge windows to see the beer actually being brewed in the spotless brewery below.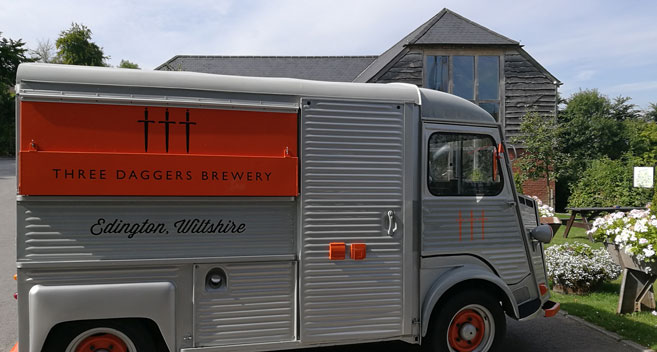 In the spirit of keeping everything as local as possible, this year they have grown their own hops and are in the process of making a green beer from them, which should be available very soon, expected to be "very hoppy with quite a kick"! It is possible to book Brewery experience tours, I can think of several people who would appreciate that opportunity!

The walk back to the church gave a hint of the popularity of the festival as the number of cars and pedestrians increased and I caught site of the BBC outside broadcast van in the distance. This particular Choral Evensong was being broadcast live to a worldwide audience on Radio 3.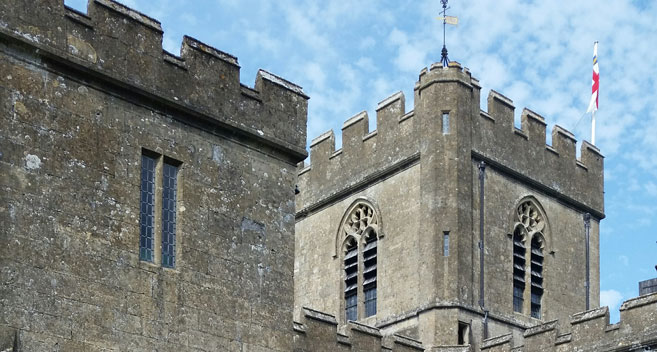 Outside the church was a small gazebo selling local pottery festival mugs, and polo shirts which seemed to be doing a good trade with visitors and choristers alike. One small cathedral chorister was buying a mug as a souvenir of his "tour" for his mother! Whilst outside chatting to some of the festival organisers I could hear the choirs practising inside, the beautiful sounds drifting out into the sun certainly increased my anticipation of what lay ahead.

The festival is unticketed and free, although donations are much appreciated and, in the past have helped fund the church's new organ.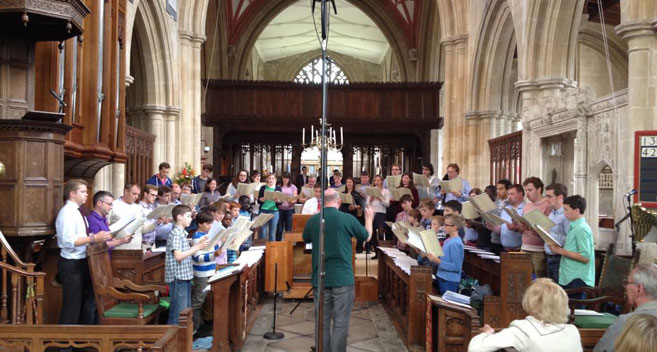 Taking my seat just in time for a briefing from the BBC director, I looked round to see a full church with a varied congregation. I had been told that one gentleman had been travelling here from the US for 30 years, and other visitors regularly came from New Zealand, Australia, Austria and throughout the UK, such is the reputation of the festival.

The Festival is all about music within the Liturgy, in this case Evensong, however I am quite sure there were a number of people there who would not class themselves as regular churchgoers but who have a great appreciation of excellent choral music. The Festival Director is Benjamin Nicholas, Director of Music at Merton College Oxford, and choristers come from the great Cathedral choirs, including Wiltshire's own, Salisbury.

The service was an hour long, and I was privileged to hear the most incredible voices ringing out around the church. I have to admit to being neither a regular churchgoer, nor connoisseur of this type of music, but can honestly say it was a really delightful experience and something that I would certainly choose to go to again. I would particularly like to experience the candlelit Compline. This year's festival ends on Sunday 28 August, but with four services a day (2 on Sunday) there is still plenty of time to go along this year, or if not plan for next year.

Although renowned throughout the church music community, this festival is little known to many, and is a real hidden gem in Wiltshire's broad arts offer which ranges from the Ageas Salisbury International Arts Festival to the Chippenham Folk Festival, Iford Arts, and so many more throughout the year. Have a look at our website for more details of when and where to experience these festivals. There really is something for everyone with an interest in the arts on a visit to Wiltshire.
Related
0 Comments