We're currently being asked to stay home whilst the Coronavirus pandemic continues, and that means you cannot come and visit us in lovely Wiltshire right now (although you can still take a virtual visit). But many people are keen to use the current situation to learn new skills and try something different from home...
We all know it is important for our wellbeing to stay active and busy even if we're not able to leave the house. That's why we're putting together a series of blogs to inspire you with things to do and try at home during the ongoing COVID-19 situation. Of course, all our suggested activities are inspired by the wonderful things to do and places to visit around Wiltshire!
With lots of people stuck at home looking to improve their cookery skills, many of the delightful restaurants, hotels and cookery schools in Wiltshire have stepped up to help by sharing ideas and recipes for us to try at home. We've collated some wonderful homecooking suggestions from our friends around Wiltshire - why not give one a go?
If you're pleased with your culinary creations, tag us in your pictures on Facebook, Instagram or Twitter. We would love to see what you've made!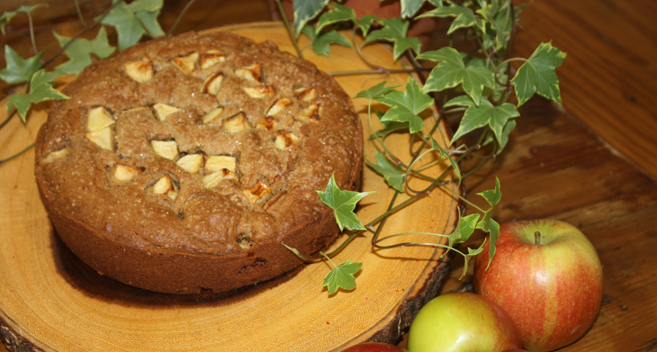 Applegate's Apple Cake from Vaughan's Cookery School
Led by highly experienced chef Peter Vaughan, Vaughan's Cookery School run hands-on cooking classes from the heart of Wiltshire. Aimee Applegate - Specialised Chef apprentice at Vaughan's - recently shared this recipe with us for her delicious apple cake. It is wonderfully moist and contains the minimum amount of refined sugar for a healthier bake. If you are inspired by Aimee's cake, there are lots more recipe suggestions available from Vaughan's Cookery School online.
Spaghetti with Pork Bolognaise from Helen Browning's Royal Oak
Helen Browning's Royal Oak is a quintessential English pub in the pretty Wiltshire village of Bishopstone, run by local organic farmer Helen Browning. Passionate about organic farming, Helen knows all about using top-quality ingredients to create wonderful food. This family favourite from Helen's website - Spaghetti with pork Bolognaise - requires just one cooking pot, so there's minimal washing up.
Beatrix Potter's Gingerbread from Woolley Grange Hotel
Surrounded by 14 acres of stunning grounds, Woolley Grange Hotel near Bradford on Avon is a luxury hotel aimed at families, with award-winning facilities for children. Woolley Grange had planned to host some family-friendly Beatrix Potter inspired afternoon teas this Spring, but as these could not go ahead, they've shared a recipe online to inspire us all to get baking at home. This is Beatrix Potter's very own gingerbread recipe from 168 years ago. The whole family will love these indulgent treats.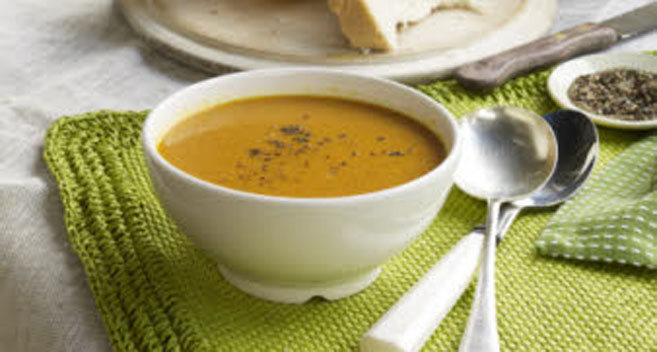 ©National Trust Images/William Shaw
Spiced Carrot and Orange Soup from the National Trust
There are some gorgeous National Trust properties and landscapes around Wiltshire, including beautiful Stourhead, the ancient standing stone circle at Avebury, and the picturesque village of Lacock. Whilst you cannot go and visit them right now, you can get your fix of the English country charm encapsulated by the National Trust in your own kitchen by trying out some of their delicious recipes. Why don't you try making their healthy and hearty Spiced Orange and Carrot Soup at home? Packed with flavour, this is a soup you can make with just a few easy-to-source ingredients. If you fancy something a bit more indulgent, the National Trust recipes archive also includes recipes for traditional English delights like cheese scones, pork and apple sausage rolls and carrot cake. Yum!
Forced Rhubarb Crumble from Lucknam Park Cookery School
Another local cookery school, Lucknam Park Cookery School offers helpful classes in a stunning location. While they're closed, have a look at their online cookery school recipes to help you whip up some fine-dining from home. Their forced rhubarb crumble is an easy-to-follow recipe using just a handful of ingredients (and we're sure you can supplement another fruit if you cannot get your hands on rhubarb right now.)
We look forward to welcoming you back to Wiltshire soon - in the meantime, get cooking! Let us know what delicious dishes you've been baking and cooking at home by leaving us a comment below...
Related
0 Comments