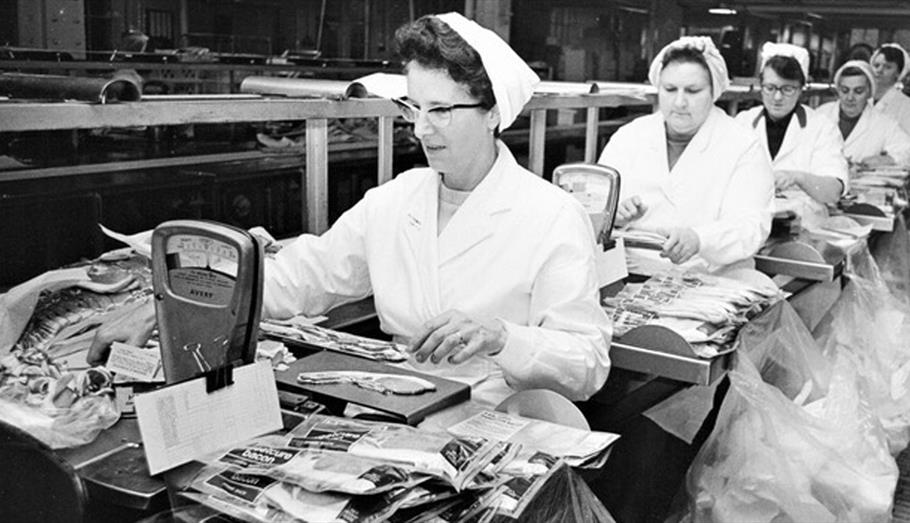 J & H Harris
The Harris Brothers were classic entrepreneurs and if they were alive today they would be on the judging panel of "The Dragon's Den" but right at the beginning the firm that became internationally known as C&T Harris Ltd owed its origins to a woman. Sarah Harris, a widow, moved from Devizes to Calne with her 10 year old son John in 1770 and opened a butcher's shop in that part of Church Street then known as Butcher Row.
John Harris junior married Mary Perkins in1808 and opened a butcher's shop and bacon curing business in Calne High Street. They had 12 children, most of whom were to become involved in the bacon curing and pork products business. John's younger brother Henry, who married Sophia Perkins in 1813, took over a failing Perkins family bakery shop under the Harris name and also began curing bacon.
Here were the beginnings of a dynasty in which Sarah's great-grand sons developed the Harris business, which by the mid-20th Century was exporting meat products all over the world. The Harris name was to become synonymous with Calne and the UK bacon industry.
In fact, John and Henry each developed their own successful businesses and when John Harris died at a young age in 1837 his wife Mary continued to run the business until eventually handing it over to her sons, Charles and Thomas, who became the driving force of the business in the following years.
After the deaths of Henry and Sophia, Charles and George became partners in Butcher's Row, Calne. Both brothers were well known bacon curers and their process had become known as "The Wiltshire Cure". Their brother Thomas, had also expanded his business in the High Street. After George's death in 1861 - the business having been willed to his partner and brother Charles - Thomas and Charles became partners. However, they maintained their own separate shops until they officially amalgamated in 1888 and became known as "Charles & Thomas Harris & Co Ltd" and later as "C & T Harris (Calne) Ltd". By then, Charles had already died (1871).
As a result of the Harris business success, in 1863 the railway came to Calne. This provided both passenger transport and much needed freight transport and marshalling yards for the import and export of Harris' products.
The Harris brothers gained a reputation for their ability to stay ahead of developing technology for curing bacon products using patented processes involving salt, ice and other preservatives, which enabled the business to go from strength to strength for many decades.
Some years later, Charles' sons, Herbert James and Henry William decided to withdraw from business life leaving only Thomas, who maintained his position as the driving force of the business until his retirement in 1907.
Thomas Harris was a great benefactor of the town, giving land and funding for the recreation ground in 1891, planting of the Central Gardens in 1896 and building the Calne Free Library (now the Heritage Centre) in 1902. He held the position of Mayor of Calne five times and retired as a Justice of the Peace.
Prior to the 1920's, the Harris business had operated from not much more than tin sheds. Now it was time for some serious expansion! Factory No.1 and Factory No.2 were built furbishing extensive modern machinery and equipment for the time. In 1929-30, a factory to process the by-products of the bacon industry was built near the station and a cattle market was set up beside it. Some of the older residents of Calne will remember the horrendous smell that this factory produced and although expanded in 1939, public protest resulted in it's closure and demolition in the early 1960s.
Over many years, the Harris Pork processing facility dominated the town architecturally and provided employment directly and indirectly to many of the residents until the early 1980's. At its closure in 1983, for example, it employed over 2,000 people out of a town population of 10,000. At it's peak, each week, C&T Harris (Calne) Ltd processed 5000 pigs and produced 100 tons of meat pies, 150 tons of sausages, 50 tons of cooked meats and 70 tons of canned and miscellaneous products.
With thanks to Sue Boddington, Curator of Calne Heritage Museum.