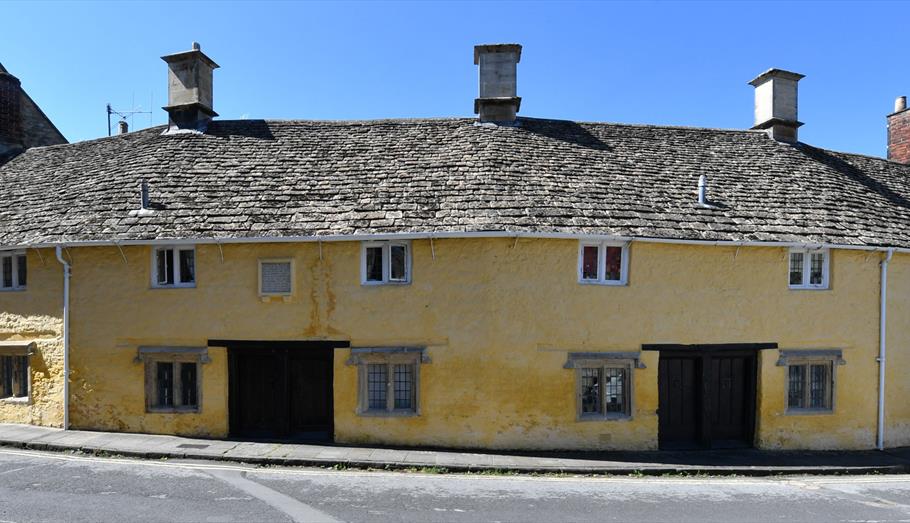 Almshouses
The Almshouses were built around 1682 by John Tounson, the vicar of Bremhill, who was the son of Robert, Bishop of Salisbury. He had lost his livelihood during the Civil War but was later reinstated by King Charles II and he gifted the almshouses to poor women of Calne in gratitude.
The original plaque still graces the front of the unusually curved building, an attractive feature which can be seen particularly well from the top of the nearby St. Mary's church tower.
Formerly known as Nos.10-17 The Tounson Almshouses, KingsburyStreet, the building is notable for the very low heavy plank doors, which have wrought-iron strap hinges with fleur-de-lys ends, and grille-covered peep holes, in chamfered wood frames with bar stops.
It is hard to believe that when you stand outside and look at the tiny front doors that they were originally eight houses built to accommodate needy widows of the parish. Records show that in 1834 the cottages were occupied by 14 women, all of whom received poor relief.
Inside the access to the upper floor sleeping area was by ladder. There was a communal washhouse and privy at the back which is now a garden. In the 1960's they were updated and redesigned to form four flats with modern amenities but it is still hard to imagine how people managed to live in such small houses with limited space.
The Grade II listed building is now administered by Calne Welfare Charities with several trustees chaired by Lord Lansdowne.