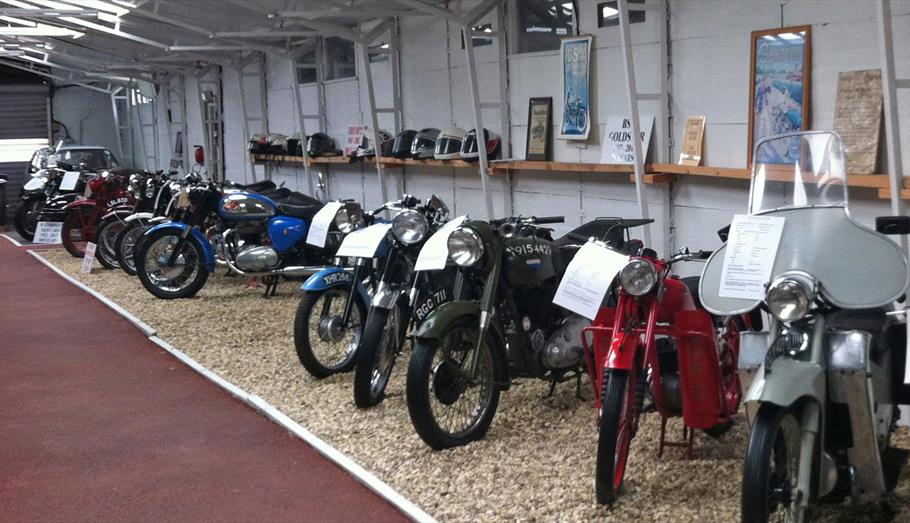 Attractions in Calne
Calne Heritage Centre
Based in the former Andrew Carnegie Library building, the Centre is situated in the heart of Calne's historic Heritage Quarter and tells the story of Calne and surrounding area through information boards, photographs, interactive video screens, artefacts and a varied programme of exhibitions that are presented throughout the year. Discover the historic events, pioneering and famous people, important trade developments and significant buildings that have shaped Calne over the centuries. The Centre is free to visit and is a few yards from the Heritage Quarter Car Park off Church Street, which offers two hours free parking.
The Parish Church of St Mary the Virgin
A church was recorded at Calne in the Doomsday Book of 1066 and was almost certainly on the site of the present church. By 1116 the church's estate endowed a prebend at Salisbury Cathedral. The present building dates from c. 1160-70, and Norman work survives in the nave and part of a doorway, later moved to the north porch door. In 1638 the central tower fell and probably damaged the north transept and the eastern end of the church as they were reconstructed c.1650. Sometimes described as the Cathedral of North Wiltshire, St. Mary's Church is a Grade I Listed Building and is a superb blend of many centuries of the stone masons' art, with embattled parapets and pinnacles.
Atwell-Wilson Motor Museum
The Atwell Wilson Motor Museum boasts an eclectic collection of classic motor vehicles, motor bikes and automobilia first assembled by the late Richard and Hasell Atwell in the 1980's and is now run by volunteers as a charitable company. It is the only motor museum in Wiltshire and affords a wonderful wallow in nostalgia to those fascinated by the street scene from the 1920's onwards! See some rare vehicles notable of which include a 1934 Alvis Speed 20, 1938 Daimler EL24, 1936 Rover 14hp Sports/Saloon and Calne's own 1951 Dennis Fire Engine.
Maud Heath Vineyard
Maud Heath Vineyard is a boutique family owned and operated vineyard, nestled upon beautiful clay sandy loam soil slopes, which enjoy a unique micro-climate near the village of Bremhill, overlooking Maud Heath's historic causeway near Calne. Maud Heath was a widow, who provided a gift in 1474 to a trust which oversaw the construction of the causeway, allowing people dry passage from Wick Hill to Chippenham. Planting began in 2006, it now comprises of Pinot Noir, Pinot Meunier, Chardonnay, Bacchus, & Rondo vines spanning over 6 acres of a naturally occurring ridge. The Maud Heath 'Bramble Hill' wine was derived from the original name for the local Bremhill village, renowned for its abundant supply of bramble bushes.
11th Hour Escape Rooms
The 11th Hour Escape Rooms in Bromham, SN15 2DZ provide exciting, live interactive games for teams of 2 - 6 players from family, friends or work mates (minimum age 18 or 16 with a playing adult). The teams are locked in a room and have to work together to figure out clues to find the escape key to get out of the room before the 60 minutes are up. To find more information and to book a room go to 11thhourescaperooms.co.uk.
Wiltshire Microlight Centre
The Wiltshire Microlight Centre is a British Microlight Aircraft Association (BMAA) Registered School operating from Yatesbury Airstrip. You can take flying lessons in flex wing or 3 Axis microlights or enjoy a hair raising flight in a sports aircraft. Flying training takes place above the stunning North Wessex Downs and Vale of Pewsey, Avebury stone circle, Silbury Hill, Cherhill White Horse, mysterious crop circles and a host of other historic sites. There is a Flight Deck refreshment area, which is open to all visitors to the Centre including spectators so, if you're taking a trial lesson, it's a great place for your guests to relax in comfort while you're airborne. For more information go to wiltsmicrolights.com
Bowood Adventure Playground & Tractor Ted's Little Farm
Located near the Treehouse Cafe and the entrance to Bowood House & Gardens, the Adventure Playground is a family friendly park full of slides, swings, climbing frames, elevated walkways, trampolines and huge play areas, ideal for ball games and picnics. Nearby is Tractor Ted's Little Farm where kids can see (and pet under supervision) farm animals, including lambs, piglets, chicks, guinea pigs in a purpose built barn. Outside is a play area with a mini tractor track and a little diggers den, which is very popular with younger children. If you fancy a walk in the beautiful estate, do not miss the hidden waterfall and caves on the side of a lovely lake.
Castlefields Park
Castlefields Park (SN11 0EF) is a hidden gem - right in the centre of Calne, but away from the hustle and bustle of town. A 'Queen Elizabeth Field in Trust', the park is a great place to visit if you want a pleasant stroll with the dog, somewhere for the kids to run off some energy or do some exercise yourself on the outdoor gym trail.
The Marden River runs through the park and the Wilts and Berks Canal forms another feature, with our Arfur Boat being very popular with our younger visitors. The small wharf by Chaveywell Bridge provides a great spot for the youngsters to come and feed the ducks.The wild flower meadow provides an additional attraction in the summer, with plenty of colour and wildlife to watch. If you are interested in history, along with the remains of the canal, we have Chavywell Spring to visit and some hedging to help visualise the outline of the original castle up on the castle mound. There are plenty of benches around the park if you just want to sit and enjoy some peace and quiet for a while, or there are picnic tables if you want to stay a while longer.
You can connect to the North Wiltshire Rivers Route through the park, which is part of the Sustrans National Cycle Network (NCR403), and provides a walking and cycling track all the way to Chippenham following the old Calne railway route.
The park is located close to the A4, but accessed from Patford Street or Station Road. Parking is available at the central car park (SN11 0EN - 2 hours free).