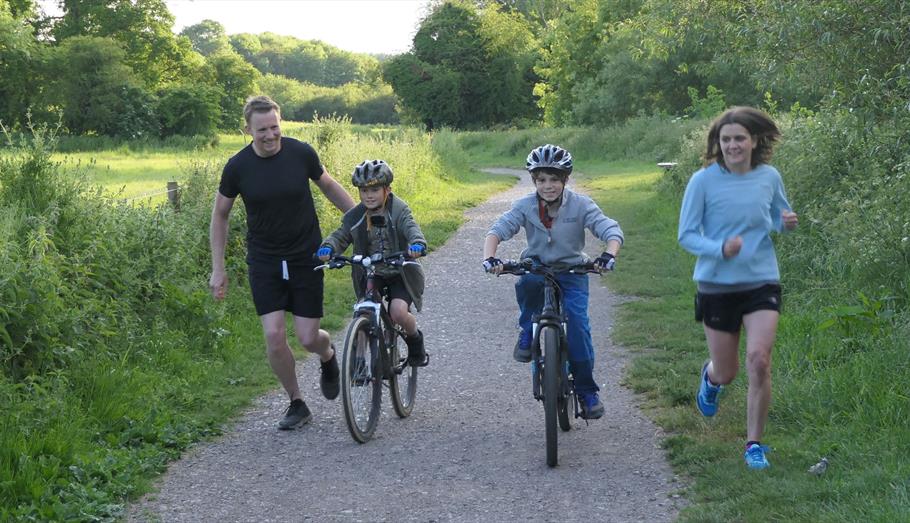 Cycling in Calne
Cycling around Calne's tranquil, timeless countryside will show you some of rural Wiltshire's most beautiful scenery and iconic landmarks.
Cycling not only improves your health and fitness, reduces stress, helps the environment and beats congestion, but it can also save you money and is definitely a great way to clear your head at the end of a busy day.

There are several cycle routes that pass through Calne, including the Sustrans National Cycle Route 403, which crosses the North Wessex Downs Area of Outstanding Natural Beauty for 41 miles.
The much longer Wiltshire Cycleway threads its way through Wiltshire for a total of 160 miles supplemented by a network of shorter loops offering a wide choice of distance and terrain.
A great off-road cycling route is to follow along the Kennet & Avon Canal towpath which takes you past the famous Caen Hill locks near the historic town of Devizes.
The North Wiltshire Rivers Route is a an excellent, largely off road, cycling and walking path that runs along National Cycle route 4 for 25 miles from Melksham to Avebury. The route starts by the River Avon in Melksham and heads towards the historic village of Lacock where you will find the National Trust owned Lacock Abbey and continues through Chippenham and then along the River Marden to Calne. The final section takes you through Cherhill, where you will pass the Lansdowne Monument and Cherhill White Horse, and then onto Avebury with its fascinating ancient stones.
A good source of cycling routes and maps is www.gps-routes.co.uk.

Number of results:
Number of results: 5
All the information you need to get walking in beautiful Wiltshire

Type

Type:

Activity Centre

A Great Family Day Out!

Children will love the varied terrain of this countryside farm trail, by following the picture signs they can explore woodland, arable land and grasslands learning about the natural beauty of North Wiltshire's country side

11th Hour Escape Rooms: Live Interactive 'Escape the Room' Games.

Set in stunning 'Capability' Brown parkland, Bowood is renowned as one of the finest golf courses in Wiltshire and is the PGA Official Golf Course for the South West.

A family run life coaching business deep in the heart of the beautiful Wiltshire countryside, dedicated to offering a variety of retreats, wellness days and evening meetings to suit all needs. These include, yoga, meditation, massage, informative…