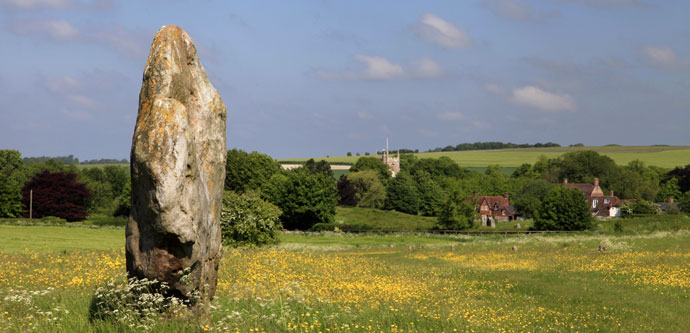 By Emma Kirkup
We all love a good picnic don't we? We've had a chat here in the office and come up with our top 10 picnic spots in the county. Share your favourites too!
1. Avebury Stone Circle
Avebury has actually won an award previously for being a top picnic place! There are lots of grassy areas to take rest here and you'll be sitting among history.
2. Westbury White Horse and Bratton Camp
Head high up into Wiltshire's hills on the edge of Bratton Camp, an Iron Age hillfort. From here you'll not only get magnificent views over the surrounding countryside but you'll also be able to see one of Wiltshire's most iconic sites, the Westbury White Horse.
3. Queen Elizabeth Gardens
Set in the centre of Salisbury, these gardens include peaceful riverside walks, some beautiful Cathedral views and if you are lucky you may even spot a kingfisher or two. For children there's also an on-site play park.
4. Stourhead
Ok so you do have to pay to get into Stourhead (unless you are a member of the National Trust) however these gardens are truly stunning. You'll find many a family sat around the lakeside taking in the views and enjoying a picnic.

5. Salisbury Cathedral Close
Picnic in Salisbury's historic Cathedral Close with the impressive Cathedral, historic houses and pretty little gardens belonging to the local residents. You'll find many a Salisbury resident here on a summer's day.
6. Savernake Forest
Near to Marlborough, this ancient forest makes a great base for exploring. There's a designated picnic site at Postern Hill with picnic tables and areas for bring your own BBQs.
7. Cley Hill
It's a bit of a hike to get up this hill but when you are there the views are definitely worth it and you'll most certainly have worked up an appetite. Cley Hill forms part of the Longleat estate but is managed by the National Trust. It's also one of the top spots in Wiltshire to see a UFO too!
8. Pewsey Wharf
Walk along the towpath of the Kennet & Avon Canal to pick your perfect picnic spot. Watch the boats passing, spot wildlife and simply relax…
9. Lydiard Park
Enjoy Lydiard Park's lakeside setting, sunbathe on the lawns and if you have children then let them burn off steam in the play park here. There are extensive lawn areas here so you'll have no troubles finding your perfect picnic spot.
10. Stonehenge landscape
The land surrounding the mystical stones is managed by the National Trust. Much of this landscape can be explored by foot and like Avebury, provides a very historic setting for your picnic. English Heritage will shortly be opening up a picnic area closer to the Stones as well so you'll certainly be able to picnic with a view!
Related
4 Comments