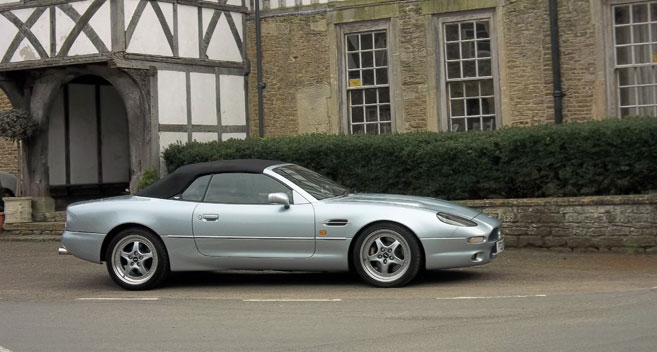 By Emma Kirkup

I spend quite a bit of my time exploring Wiltshire's roads, as many of you will have seen from my previous blogs. This time, I had the chance to be driven in style (a bit up there compared to my small hatchback) with Melksham-based classic car hire company, Vintage Classics.

Vintage Classics offer a choice of over ten vehicles dating from the 1960s onwards that you can hire for your own travels in style around England. On this occasion, I was lucky enough to be taken for a drive around Wiltshire by Phil in Vintage Classics' latest acquisitions, a 1997 Aston Martin DB7 Volante.

Now, I am a bit of an Aston girl. I've always said if I win the lottery that I'll be getting myself an Aston Martin so I didn't really hesitate when I was given the chance to see Wiltshire in style!

The weather was glorious so as we went to drive away Phil put the roof down. We began our road trip by going on the short trip to Lacock. Classic cars fit in very nicely in this village, you feel like you are part of a film set travelling through!

After doing a loop of the village, we travelled on some more country roads towards Corsham passing the Almshouses and Pound arts centre (unfortunately I didn't spot any of the resident peacocks) and journeying along to the pretty village of Biddestone, sitting within the Wiltshire Cotswolds.

It's normally me who's driving so it was lovely to be able to sit back and relax and take in the beautiful English countryside and the cute Cotswold villages that we passed through.

Our next visit was to the honey-coloured village of Castle Combe. The village is often voted the 'prettiest village in England' and it's easy to see why. We swept slowly through the High Street and I remember thinking I could get used to this lifestyle!

There were quite a few tourists busy taking photos at the bridge who then stopped to check out the car coming through.

We drove through the Castle Combe valley, passing woodlands and with glimpses across to far-reaching views and then wound our way past Lucknam Park Hotel in Colerne before traveling through the Saxon town of Bradford on Avon.

I was amazed by the sound the car made and how comfortable it was to sit in. It really was a lovely way to spend some time, especially when the sun was shining down. I would quite happily explore more of the county like this, a classic British car and a classic day out that's for sure!
Have a watch of our video we produced here:
The Aston Martin is available to hire from £365 for 24h with discounts for longer bookings. Other vehicles are also available to hire including the popular E-Type Jaguar, the Triumph Stag and a Morris Minor convertible. Vintage Classics also have some suggested itineraries that they give to people upon hiring a vehicle and will happily recommend places for you to visit nearby.
Driving through these villages and countryside I can really see why we claim Wiltshire is the England you love in one county.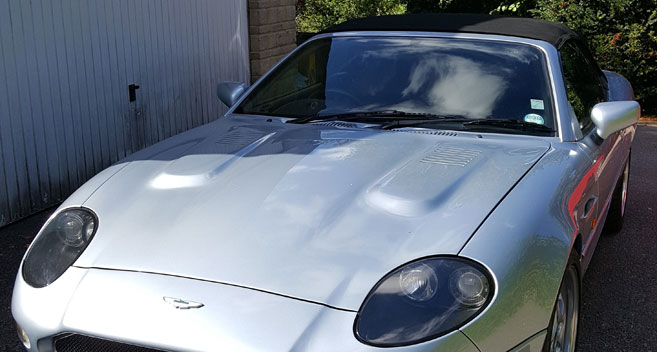 A bit more about the spec of the car I was driven in:

Introduced in 1994, the 3.2 six-cylinder model continued until 1999 when the 5.9 V12 was introduced with producing coming to an end in 2004 when the DB9 was released.

The DB7 was designed by Ian Callum and engineered by TWR at their Bloxham factory. It was the last hand-built Aston to be built.

Enzo Ferrari escribed the E-Type Jaguar as the most beautiful car in the world, many have described the DB7 as the most beautiful car since the E-Type, a high accolade indeed.

Just like the E-Type there are two model types, the coupe and the roadster (convertible) although in the case of the Aston the convertible is referred to as Volante.

It is the limited edition GTS.

Finished in Solent Silver metallic, which is a bluey silver colour (more blue than silver), and a special order warm charcoal interior the car looks drop dead gorgeous.

It is a 2+2, the rear seats can be used for small children assuming the front occupants do not need to have their seats in the furthest back position.

The seats are electric as are the windows and the hood.

It looks like a 'classic' car, with the works GT exhaust system it sounds like a classic car, and drives like a classic car.
Related
0 Comments