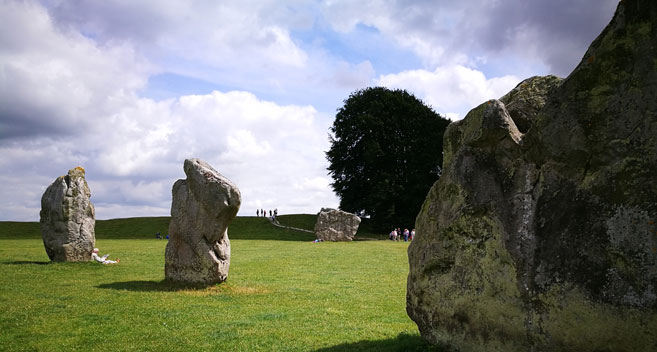 By Theresa Hopwood

On a lovely summer's afternoon recently I was invited to join a Mad Max Tour around north Wiltshire. I joined the tour in Lacock, at this stage the group had already visited Stonehenge, and travelled through some of the beautiful Wiltshire countryside. Talking to some of those on board, they had thoroughly enjoyed Stonehenge and the journey so far, one lady from North America said she now wanted to move to Wiltshire because it was so beautiful!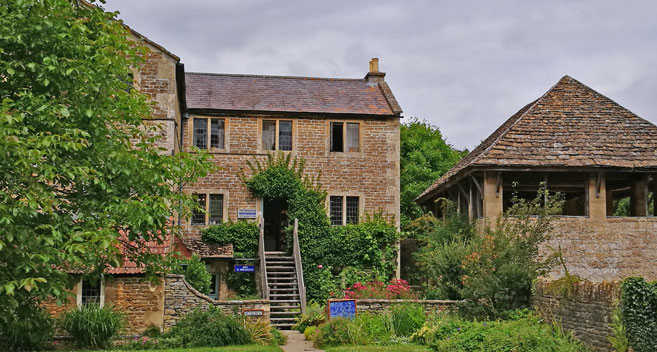 Lacock was the lunch stop but, before having free time to explore, Richard, our guide, gave us a guided tour around this beautiful National Trust village. I have been to Lacock many times but Richard highlighted several points of interest I had previously missed, including film locations, with supporting printed screenshots which really helped. He also had plenty of quirky stories including how the phrase "Blind Drunk" and the village lock up were connected! He showed us the old tannery which I was previously unaware of, and had plenty of amusing facts to go along with it. Before leaving us for some free time, Richard pointed out a good selection of places to have lunch, including the Sign of the Angel, always a good choice for a delicious meal!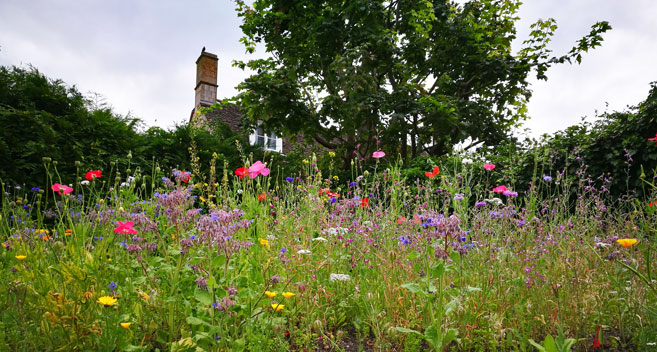 Meeting back at the minibus, Richard filled us in on the itinerary for the rest of the afternoon, and we set off for Avebury. One of the joys of a minibus tour is that you can go on roads not easily accessible to full size coaches. We headed out of Lacock, past the Abbey and up Bowden Hill which offers fantastic views from the top, and leads you into the picturesque hamlet of Sandy Lane, full of thatched cottages. Here Richard was able to tell us all about Master thatchers and the way in which they leave their signatures on newly thatched rooves. Taking another narrow lane we drove past the only thatched church in England, and a hidden cottage that looked exactly like something out of a fairy tale. It was becoming obvious that Richard knew Wiltshire very well and was able to show us things not on the usual tourist routes!

En-route Richard's spontaneous chat was interspersed with recorded commentary from "Maddy" who gave us the interesting facts and figures about the upcoming stops.

Again Richard took an interesting route into Avebury, driving past the mysterious Silbury Hill and down the avenue of stones which lead to the majestic stone circle, and bank and ditches of Avebury, the only stone circle with a village in its centre.
On arrival in Avebury we were dropped off right in the centre of the village, something that again would be difficult for full size coaches, and joined Richard for a walk amongst the stones, hearing tales of the Barber Surgeon stone, and the Devil's chair. The younger members of the group resisted the temptation to run around the stone 100 times, as suggested by one of Richard's stories…well it was a very warm day!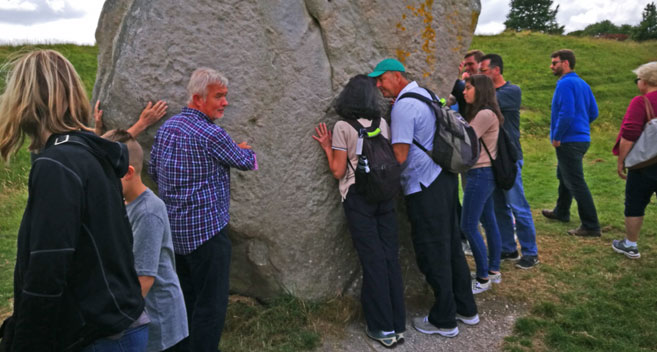 After an introduction to this huge circle of stones, and a group "stone hug" we were left to have some free time soaking up the atmosphere. I spotted a new shop since my last visit, Elements of Avebury, and had a lovely chat with Donna, the owner, who offers a free coffee voucher to Mad Max guests. Donna is full of infectious enthusiasm for her new business which offers some beautiful gift ideas, or maybe just a treat for you! Most of her products are made locally, and she even offers courses if you want a go yourself. I particularly loved the wire fairies, the subject of the previous week's course.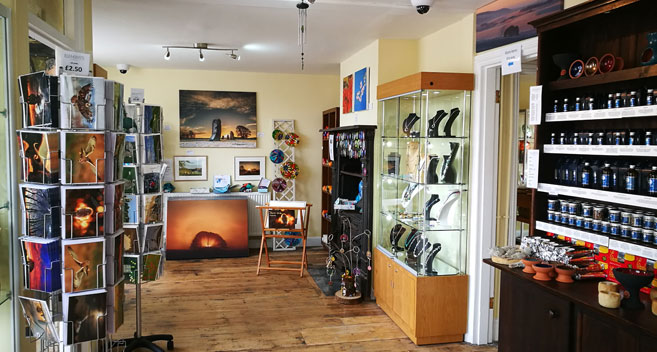 If you are interested in the more mystical elements of Avebury then a visit to The Henge Shop is also a must. It is full of fascinating books and gifts featuring stone circles, ley lines and much more. They even sell dowsing rods if you want to find the ley lines yourself. I have had a go in the past and it really does work!

From Avebury we drove via the market towns of Calne and Chippenham, where Richard told us of their links with everything from the discovery of oxygen to the death of Rock and Roll star, Eddie Cochran.

Our last stop was Castle Combe! As we walked down the hill into the village I could hear the oohs and aahs of the group in reaction to this beautiful spot. One little boy was begging to have control of the camera, I imagine that family have a lot of shots of the village! As expected by now Richard had plenty to tell us about the village, including showing us the location for the film of Dr Dolittle, when the small stream in the village was turned into a sea harbour, and showing us the faceless clock, and Knight's tomb in the church. His commentary was always lively, amusing and interesting and once again I discovered things about Castle Combe that I did not know, despite many visits in the past.

At this point I left the group as they began their return journey to Bath where the tour had started. Everyone I spoke to onboard had really enjoyed their day, and the great variety of sights they had seen and facts they had learnt.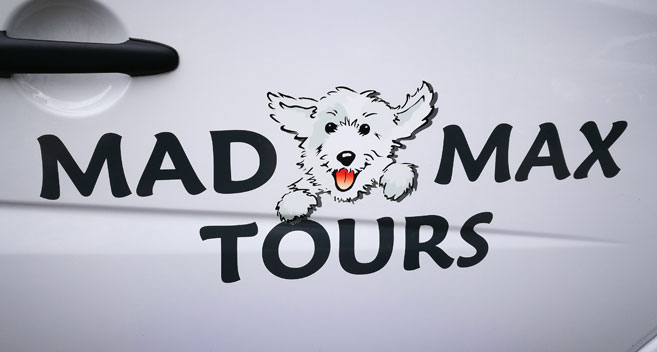 Mad Max Tours offers a great way for visitors with limited time in the area to visit the "must see" attractions of Wiltshire whilst also discovering hidden gems, and local facts and legends along the way. The trip I joined was Tour 1, but they offer three other options too.
Related
0 Comments