We asked Bonnie from the Good Hotel Guide to tell us all about her favourite hotels to stay at in Wiltshire. We hope her top hotels inspire you to start planning a Wiltshire getaway for later in the year.
Due to the national lockdown, most accommodation providers are currently shut. However, now is the perfect time to start planning for your future Wiltshire hotel stay!
Wiltshire is a beautiful part of the country, where chocolate box villages are surrounded by picturesque countryside, the food benefits from abundant local ingredients and the inns, pubs and hotels are blessed with history worthy of a novel. Bringing together superb hospitality and style, here the Good Hotel Guide shares 11 of the top hotels in Wiltshire…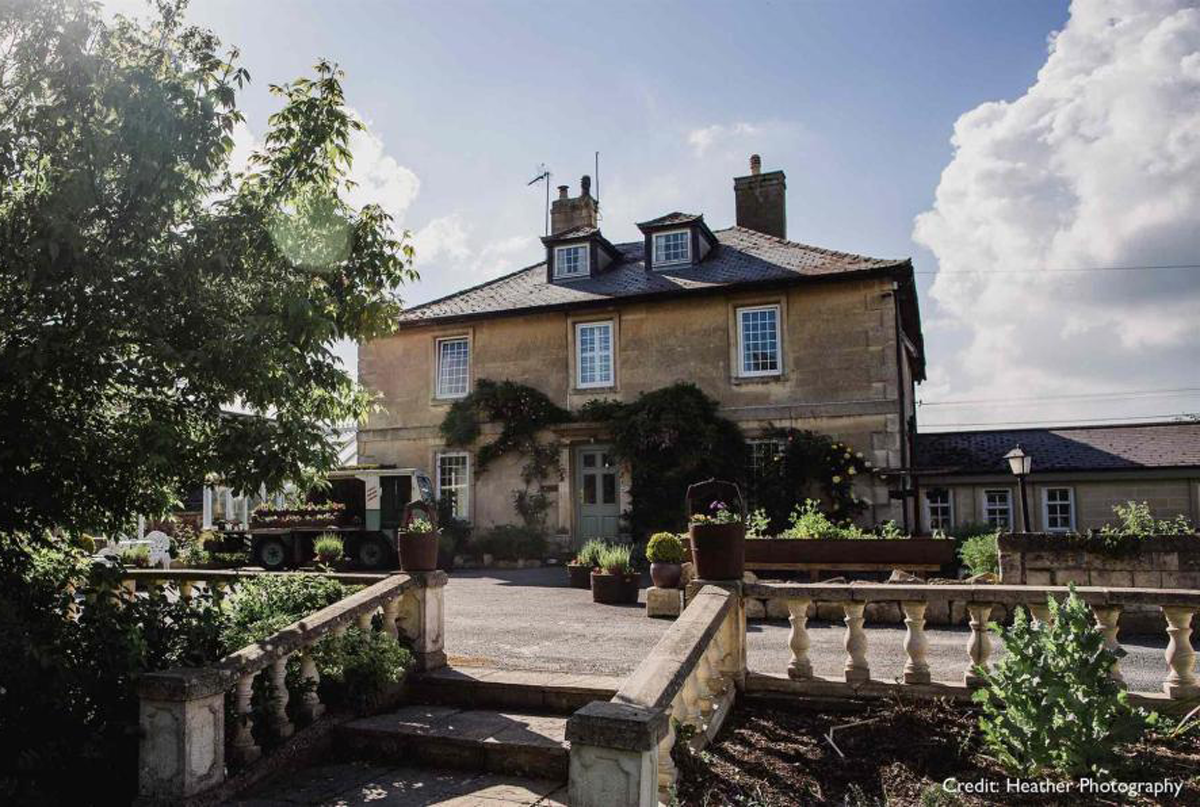 Widbrook Grange, Bradford-on-Avon
Widbrook Grange is a Georgian farmhouse with whimsical charm. With up-cycled farm paraphernalia ranging from milk pails to wooden crates as part of the decor, there is a distinct homeliness to this dog-friendly hotel alongside its luxe hospitality. Dog-friendly rooms are available with garden access, and dog beds are provided. Fido can join you for dinner in the conservatory, while doggy afternoon tea brings wet food, organic biscuits and a 'puppichino'. They'll even throw in a tennis ball for good measure.
---

Woolley Grange, Bradford-on-Avon
Another member of the Luxury Family Hotels collection, Woolley Grange Hotel is a beautiful Jacobean manor house on the edge of the Cotswolds. There is a tranquillity here, that's born of simple pleasures and time spent with the family but surrounded by luxury. Pick pears in the garden, collect eggs from the chickens, go pond dipping, get lost in the grass maze, let children play in the kids' club. Then give mum and dad time to enjoy a peaceful swim in the pool, a spa treatment or dinner together thanks to two hours of free childcare per day. Meanwhile, all the amenities you could possibly need to make a holiday with the family easy, are provided.
---

Beckford Arms, Tisbury
The Beckford Arms is a cheerful pub on the edge of the Fonthill Estate which is cosy, comforting and welcoming. French doors in the restaurant open to a charming terrace and the pub garden – this is where locals come for the inspired-by-the-seasons menu of interesting, beautifully presented food.
---

The Red Lion Freehouse, East Chisenbury
Watch the ducks swim by on the river when you wake up at the Red Lion Freehouse, a popular gastropub-with-rooms, where bedrooms have a private wooden deck almost on the banks of the Avon. There is the option to stay in contemporary rooms in the Troutbeck Guesthouse across the road. Meanwhile, in the thatch-roofed pub, Michelin- starred chef/patrons Guy and Brittany Manning win rave reviews for their informal modern British menu. Hearty dishes are served in the evening; breakfast includes a feast of home-made muffins and jams.
---

The Three Daggers, Edington
A pub, microbrewery, B&B, farm shop and spa, The Three Daggers sits between the chalky hills of Salisbury Plain. A wool barn in 1750, it was refurbished in 2010 creating an attractive place to eat and stay. A village pub at its core, with ales all brewed on site, tasty snacks, hearty meals and coffees in front of the fire. Then there are three bedrooms at The Inn at Three Daggers and a six-bedroom private home at Hillside Cottage. It's all Neal's Yard toiletries, heritage style, fresh flowers and fluffy white robes. Both properties feature convivial communal living rooms and kitchen, so you can settle in to watch movies, drink cocktails and spend time with friends.
---

Sign of the Angel, Lacock
In the Harry Potter-esque village of Lacock, setting of many movies, the Sign of the Angel is a 15th-century coaching inn that has retained all the best elements of its past and incorporated the best of modern hospitality as well. Award-winning food and elegant style are all integral parts of the experience, while its five guest rooms are packed with quirky features from architects of centuries past alongside luxury linens and furnishings.
---

Whatley Manor, Easton Grey
This 18th-century manor house is filled with original artwork and a collection of antique and modern furniture. Whatley Manor Hotel and Spa is practically next door to Highgrove House and Malmesbury Abbey, and really comes into its own when it comes to food. For casual dining, there's the Swiss-style brasserie for sharing boards and grazing dishes. Or there's the Dining Room, which offers two Michelin-starred dining from chef Niall Keating, who cooks tasting menus for omnivores, pescatarians and vegetarians. The house's history combines with modern luxuries, complete with a cinema and spa area – for those wanting to completely unwind, the mud chamber is a good place to start.
---

Lucknam Park, Chippenham
A graciously restored Palladian mansion Lucknam Park Hotel & Spa sits in manicured gardens and Cotswold countryside, surrounded by 500 acres of private parkland. There is an abundance of things to do while you're here. Spend time in the great outdoors - horse riding, forest bathing, using the outdoor gym, playing croquet or going on their sculpture tour around the estate. The contemporary and stylish spa is a destination in its own right, or you can while away the afternoon in the comfort of your room. Experience elegant fine dining from the a la carte menu or the tasting menus in Executive Chef Hywel Jones's eponymous Michelin-starred restaurant, known for its innovative use of seasonal ingredients, or head to the Brasserie for a more casual experience.
---

Timbrell's Yard, Bradford-on-Avon
This stylish riverside boutique hotel is a restaurant-with-rooms that's well known for its food and drink. The 17 bedrooms at Timbrell's Yard combine contemporary design with original features of the building. Dogs are welcome in the bar and the hotel rooms, and the whole ethos stems from the proprietor's love of good food, whether its pastries and coffee or sumptuous lunches.
---

Helen Browning's Royal Oak, Bishopstone
On the edge of the Wiltshire Downs, Helen Browning's Royal Oak is a quirky and friendly pub-with-rooms. Set on an organic farm, it pairs great food with real ales and organic wines. Set around a courtyard, rooms and suites are modern-rustic, and there's a lounge stocked with books, hot drinks, a record player and a collection of LPs.
---

Howard's House Hotel, Salisbury
A small, tranquil hotel, Howard's House Hotel is a romantic Jacobean former dower house, surrounded by country gardens. Located by the Teffont Brook, it has a kitchen garden and its own Legbar hens. The seasonal menu is very much the star of the day - perfect for tucking into after a walk in the surrounding countryside. Then, drift up to one of the bedrooms, one with a four-poster, where comfy spaces and REN toiletries for therapeutic wellbeing await.
---
Pictures and words provided by the Good Hotel Guide.

Related
0 Comments