Take a trip to Salisbury in 2020 and explore a city of ageless beauty and living heritage. There are lots of things to see, do and discover during your visit, as well as gorgeous places to stay. Want us to help you get started on the holiday planning? Here are 20 ideas of things to do in Salisbury in 2020…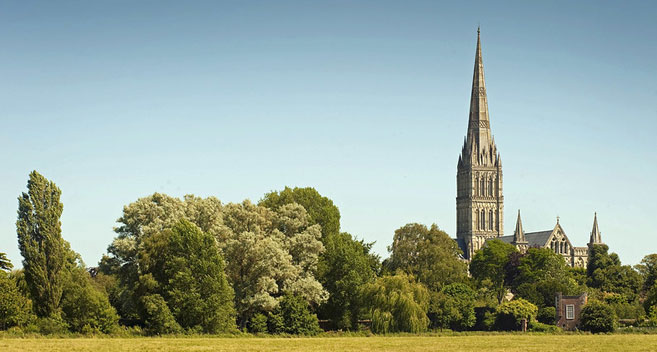 Celebrate 800 years of Salisbury
2020 marks 800 years since Salisbury Cathedral moved from its original location at Old Sarum – a momentous relocation which prompted the formation of a brand new city. Salisbury celebrates this big move in 2020 with a year-long programme of special events and activities. So why not time your visit to Salisbury to coincide with some of the many events taking place around the city as part of Salisbury 2020.
Climb to the base of the UK's tallest spire
No visit to Salisbury would be complete without a visit to Salisbury Cathedral – one of the most iconic buildings in the UK. This medieval masterpiece boasts the tallest church spire in the country. Visitors can book onto a Tower Tour to climb 332 steps to the foot of the famous spire and enjoy unrivalled views across the timeless city and the countryside beyond.
Watch Wonderful Theatre
There are lots of great plays coming up in 2020 at Salisbury Playhouse! In April and May, catch Noel Coward's brilliantly entertaining comedy Hay Fever starring Maria Friedman. In June, you can see worldwide smash hit Million Dollar Quartet for one week only. Inspired by the famous recording session that brought together icons Elvis Presley, Johnny Cash, Jerry Lee Lewis and Carl Perkins, Million Dollar Quartet is a musical with a soundtrack to die for.
Enjoy a Peaceful Countryside Stay
Marshwood Farm just outside Salisbury is the perfect option if you're looking for a rural retreat as part of your trip to this beautiful city. The farm offers comfortable B&B accommodation, a separate self-catering cottage and even a lovely shepherd's hut if you prefer the glamping life!
Treat Yourself at Fisherton Mill
Fisherton Mill combines artist studios, a gallery, a shop selling work by local makers and a lovely café – so there are plenty of opportunities to treat yourself during your visit. Sit down for a slice of delicious cake and a cup of tea, or buy yourself a memento from your time in Salisbury. In 2020, Fisherton Mill celebrates its 25th birthday and there will be many exhibitions and workshops to enjoy throughout the year.
Admire Wonderful Portraits at Salisbury Museum
From 2 May – 27 September 2020, catch new exhibition As You See Me at Salisbury Museum. The exhibition will showcase British portraits by Sir Joshua Reynolds, Thomas Gainsborough and Sir Thomas Lawrence alongside contemporary pieces by Salisbury-based painter Nicholas Beer. During your visit to Salisbury Museum, you can also see one of Europe's most extensive collections of prehistoric artefacts.
Enjoy Middle Eastern Flavours
A firm favourite with Salisbury locals, Baroushka offers a delicious menu of traditional Lebanese and Moroccan cuisines. And that's not all - in the evenings, the restaurant comes alive with beautiful belly-dancers and traditional Middle Eastern musicians evoking the energetic buzz of Marrakech. Book a table during your visit to Salisbury for a meal out with a difference!
Admire a Unique Medieval Artwork
Step inside the beautiful Salisbury church of St Thomas's to admire the incredible 'Doom' painting. This fascinating artwork is the largest and most complete example of its type still surviving in the UK and was painted between 1470 and 1500. St Thomas's also hosts regular music recitals as well as their series of Talks at Thomas's – so keep an eye out to see what's on during your visit.
Tuck in to a Classic Pub Lunch
A short drive from Salisbury you will find the scenic Woodford Valley - an ideal spot for a Wiltshire walk. While you're there, stop at the Bridge Inn for a pint or two and a traditional pub meal. The menu features vegetarian, vegan and gluten-free options with a wide variety of cask ales, lagers, ciders, wines and gins available to complement the food.
Take a Trip to the Farm
The perfect day out for families, River Bourne Community Farm is a working farm on the edge of Salisbury that is open (and free!) to visitors all year. Bring the kids along to meet the pigs, sheep, alpacas, donkeys, goats, Highland cattle, ducks, turkeys, guinea pigs and rabbits.
Be Inspired at Mompesson House
Mompesson House is a Queen Anne townhouse in the heart of Salisbury's Cathedral Close, with a tranquil hidden garden and a welcoming garden tearoom. 2020 marks the 25th anniversary of the filming of Sense and Sensibility right here, and this year Mompesson House celebrates its relationship with the creative arts (from films to watercolours) with a new exhibition called Inspired? Mompesson House and the Creative Arts. Highlighting pieces from the collection – both familiar and unexpected – this year's presentation shows how Mompesson House has inspired people over the years and continues to provide creative inspiration. How will it inspire you?
Walk Through 800 Years in 90 Minutes
For a fascinating introduction to the history of Salisbury, take a tour with the experts at Salisbury City Guides and discover the city's 800 year history. Salisbury City Guides will tell you the story of Salisbury while pointing out hidden gems as you walk around the city.
Enjoy Real Indian Food at Anokaa
Sit down to a meal of scrumptious modern Indian cuisine at Salisbury restaurant Anokaa. If you're heading to a show, their pre-theatre menu offers you a delicious two course meal with wine or beer for only £16.95. Yum!
Celebrate History at an 800-year-old Hotel
Not only does 2020 mark 800 years since Salisbury Cathedral relocated from Old Sarum, it is also the 800th birthday of the Red lion Hotel - which was originally built to house the stone masons working on the Cathedral! Stay at the Red Lion during your visit to sleep in a comfortable 13th century bedroom, or pop in for afternoon tea in the picturesque courtyard. And if you're visiting Salisbury in August, there will be some exciting birthday celebrations taking place at the Red Lion...
Discover Old Sarum
The original sight of Salisbury Cathedral, Old Sarum is a fascinating hill fort with family-friendly events running throughout the year in 2020, including the Legendary Joust in July, the Knights' Tournament in August and Spooky Old Sarum in October. Whatever time of year you visit, there's lots to do. Climb the mighty ramparts for views over the Wiltshire plains and imagine the once thriving town of Old Sarum. Stand in the footprint of Salisbury's original cathedral, explore the royal castle which stood high on the motte, and discover the awe-inspiring Iron Age hill fort where it all began. Unearth over 2,000 years of history and find out how the Romans, Normans and Saxons have all left their mark on this impressive landscape.
Enjoy a Room with a View
Book yourself a stay at one of our beautiful Salisbury Hotels - there are many to choose from, including options with views of the stunning Cathedral spire.
Spend a Day at the Races!
Have a fun family day out at one of England's most historic racecourses this year. In 2020, there are lots of race meetings planned at Salisbury Racecourse, including Family Dino Day (when your little ones can meet some exciting dinosaurs) on 3 May, Ladies' Evening on 11 July and the Summer Holiday Family Races on 12 August. Children are always welcome, and get in for free.
Discover Local History
Wander around the serene setting of the Cathedral Close and step inside the Grade II listed building The Wardrobe where you will discover the Rifles Berkshire and Wiltshire Museum, dedicated to the fascinating history of these local regiments. Visit the galleries and see a unique collection telling the stories of those who served their country during the Peninsular War, Crimean War, Boer War, First and Second World Wars and events since 1945 including Afghanistan. Be sure to explore the attractive riverside garden which offer lovely open countryside views.
Enjoy a Meal with Friends
Sit down to a delicious meal with friends at Italian restaurant Grillado where you can experience the true essence of Italian life. Grillado's extensive menu features pasta, pizza, risotto, rotisseries and more, all using quality ingredients cooked to perfection.
Celebrate the Arts
Salisbury International Arts Festival returns this year from 22 May until 6 June with art, performance and events exploding into the streets and spaces of the city. Highlights in 2020 include the Royal Philharmonic Orchestra performing in Salisbury Cathedral on 6 June and Ade Adepitan In Conversation on 26 May.
Need more inspiration for your trip to Salisbury in 2020? Have a look at our ideas for visiting the city this year.
Related
0 Comments