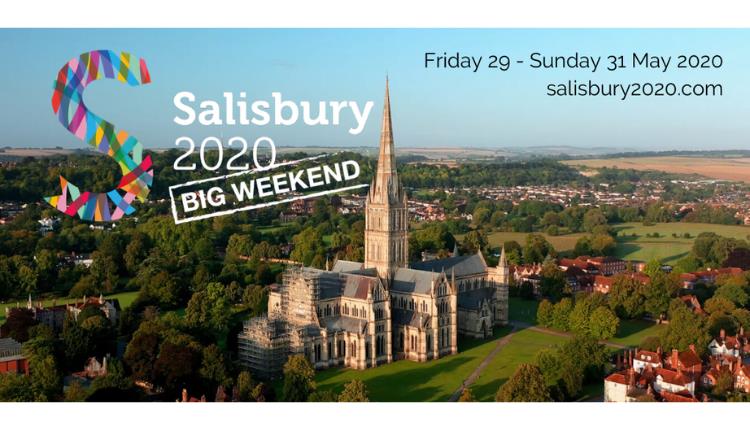 About
Local names and faces join speakers from across the country to celebrate Salisbury 2020 Big Weekend from 29 to 31 May 2020.
In 1220 the people of Salisbury came together to build a new cathedral. 800 years later, we find ourselves in unprecedented times where, at the moment, we cannot be together. The Salisbury 2020 Big Weekend is a small way to continue to celebrate our City's past and help move us forward. Local musicians, artists and writers are joined by speakers from across the county to mark the 800th anniversary of the founding of Salisbury Cathedral and the emergence of the modern City.
Highlights for Salisbury 2020 Big Weekend include:
Local names and faces, including:
Phil Harding - archaeologists and Time Team favourite talks archeology and the fascinating history of Salisbury
Jenny Pearson - the local author of the Waterstones Children's Book of the Month, leads a kids literary workshop
The Deloreons - Salisbury Live! favourites will bring the party as part of the Salisbury Live's 20th-anniversary sessions
John Glen - MP for Salisbury helps discuss how 21st-century cities can benefit all their citizens
Provocative speakers from across the country, including:
Sandy Nairne - former Director of the National Portrait Gallery and Trustee of the Courtauld Collection in discussion with Jacquiline Creswell, Curator and Visual Arts Adviser at Salisbury Cathedral
Sir Nicholas Serota – Chair of Arts Council England and former Director of the Tate looks at the role of arts in the 21st century city
Tom Holland - historian talks on the stories of Sarum old and new
Local artists, coaches and musicians, including:
Salisbury City Council's Community Sports officer Tom Gailey brings you family activities and games
Pezzaz Street Soccer and Wessex Futsal club will keep you moving with football sessions
Alex Taylor of Girls Live Fit and Kids live fit will get you moving with exercise classes
Colin Holton and Georgia Agombar along with many other local musicians
Over one long weekend, Salisbury 2020: City on the move partners will come together to present a weekend packed with music sessions, yoga, family workshops, sports training, quizzes, fascinating talks and virtual exhibitions based around the original themes of Salisbury 2020 – all presented online free to everyone.
Opening Times
Sorry, this event has passed
Map & Directions