The Autumn Display at Stourhead
Stourhead - National Trust
National Trust Estate Office, High Street
Stourton
Warminster
Wiltshire
BA12 6QD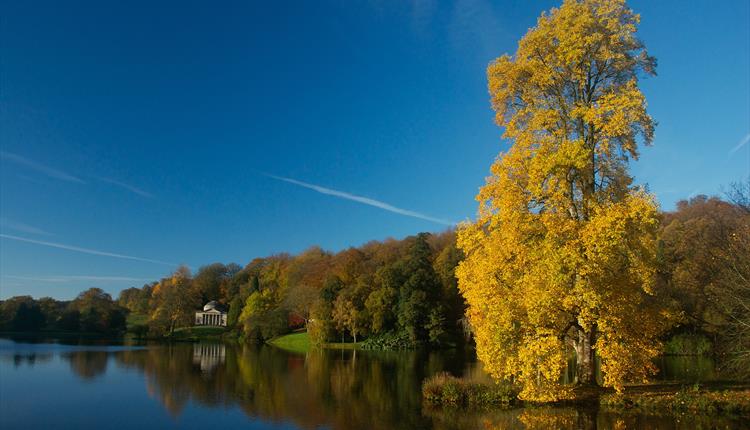 About
Stourhead is one of the world's finest landscape gardens and in autumn you can see vistas highlighted with burnished leaves and rusty colour palettes.
With a lake at its centre, the garden is planned with temples and follies and a planting scheme which allows the colours to wash through the landscape of a 6-8 week period.

Though autumn never keeps to the same schedule, towards the end of August the North American maples have begun to turn a scarlet red, signifying the start of the autumn season. Around this time the Japanese acers, hornbeam, chestnuts, also start their vivid display. A little later in autumn the Tulip trees take on a yellow hue while the oak and beech finish off the season with their bright oranges late in October.
Throughout autumn the garden draws in thousands of people to enjoy the spectacular display of colour, and to help keep you updated Head Gardener Alan, records a weekly leaf line with what the garden is looking like that week.
A team of wonderful volunteers lead daily autumn walks at 11am and 1.30pm. These walks take 75-90 minutes and start at visitor reception, they take you into the garden by the family home, thus giving you the best views. The walk takes about an hour and leaves you by the lakeside to continue on around the garden and enjoy the day at your own pace. These are one of the best ways to discover more about Stourhead. Places on these tours are limited to 25 people.
As you walk around the garden, you may find the gothic cottage open and seasonally decorated, with a roaring log fire to help warm up, and a selection of teas, coffees and snacks available to re-fuel you for the rest of your walk. This little cottage is a big draw for many, much loved and ever popular.
The best way to see autumn at Stourhead is to come a few times and see the season progress. It's a gradual change with different species of tree changing throughout autumn, and so there isn't one specific moment which is the perfect time to visit.
In case you are wondering about visiting with your pet pooch, dogs are welcome in the garden after 4pm in October, and after 3pm in November. Please do always keep them on a lead for the comfort of all visitors, and pick up any mess and pop it into one of the bins.
Opening Times
Sorry, this event has passed
Map & Directions