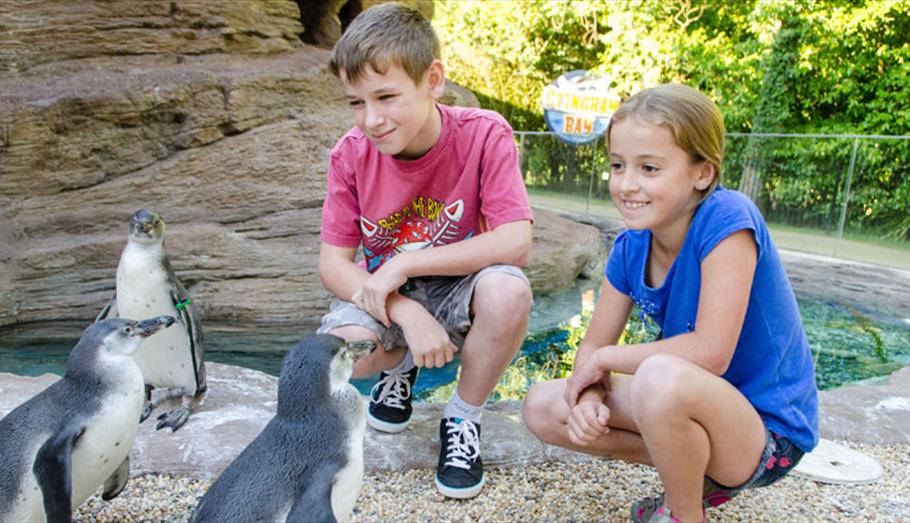 Family Fun in Wiltshire
As we move towards the summer, businesses across Wiltshire are reopening in line with the government's roadmap – making now the ideal time to book your Wiltshire holiday! See the roadmap of Wiltshire's reopening for full details of what you can expect.
Whilst we are endeavouring to keep all information on the website up to date, we would advise you to check directly with the relevant venue for the most up to date information.
Are you looking for things to do in Wiltshire with your family? Let us give you some ideas for some great family days out in Wiltshire…
One of Wiltshire's largest family attractions is Longleat featuring Monkey Temple, a Jungle Cruise and Dinosaurs Alive to name but a few of the highlights! Spot some of the animals made famous by the BBC's Animal Park, let off steam in the adventure playground and enjoy the Christmas Festival of Lights.

Feed and stroke an array of animals at Cholderton Rare Breeds Farm, River Bourne Community Farm or Roves Farm. Spot magnificent butterflies at Studley Grange Butterfly World & Craft Village meet various animals at the Cotswold Wildlife Park & Gardens or step aboard a locomotive at STEAM – Museum of the Great Western Railway.

Practice being a knight or a princess and learn about times gone by at one of English Heritage's Old Sarum and Old Wardour Castle events that take place throughout the year or hop onto the Stonehenge Tour Bus for a fascinating insight into Stonehenge.

Visit Bowood House & Gardens with its fantastic adventure playground featuring a pirates' ship and soft-play area or Wilton House with its adventure playground with tree top slides, swing boats and beautiful parklands to explore.

Learn about ghoulish tales and ghostly goings-on in Salisbury with one of the Salisbury City Guides ghost or horrible history tours and visit one of our museums for hands-on learning or how about exploring our towns and villages on a Treasure Trail or having a go at trying to crack the codes at one of these Escape Rooms.
Or how about heading to Wiltshire's very own inland beach or enjoy a spot of cycling around the lakes at Cotswold Water Park.
With gloriuos views of the Cathedral spire, Salisbury Racecourse is one of England most beautiful and historic. Sixteen race meetings take place here between April and October. Accompanied children are always welcome, with entertainments provided for them at weekend and evening meetings.

Wiltshire holds many family friendly events throughout the year, discover more details on our events pages.

And if it rains, don't let that stop you, discover our ideas for rainy days.
Number of results:
Number of results: 143
, currently showing 101 to 120.
Type

Type:

Spa and Relaxation

Relax and indulge in The Spa at Bowood.

Pamper yourself with a range of treatments, enjoy breathtaking views from the swimming pool or workout in the gym. 

TripAdvisor Traveller Rating

177 reviews

Collection of locomotives, rolling stock including steam engines and diesel engines. Locomotive shed with engines under restoration. Train rides on open days and special events. Easter Egg, Halloween & Santa Specials and Wartime Weekend.

TripAdvisor Traveller Rating

774 reviews

Type

Type:

Historic House/Palace

Bowood House & Gardens will open to the public for its 46th year in 2021. 2021 Opening dates are from 1 April – 1 November 2021. Bowood is the magnificent family home of the Marquis and Marchioness of Lansdowne.

Bowood House:

Begun…

TripAdvisor Traveller Rating

22 reviews

This lovely 13th-century church stands in rolling downland deep inside the military training area of Salisbury Plain. It is all that remains of the ghost village of Imber (now just abandoned houses), which was evacuated for military training purposes

TripAdvisor Traveller Rating

243 reviews

Type

Type:

Historic House/Palace

Restored manor-house, c1480, next to contemporary small parish church. Great hall, screen and contemporary mural portrait of the builder. Alfred Parsons designed the gardens

TripAdvisor Traveller Rating

75 reviews

Trowbridge Museum, where you can discover 1000 years of the town's history. Discover how Trowbridge was shaped by the scale of production and quality of its West of England woollen cloth and became the county town of Wiltshire. Housed in a former…

TripAdvisor Traveller Rating

55 reviews

Type

Type:

Family Activities

The 4 star awarded 45 hole course is appealing to all levels of golfer. The standard of service and catering is exceptional throughout with food locally sourced and freshly prepared on site.


TripAdvisor Traveller Rating

164 reviews

Come and see 70 years of technology from desktops, portables, laptops and Apple Macs, to games consoles, handhelds, arcade games, calculators and more...

TripAdvisor Traveller Rating

47 reviews

Ever wondered what it was like when Wootton Bassett had its very own train station? Closed over 50 years ago, the museum is proud to bring it back to life with the opening of a brand new exhibition.

TripAdvisor Traveller Rating

217 reviews

The Visit Hillbrush museum, an educational and interactive museum, is a celebration of the rich 95-year history of a family brush ware business.

Exhibits include: How Many Brushes in your Home?, Fibres from Around the World, restored antique brush…

TripAdvisor Traveller Rating

109 reviews

The Museum tells the story of the infantryman from the Seven Years War to the present day. On the same site The Rifleman's Table can provide you with coffee or lunch, and the garden is a place in which to wander or to relax in.

TripAdvisor Traveller Rating

81 reviews

Built in 1821, fully restored as a working windmill. Stoneground flour generally available for sale.

Situated in Grade I Listed buildings in Salisbury's Cathedral Close, Sarum College hosts a regular programme of art exhibitions, workshops, courses and literary and musical events throughout the year.

Type

Type:

Cookery School

Vaughan's Cookery School offers a comprehensive range of public, professional, bespoke, corporate and children's courses, along with culinary hen parties and group sessions for a party with a difference or a fun evening with friends. Participants…

A large iron age hill fort and white horse carved into the hillside.

Constructed around 3,400 BC West Kennet is one of the largest Neolithic chambers in Britain.

The impressive site was the resting place for many souls. Two Sarsen stones cover the entrance and inside there are five chambers.

The Alton Barnes horse was cut in 1812 by Robert Pile on his own land.

Tour and Explore

We provide informative and entertaining Tour Guides for coach & walking tours of North Wiltshire and the Cotswolds. There's so much to see - medieval villages, magnificent abbeys & churches, ancient monuments, attractive gardens

The second oldest of Wiltshire's White Horses, situated on the edge of Cherhill Down, off the A4.

Regimental badges carved into the chalk downs above the village of Fovant.