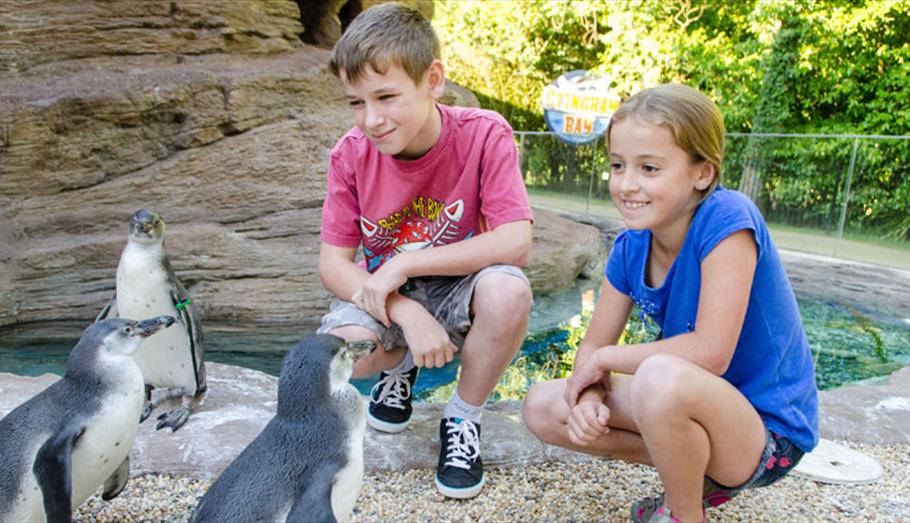 Family Fun in Wiltshire
As we move towards the summer, businesses across Wiltshire are reopening in line with the government's roadmap – making now the ideal time to book your Wiltshire holiday! See the roadmap of Wiltshire's reopening for full details of what you can expect.
Whilst we are endeavouring to keep all information on the website up to date, we would advise you to check directly with the relevant venue for the most up to date information.
Are you looking for things to do in Wiltshire with your family? Let us give you some ideas for some great family days out in Wiltshire…
One of Wiltshire's largest family attractions is Longleat featuring Monkey Temple, a Jungle Cruise and Dinosaurs Alive to name but a few of the highlights! Spot some of the animals made famous by the BBC's Animal Park, let off steam in the adventure playground and enjoy the Christmas Festival of Lights.

Feed and stroke an array of animals at Cholderton Rare Breeds Farm, River Bourne Community Farm or Roves Farm. Spot magnificent butterflies at Studley Grange Butterfly World & Craft Village meet various animals at the Cotswold Wildlife Park & Gardens or step aboard a locomotive at STEAM – Museum of the Great Western Railway.

Practice being a knight or a princess and learn about times gone by at one of English Heritage's Old Sarum and Old Wardour Castle events that take place throughout the year or hop onto the Stonehenge Tour Bus for a fascinating insight into Stonehenge.

Visit Bowood House & Gardens with its fantastic adventure playground featuring a pirates' ship and soft-play area or Wilton House with its adventure playground with tree top slides, swing boats and beautiful parklands to explore.

Learn about ghoulish tales and ghostly goings-on in Salisbury with one of the Salisbury City Guides ghost or horrible history tours and visit one of our museums for hands-on learning or how about exploring our towns and villages on a Treasure Trail or having a go at trying to crack the codes at one of these Escape Rooms.
Or how about heading to Wiltshire's very own inland beach or enjoy a spot of cycling around the lakes at Cotswold Water Park.
With gloriuos views of the Cathedral spire, Salisbury Racecourse is one of England most beautiful and historic. Sixteen race meetings take place here between April and October. Accompanied children are always welcome, with entertainments provided for them at weekend and evening meetings.

Wiltshire holds many family friendly events throughout the year, discover more details on our events pages.

And if it rains, don't let that stop you, discover our ideas for rainy days.
Number of results:
Number of results: 143
, currently showing 41 to 60.
TripAdvisor Traveller Rating

6653 reviews

Type

Type:

Cathedral/Minster

Salisbury Cathedral has been a place of worship, welcome, and hospitality for over 800 years. Its Spire (the tallest in the country and a feat of medieval engineering) rises to a breath-taking 404ft/123m, guiding travelers, merchants, and pilgrims…

Type

Type:

Cookery School

Pursue your passion for food at the Waitrose Cookery School. If you love preparing and eating good food you'll love the hands-on approach to learning at the Waitrose Cookery Schools.


Type

Type:

Cookery School

The Farm Cookery School is part of Netherstreet Farm, Bromham set in the beautiful Wiltshire countryside. We offer cookery classes, team building events, birthday parties and much more.

Explore the streets of Salisbury with a self-guided Murder Mystery themed walking Treasure Trail; a fun and imaginative way to explore Salisbury.

TripAdvisor Traveller Rating

63 reviews

Permanent art and crafts display, coffee and snacks in an historic redundant church at one end of Marlborough's famous High Street.

Text Quest is a fun way of finding your way around the city. You receive a text with directions and a clue. Reply with the right answer, then get the next clue. You can race against other teams or amble round enjoying the sights.

Type

Type:

Cookery School

Vaughan's Cookery School offers a comprehensive range of public, professional, bespoke, corporate and children's courses, along with culinary hen parties and group sessions for a party with a difference or a fun evening with friends. Participants…

The 'Wiltshire Walks' app is now available for iPhone and Android and includes over 150 GPS guided walking routes in and around Wiltshire.

TripAdvisor Traveller Rating

110 reviews

These beautifully laid out gardens were created by General Pitt Rivers in 1880. Originally designed as pleasure grounds for 'public enlightment and entertainment', The Larmer Tree is an extraordinary example of Victorian extravagance.

TripAdvisor Traveller Rating

455 reviews

Type

Type:

Historic House/Palace

Originally built in 1383, there have been additions and renovations to the property over the centuries. Since Tudor times, only two families have owned Chavenage, the current owner David Lowsley-Williams having inherited the House from his uncle.…

Type

Type:

Heritage/Visitor Centre

The Calne Heritage Centre tells the story of Calne and the surrounding areas.

Wheels for all levels of experience.

TripAdvisor Traveller Rating

33 reviews

Set in stunning 'Capability' Brown parkland, Bowood is renowned as one of the finest golf courses in Wiltshire and is the PGA Official Golf Course for the South West.

We offer a range of superb guided walks through Wiltshire's beautiful countryside. Our walks will take you through an ancient landscape following tracks laid down over many centuries.

TripAdvisor Traveller Rating

22 reviews

This lovely 13th-century church stands in rolling downland deep inside the military training area of Salisbury Plain. It is all that remains of the ghost village of Imber (now just abandoned houses), which was evacuated for military training purposes

TripAdvisor Traveller Rating

2509 reviews

Type

Type:

Country Park/Nature Reserve

Arboretum with over 16,000 rare and beautiful trees, all set in 600 glorious, easy-to-stroll Cotswold acres

TripAdvisor Traveller Rating

218 reviews

The Visit Hillbrush museum, an educational and interactive museum, is a celebration of the rich 95-year history of a family brush ware business.

Exhibits include: How Many Brushes in your Home?, Fibres from Around the World, restored antique brush…

Type

Type:

Chauffeured Tours

We are a small family-run business based in Salisbury. We offer discreet, bespoke and entertaining private guided sightseeing tours in the comfort you deserve. Our itineraries are original, imaginative, well-paced and carefully balanced.

TripAdvisor Traveller Rating

39 reviews

Salisbury Arts Centre is a multi-artform venue dedicated to making imaginations fly. From theatre and dance to music, comedy, film and exhibitions: discover a vibrant hub of arts activity housed in a beautiful deconsecrated church building.

Type

Type:

Canal / Waterway / Marina

Based at Bradford on Avon Wharf, 400 yards from the town centre and only a few steps from the Kennet & Avon Canal Trust's Tea Room.