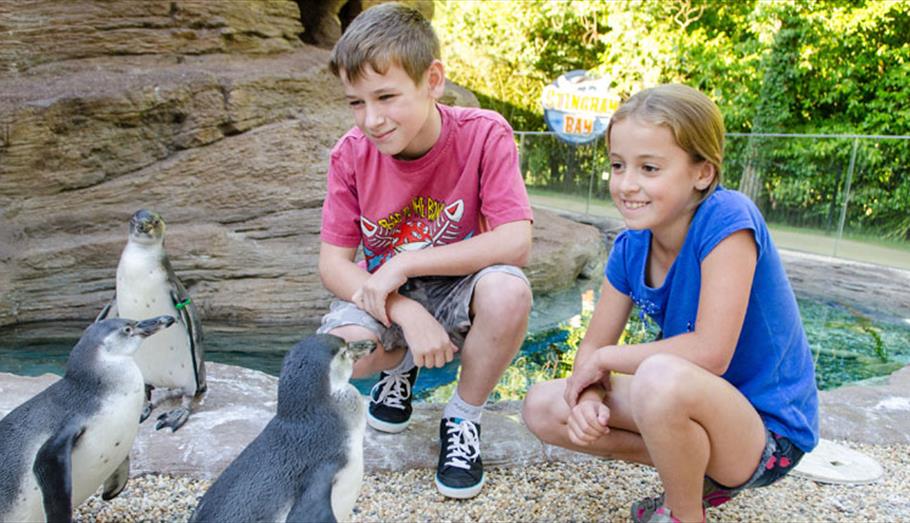 Family Fun in Wiltshire
Are you looking for things to do in Wiltshire with your family? Let us give you some ideas for some great family days out in Wiltshire…
One of Wiltshire's largest family attractions is Longleat featuring Monkey Temple, a Jungle Cruise and Dinosaurs Alive to name but a few of the highlights! Spot some of the animals made famous by the BBC's Animal Park, let off steam in the adventure playground and enjoy the Christmas Festival of Lights.

Feed and stroke an array of animals at Cholderton Rare Breeds Farm, River Bourne Community Farm or Roves Farm. Spot magnificent butterflies at Studley Grange Butterfly World & Craft Village meet various animals at the Cotswold Wildlife Park & Gardens or step aboard a locomotive at STEAM – Museum of the Great Western Railway.

Practice being a knight or a princess and learn about times gone by at one of English Heritage's Old Sarum and Old Wardour Castle events that take place throughout the year or hop onto the Stonehenge Tour Bus for a fascinating insight into Stonehenge.

Visit Bowood House & Gardens with its fantastic adventure playground featuring a pirates' ship and soft-play area or Wilton House with its adventure playground with tree top slides, swing boats and beautiful parklands to explore.

Learn about ghoulish tales and ghostly goings-on in Salisbury with one of the Salisbury City Guides ghost or horrible history tours and visit one of our museums for hands-on learning or how about exploring our towns and villages on a Treasure Trail or having a go at trying to crack the codes at one of these Escape Rooms.
Or how about heading to Wiltshire's very own inland beach or enjoy a spot of cycling around the lakes at Cotswold Water Park.
With gloriuos views of the Cathedral spire, Salisbury Racecourse is one of England most beautiful and historic. Sixteen race meetings take place here between April and October. Accompanied children are always welcome, with entertainments provided for them at weekend and evening meetings.

Wiltshire holds many family friendly events throughout the year, discover more details on our events pages.

And if it rains, don't let that stop you, discover our ideas for rainy days.
Number of results:
Number of results: 143
, currently showing 21 to 40.
Bluestone is a family run vineyard and wine producer specialising in creating artisanal sparkling wines from Wiltshire.
We provide tours and tastings where you can learn all about English viticulture and taste our wines in a relaxed and informal…

TripAdvisor Traveller Rating

79 reviews

The REME Museum displays the proud history of the Corps of the Royal Electrical and Mechanical Engineers. Wherever in the world the Army serves, there you will find REME.

TripAdvisor Traveller Rating

315 reviews

Type

Type:

Historic House/Palace

Arundells is the home of former Prime Minister Sir Edward Heath, situated in Cathedral Close in Salisbury. Extensive personal collections of art, ceramics, political cartoons and sailing memorabilia, as well as a beautiful two-acre riverside garden.

TripAdvisor Traveller Rating

559 reviews

Collection of aircraft, cockpits, replicas and models weapons and trials equipment to show the story of flight and flight test in the UK.

The cockpits are mostly open and you can sit in and use the controls.

Type

Type:

Parkland/Woodland Garden

Cricklade North meadow is an old hay meadow which is now part of the National Nature Reserve and a Site of Special Scientific Interest. It is most famous for it snakes head fritillaries which come out in late Spring leaving the field sprinkled with…

TripAdvisor Traveller Rating

8406 reviews

Longleat, nestled within 900 acres of 'Capability' Brown landscaped grounds, is home to the UK's original Safari Park, one of the best examples of Elizabethan architecture, and an abundance of exciting attractions including Jungle Kingdom and Animal…

Stonehenge and Avebury are listed together as a single UNESCO World Heritage Site. The site is famous for its instantly recognisable stone circles but there is far more to explore in these two remarkable landscapes.

TripAdvisor Traveller Rating

6562 reviews

Type

Type:

Cathedral/Minster

Be inspired by this magnificent medieval cathedral surrounded by 8 acres of lawn and historic architecture.

This living church boasts Britain's tallest spire and is home to the finest original Magna Carta and Europe's oldest working clock.

TripAdvisor Traveller Rating

860 reviews

Type

Type:

Activity Centre

Tripadvisor's #1 "Fun thing To Do" in Wiltshire. 

Recently listed as the 39th best Escape Room in the World and 5th Best in the UK by escapetheroomz.com

New latest scenario from Salisbury Escape Rooms 


Type

Type:

Lake/Reservoir

Open bodies of water are a rarity in south Wiltshire making Langford Lakes nature reserve an attractive stopping off point for a host of wild birds, and those who enjoy bird watching.

TripAdvisor Traveller Rating

1565 reviews

Discover the story of the original Salisbury with a day out to Old Sarum, 2 miles north of where the city stands now.

The mighty Iron Age hill fort was where the first cathedral once stood and Romans, Normans and Saxons left their mark.

TripAdvisor Traveller Rating

50 reviews

Oldbury Tours provide bespoke guided tours of the prehistoric sites of Wiltshire including Stonehenge and Avebury for small groups of up to six. Tours are conducted by our local qualified guide in a 7 seat car. All tours individually tailored.

Type

Type:

Outdoor Activity/Pursuit Centre

Treasure Trails are the fun and hugely popular way to explore villages, towns and cities. Solve the intriguing clues which can be found on buildings, statues and monuments, revealing fascinating history and beautiful scenery.

Type

Type:

University / College

This extremely popular multi-generational learning experience will take place over four weeks between 12 July and 8 August 2020.

This spectacular country house retreat surrounded by its walled gardens, avenues of beautiful trees and manicured lawns is the perfect natural setting for a luxurious and rejuvenating spa.

TripAdvisor Traveller Rating

902 reviews

Type

Type:

Activity Centre

GoSkydive is the UK's leading tandem skydiving centre, solely focused on delivering tandem skydives.

TripAdvisor Traveller Rating

108 reviews

Explore a treasure trove of amazing artwork in the largest independent art gallery in the South West. Our relaxed and friendly café is a slice of foodie heaven in the heart of Salisbury.

TripAdvisor Traveller Rating

3734 reviews

Visit Britain's highest, inland limestone cliffs rising up 450ft and explore the depths of stunning stalactite caverns below that were created by Ice Age melt-waters over millions of years. It doesn't matter whether you are interested in nature,…

TripAdvisor Traveller Rating

44 reviews

Type

Type:

Adventure Sport Centre

Enjoy a thrilling view of Wiltshire with a tandem parachute jump at Skydive Netheravon. With modern aircraft and state of the art equipment, our fully qualified instructors will fly you into the skies on your parachuting adventure.


Type

Type:

Riding/Trekking Centre

Horses add their own style to a country house setting. Echoes of bygone days on a ride across the estate. The Equestrian centre at Lucknam affords everyone the opportunity to enjoy the thrill of horse riding.