Looking for inspiration for a car-free day trip or weekend away to enjoy the English countryside? Jump on the train and head down to Wiltshire! All of these public transport day trip suggestions can be easily reached by train from either London or Bristol, making them ideal options if you want to get out of the city for the day or a weekend. You don't need a car to explore picturesque countryside and charming English villages with these great car-free holiday ideas.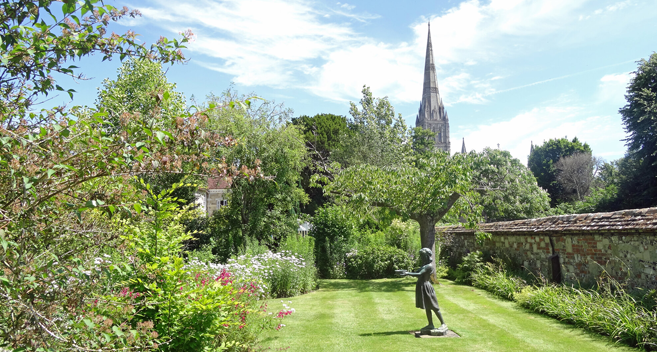 Salisbury
Salisbury is a great option for anyone relying on public transport for a short break in the UK. This traditional yet original city can be reached in an hour and a half from London by train, or in just over an hour from Bristol. There's so much to do here that you'll struggle to fit everything in to one day, and we would really recommend a weekend at least! A trip to magnificent Salisbury Cathedral is a must, which houses one of the original copies of the Magna Carta. After that, take a look around the pretty Cathedral Close where you can visit Salisbury Museum, Mompesson House or Arundells. Then there are many great independent shops like interiors and gift shop Casa Fina and Fisherton Mill - Gallery, Cafe and Artist Studios to visit, as well as the Charter Market taking place every Tuesday and Saturday. If you've got time to spare, take a stroll through the Water Meadows or a walk out of town to the hill fort at Old Sarum. And you can even catch a bus from Salisbury to see the iconic standing stones at Stonehenge. But make sure you leave some time to simply wander Salisbury's streets, taking in the city's lovely atmosphere and historic sights.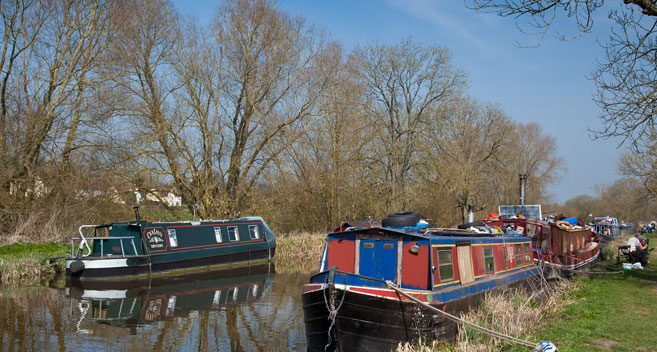 Great Bedwyn Walk
Fancy a walk in the Wiltshire countryside? Great Bedwyn in the Vale of Pewsey is easy to reach without a car, and offers lovely walking options. Take a train from London Paddington to Bedwyn station (around 1 hour and 15 minutes) and you'll be transported from bustling city to peaceful countryside. This idyllic Wiltshire village is full of picturesque cottages and is the perfect place to find your balance after a busy week in the city. Take a walk along the canal to Crofton Beam Engines to see a marvelous reminder of the area's industrial history, then detour up to Wilton Windmill for breathtaking views over the timeless Wiltshire countryside. Enjoy a picnic here, breathe in the sweet country air and admire the rolling green countryside.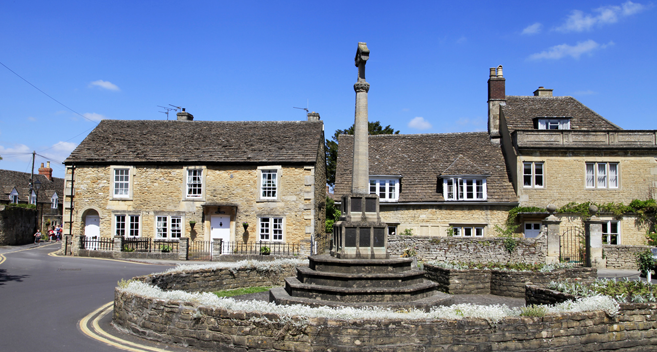 Melksham
Reach Melksham from Bristol in as little as 45 minutes, or 1 hour 30 if you're travelling from London Paddington. Once a popular spa town, Melksham has a variety of lovely historic buildings which surround a friendly Town Centre full of independent shops, cafes, pubs and restaurants. Follow the Riverside Walk along the Avon river (and keep your eyes peeled to spot a kingfisher) or simply wander the streets and soak up the sights.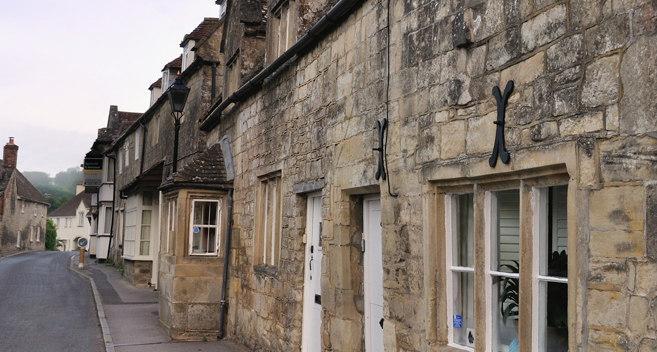 Tisbury
Consistently voted one of the best places to stay in the South West, Tisbury is such a pretty village that you won't want to leave. From either London Waterloo or Bristol, the train to Tisbury takes around 1 hour 45 minutes, leaving you ample time to explore the village and admire the many historic buildings. Pop in to Beatons Tea Rooms for a cup of tea and a slice of homemade cake, then take a walk from Tisbury to nearby Old Wardour Castle, a picturesque ruin (and a perfect picnic spot) now maintained by English Heritage.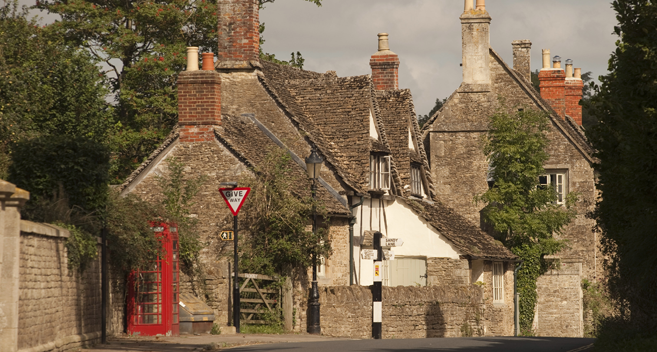 Lacock
You can reach Chippenham by train in just over an hour from London Paddington, or about 25 minutes if you're coming from Bristol. Then jump on the bus to reach the village of Lacock. The bus runs about once an hour on a Saturday and takes around 15 minutes. The chocolate box village of Lacock is famous as a film set, having been used as the backdrop for the likes of Downton Abbey, Harry Potter, The Other Boleyn Girl and Pride and Prejudice. After you've explored the quaint village streets, visit Lacock Abbey - a lovely country house dating back to the 13th century - and the Fox Talbot Museum which will teach you all about the history of photography.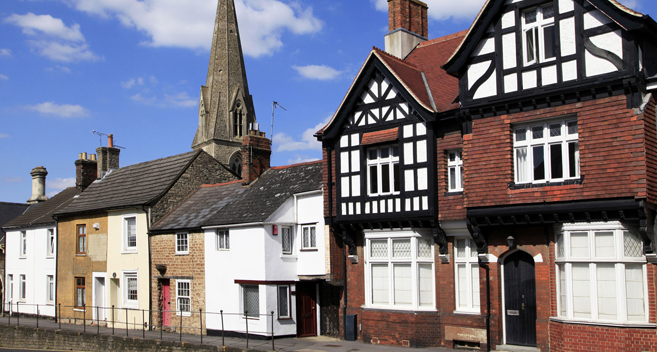 Swindon
Half an hour by train from Bristol and around 50 minutes from London, Swindon is very easy to reach for a day trip or weekend away. Love shopping? You can walk to McArthurGlen Designer Outlet Swindon from the station in just 15 minutes. Set within the gorgeous Grade II listed buildings of the Great Western Railway Works you'll find one of the largest covered designer outlets in Europe. There are a mix of High Street and Designer brands (including names like Kurt Geiger, Superdry, Le Creuset and Ted Baker) offering reductions of up to 60%. If you're more interested in finding out about our industrial history, STEAM - the Museum of the Great Western Railway is a short walk away, where you can get up close to a range of historic locomotives. Or take the bus to Lydiard Park in around 30-40 minutes to explore a stunning Palladian house complete with beautiful church, walled garden and formal parklands.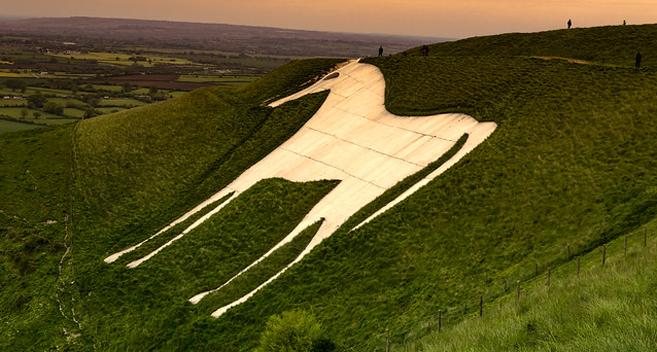 Westbury White Horse Walk
Another lovely location for walkers, Westbury is famous for the iconic white chalk horse which sits on a steep hillside overlooking the town. Trains from London Paddington to Westbury take as little as 1 hour 20 minutes, or you can get here in around 40 minutes from Bristol Temple Meads. Blow away the cobwebs by heading out of town on a circular walk from Westbury to the pretty village of Steeple Ashton, passing the famous White Horse and the iron age Bratton hill fort.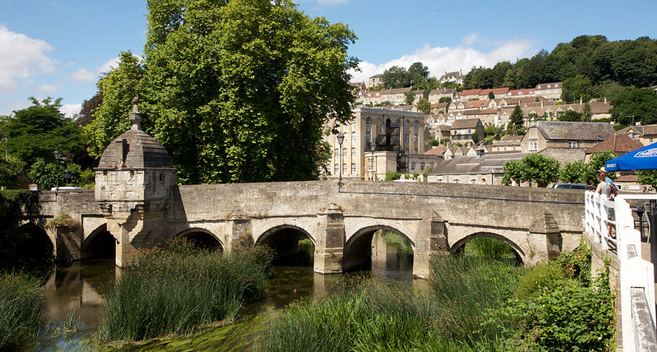 Bradford on Avon
Bradford on Avon is the perfect car-free day trip from Bath or Bristol. A short train ride (15 minutes from Bath Spa or 25 minutes from Bristol Temple Meads) will bring you into the centre of this picturesque Wiltshire town. Alternatively, if you're coming from London, you can be here in around 1 hour 45 minutes. After you get off the train, pass over the picture-perfect bridge and explore streets lined with cute stone cottages before stopping for afternoon tea at the Bridge Tea Rooms. Spend the rest of the day exploring the welcoming independent shops, walking along the canal towpath and admiring the town's fascinating old buildings. If you're staying overnight, there are lots of pubs and restaurants to choose from for dinner and an impressive programme of performances and shows scheduled at Wiltshire Music Centre to keep you busy in the evening.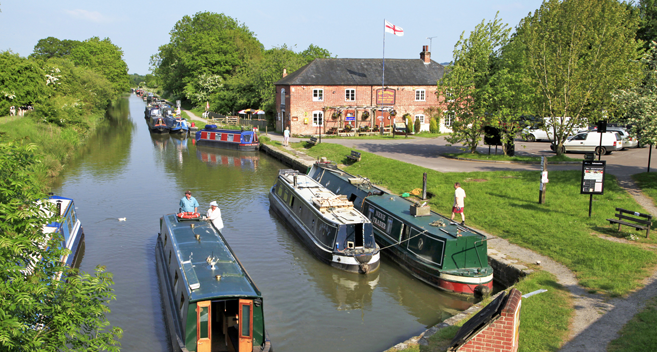 Pewsey
The village of Pewsey is in the centre of the Vale of Pewsey, an ancient and atmospheric Wiltshire landscape dotted with unspoilt villages ideal for exploring on foot or bike. Located just an hour from London by train, or around 1 hour 30 from Bristol, Pewsey is the perfect destination for a car-free public transport day trip. Soak up the local history as you admire charming thatched cottages, quirky local landmarks and churches dating from Saxon times. Take a walk along the Kennet and Avon canal, watch the narrowboats float by, or stop for a cup of tea and a bite to eat at Honeystreet Mill Cafe. There are lots of lovely B&B or glamping options locally, so why not book to stay for a few days and take some time to really relax.
If you're inspired to spend a car-free weekend away in Wiltshire making the most of the great public transport links to and from Bristol or London, have a look at our accommodation pages for some great places to stay, from luxury hotels to peaceful farm stays and quirky glamping sites to homely self-catering cottages.
Related
1 Comments